Renren (RENN) reported Q2 results yesterday.
Key highlights:
Net revenue: $44.8 million, +47.5% y/y
Online advertising revenue: $15.1 million, a decrease of 10.5% y/y
Online gaming revenue: $22.5m, +122.1% y/y
Nuomi revenue: $3.6 million, +272% y/y
EPS: $0.06 loss per diluted share
Key positives: 1) strong user growth and rising engagement, and 2) acceleration in online gaming
Key concern: Declining advertising revenue growth
Neutral: Nuomi
Positive: User Growth And Engagement Level
As of Q2, Renren has 162 million activated users, +30% y/y and 5% sequentially, and 45 million monthly active users, +30% y/y and 12% sequentially. Monthly active users not only grew faster than Facebook's (FB) US MAUs but also accelerated sequentially, indicating rising adoption of Renren as an alternative form of social media to Sina's (SINA) microblog, Weibo.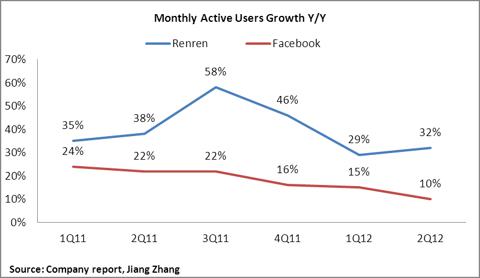 In my view, the government's enforcement of real-name registration on social media sites should make Chinese users indifferent between Weibo and Renren because Weibo initially gained popularity due to its non-real name features. This indifference may encourage users to look for an alternative form of social networking, namely a real-name social networking platform that allows users to connect with people they know personally so they can have a more meaningful social networking experience.
User engagement continues its uptick. As I mentioned in my earnings preview (View Report) Renren's monthly engagement as a percentage of total activated users is still low compared with Facebook, and I believe that the company's top priority is to increase user engagement to attract advertising revenue.
In Q2, Renren has 45 million MAU represents 27% of its 162 total activated users.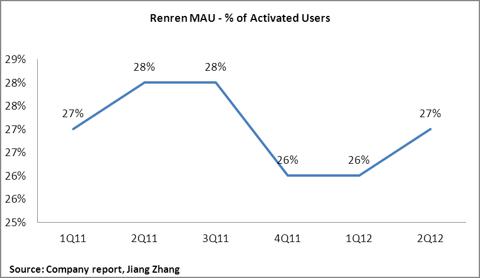 Positive: Gaming Unit Continues To Rock
Online gaming revenue grew 122% y/y, driven by several recently launched in-house developed titles, and this is critical because it highlights Renren's R&D capabilities. I note that the top three gaming apps on Facebook (eg. The Ville, FarmVille, and CityVille) are all developed by Zynga (ZYNGA). In addition, unlike Facebook, Renren's online gaming unit generates most of its revenue from MMORPG, which has a longer shelf-life than social games and can generate steady recurring revenue.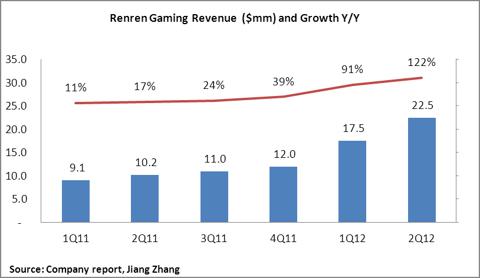 Key concern: Declining Advertising Revenue Growth
Advertising revenue declined 10.5% y/y due to low advertising spend by brand advertisers amid a soft macro environment, continued competition, and migration of Renren traffic from PC to mobile. In Q2, Renren's top brand advertising clients are FMCG, IT, baby care, auto and financial services.
Competitive landscape might have greater impact on Renren than previously expected. Sina's Weibo and Tencent's QQ are much more well-known than Renren and have larger user base, so those two competitors are the most logical platforms for brand advertisers to utilize. Online advertising could continue to be challenged and experience year-over-year decline in Q3.
In the mobile front, 40% of Renren's MAU access the site via mobile devices, compared with 30% during the same period a year ago. The mobile penetration is high, but not as high as Facebook's mobile penetration, which is close to 60% in Q2. Nonetheless, Renren needs to quickly ramp up on its mobile advertising, possibly following Facebook's Sponsored Stories strategy to reverse the revenue decline.
Neutral: Nuomi Continues To Survive…But At A Cost
Over the past year, Nuomi has exceeded my expectations in that it continues to survive in China's highly competitive group-buy market. In Q2, revenue accelerated to 227% y/y growth compared with 178% in Q1. However, the unit is still unprofitable as it recorded $3.6 million in revenue and $10.9 million in operating expenses.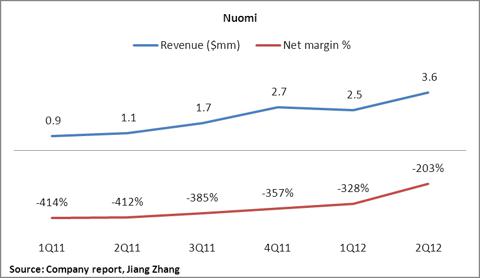 The bright spot is that net loss is narrowing when looking at net loss margin, which has improved to -203% this quarter from -412% in 2Q11. I am encouraged that Nuomi is steadily on the path towards profitability but it might take some time for that day to come.
Disclosure: I have no positions in any stocks mentioned, and no plans to initiate any positions within the next 72 hours.