We published our investment research evaluating American Capital Mortgage (MTGE) after it went ex-dividend on June 19th. We wrote about how we liked the fact that the company had a lower Constant Prepayment Rate than its larger, more recognized mREIT sibling American Capital Agency (AGNC). American Capital Mortgage and American Capital Agency are both subadvised by affiliates of American Capital Ltd (ACAS). On August 3nd, American Capital reported its Q2 2012 results. We can understand why the market price premium to book value has increased by over 5% since we began covering it, especially in this yield starved environment which has been exacerbated by rumors of another quantitative easing program by the Federal Reserve.
While we have moderated our enthusiasm on MTGE a bit, it is still one of our three favorite mREITs. MTGE began trading on August 4th 2011 and it can celebrate its 1st birthday as a public company in style due to its strong performance. In fact, our thesis on MTGE is that it is an even better performing than AGNC due to the fact that it is smaller and more nimble than big brother AGNC. AGNC is no longer a $7B company taking on the financial establishment like MTGE. With nearly $85B in agency MBS securities, cash and security sales proceeds receivable, AGNC has taken its seat amongst the financial establishment.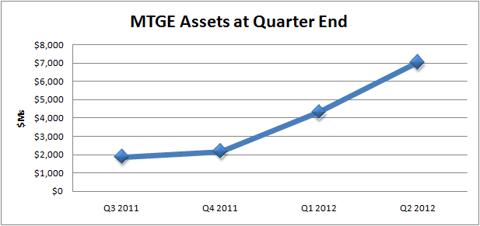 Source: Morningstar Direct
MTGE enjoyed such a strong first year as a public company that it was able to issue public offerings of stock in 3 of its four quarters of existence. MTGE has seen rapid growth and is now a $7B mREIT with a solid equity base of $801M. Because of MTGE's rapid increase in outstanding shares going into the next period as well as the steadily flattening yield curve, we don't expect MTGE to generate the 52.45% total return it has enjoyed since its debut in the public market 1 year ago. AGNC's Net Interest Income increased by over 100% versus the linked quarter. Net Interest Income per Share was $1.06 for the quarter versus $1.27 in Q1 2012. Three other factors that resulted in a sharp drop in Net Interest Income per Share include:
A 5% drop in the leverage ratio on an average during the period basis and on the period end basis.
The continued decline in the average coupon of its MBS holdings narrowing the Average Net Interest Rate Spread enjoyed by the firm
A 21bp increase in its average cost of funds.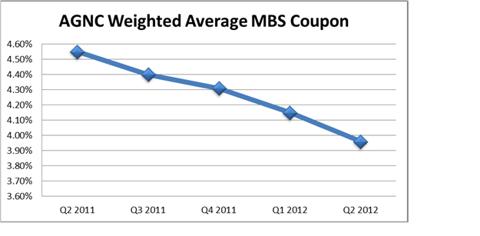 Source: American Capital Agency Q2 2012 Earnings Release
If MTGE was to cut its dividend in order to reduce its payout ratio, we are of the opinion that it won't cut dividends until next year. We believe it will continue to pay the $.90 quarterly dividend for the rest of 2012 and cut it by 10% or less beginning in 2013. We believe that the company can maintain this dividend for at least two quarters based on its level of net interest income per share and its strong level of realized and unrealized gains. Even if we use a stronger standard to measure net interest income such as Net Interest Spread Income (includes the impact of Swap Interest Expense that is separately stated) we find the MTGE generated $.927 Net Interest Spread Income. If we go further and use Net Spread Income (same as Net Interest Spread Income but also includes admin and operating expenses) we find that MTGE generated $.80 Net Spread Income. We also believe that with the reboot of Operation Twist and a potential QE3 will push the company to try to lock in its interest income received on its bonds and swaps in order to mitigate a likely decline in net interest income. Even if the company cut its dividend by 10%, it would still yield over 13% and we believe that would still provide a satisfactory yield to reasonable and rational mREIT investors who are interested in a best-in-breed mREIT. We believe that investors who are looking for growth in Net Interest Income per Share and Dividend Growth from mREITs are looking for needles in haystacks. We think after further review, investors probably don't care about dividend growth from mREITs and are desperate to get their hands on anything that moves, as long as it pays a suitable income distribution.
MTGE's reporting for net income is simple and doesn't deal with the unrealized gains in comprehensive income and loss like AGNC. MTGE's Q2 2012 Net Income is effectively the same as its "total comprehensive income" as such; MTGE's Net Income for the period was $32.2M, or $1.15 per share. MTGE's net income comprised $29.9M in Net Interest Income (which excluded swap interest expense), other net gains and losses of $6M (which included the impact of $3.8M in swap interest expense) and $3.665M in management, general and administrative expenses.
In conclusion, we still see MTGE as one of our three favorite mREITs. With regards to the mREIT sector, our top choice is CYS Investments (CYS) because that firm is trading at a much lower premium than MTGE. With regards to mREITs managed by American Capital , we would probably prefer American Capital Mortgage Investment , since it has a lower projected premium to book value. AGNC was our favorite however because of the recent increase in its CPR rate as well as its reduction in net interest income per share, we have rearranged our preferences in the mREIT sector and made CYS our top choice in the mREIT sector, followed by MTGE and AGNC as a strong #3.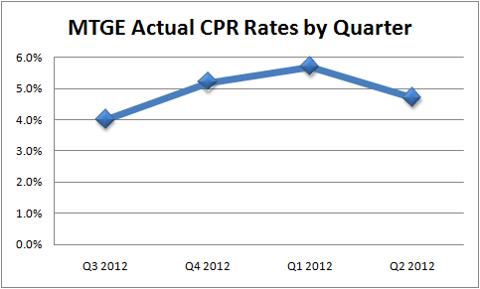 Source: American Capital Mortgage Quarterly Earnings Releases
Disclosure: I am long CYS.
Additional disclosure: Saibus Research has not received compensation directly or indirectly for expressing the recommendation in this report. Under no circumstances must this report be considered an offer to buy, sell, subscribe for or trade securities or other instruments.