We published a full, comprehensive research report in which we analyzed and evaluated Teva Pharmaceuticals Industries (NASDAQ:TEVA) and we concluded that it's absolutely ridiculous that Teva should be trading at an adjusted 2012 PE of 7.5X earnings and a reported PE of 11X trailing earnings. Despite its stumbles under the previous CEO, Teva is still the industry leader in the generic drug segment.
We remember Teva's spectacular growth under its visionary former CEO and Chairman Eli Hurvitz. We also believe that the one mistake Hurvitz made in his otherwise illustrious and flawless career at Teva was tapping Yanai to be Teva's CEO after Israel Makov stepped down as CEO in 2007. Makov was recently tapped to be the Chairman of Taro Pharmaceutical Industries (NYSE:TARO), a smaller Israeli generics firm majority owned by Sun Pharmaceuticals of India. We also don't believe that it was coincidence that about one month after Hurvitz died, Teva's new Chairman Philip Frost allowed Yanai to "retire" and picked Dr. Jeremy Levin of Bristol Myers Squibb (NYSE:BMY) to replace Yanai. We believe that eliminated a huge hole in the CEO's office as Yanai was a career Army man with no health care experience and a mediocre record of performance as CEO of MAI while Levin was a well-respected senior executive with Bristol-Myers Squibb. Despite Teva's stumbles, it has still generated more net profits in the last 12 months than its four biggest competitors (Perrigo, (NASDAQ:PRGO), Forest Labs (NYSE:FRX), Mylan (NASDAQ:MYL) and Watson Pharmaceuticals (WPI)) put together and yet is trading at a PE ratio well below those companies, with the exception of Forest Laboratories.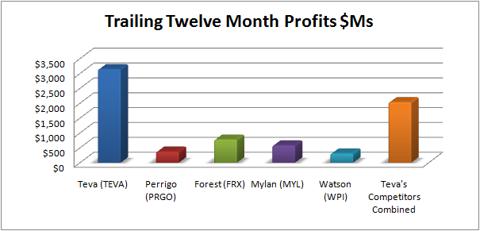 Click to enlarge
Source: Morningstar Direct
We previously discussed the updated investor guidance by Dr. Jeremy Levin issued at a special conference call on May 23, two weeks after officially beginning his work as Teva's CEO. While Levin's guidance was more downbeat than the previous management guidance issued under Yanai, at least Levin was able to issue it in a timely manner. We previously discussed how Levin and his team are working to present a full, comprehensive strategic plan to enable TEVA to keep moving forward in its industry and to recover the momentum it previously had. On June 23rd, the U.S. District Court for the Southern District of New York has found in favor of Teva in its patent infringement lawsuit against Momenta Pharmaceuticals, Inc./Sandoz Inc. and Mylan Laboratories Inc./Natco Pharmaceuticals regarding COPAXONE. The decision covers several patents, the last of which expires on September 1, 2015.
Despite the fact that TEVA's Q2 results met expectations, its sales missed expectations and this has resulted in the company's shares being taken down by 3.3% since August 1. The company saw its Q2 2012 revenues increase by 19% due to the inclusion of Cephalon's revenues, higher sales of U.S. generics and a 12% increase in Copaxone revenues. Part of the reason why TEVA missed revenues was due to currency headwinds from a stronger US Dollar (Teva's reporting and functional currency). The stronger dollar resulted in a negative impact to revenues of $236M, a negative effect on Teva's operating income and an $847M negative impact on its equity (other realized comprehensive income). Teva also generated $1.5B in free cash flows for the first half of 2012 and used the majority of that cash to buy back $648M shares of stock and pay down $489M of debt. Adjusted EPS for the Q2 2012 period was $1.28, which met analyst expectations and was 16% higher than the comparable period last year. The company increased its CapEx buy 15% in order to invest in its manufacturing network.
Levin reiterated guidance for the rest of the year. We remember last year Teva had a soft Q3 and a stronger Q4 and we see this happening again. Teva launched 12 products with $17 billion in brand value so far this year and has the potential to launch an additional 20 products with $13 billion in brand value, including larger-volume products such as Singulair, Actos and Diavin. Teva also hired Dr. Carlo De Notaristefani in a newly created role of President and Chief Executive Officer of Global Operations. During his tenure at Bristol-Myers Squibb, he built an exemplary team, led one of the most successful productivity transformations within the pharmaceutical industry and was instrumental in driving the company's success.
In conclusion, we at Saibus Research added to our long position in TEVA due to its dirt-cheap price relative to its intrinsic value as well as relief from its patent-infringement victory on Saturday June 23. In our full, comprehensive report on TEVA, we initiated coverage on it as a Strong Buy with a $52.53 Fair Value Target share price. We think that less than 7.5X 2012 adjusted EPS is an insanely dirt-cheap price for the industry leader in generic pharmaceuticals, especially when said industry leader upgrades its executive leadership team. TEVA generated $3B in average annual free cash flows from 2009-2011 despite possessing poor management. TEVA also repurchased $1B in stock from the end of 2010 to the end of 2011. TEVA also announced a 3 year, $3B share repurchase program last December and has repurchased $648M year to date net of employee option issuance. We also like to say that while Teva Pharmaceuticals has not restored the excellence in execution we saw under Hurvitz and Makov, at least it isn't Forest Laboratories. The last item that attracts us to TEVA is that it is one of only two generic drug makers paying a dividend and its dividend yield is much higher than of Perrigo, a company we believe is overvalued.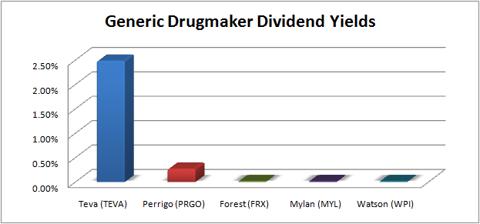 Click to enlargeSource: Bloomberg LP
Disclosure: I am long TEVA.
Additional disclosure: Saibus Research has not received compensation directly or indirectly for expressing the recommendation in this report. Under no circumstances must this report be considered an offer to buy, sell, subscribe for or trade securities or other instruments.