LeapFrog Enterprises (LF) combines fun and education with its technology for children. The company's success has created a stock that is fun and exciting for adults. This $718 million small-cap company offers the following children learning products: LeapPad learning tablet, Tag reading system, Leapster Explorer handheld multimedia learning device, and more. I've witnessed how these products actively engage children educationally and help prepare them for school.
The company recently reported Q2 2012 earnings and achieved a 31% increase in net sales and beat earnings estimates by 33%. Earnings per share for the quarter resulted in a loss of 12 cents, but analysts were expecting a loss of 18 cents. Net sales in the U.S. increased 26%, while international sales increased 46%. The company had strong sales for the quarter for its LeapPad 1 product.
LeapFrog is expecting net sales to increase 10% - 15% for Q3 and 13% - 15% for the full year. Net income per share is expected to be in the range of $0.36 to $0.41 for Q3 and $0.61 to $0.66 for the year.
Looking forward, LeapFrog looks undervalued with a forward PE ratio of 14.07 and a PEG of 0.84. The company is trading at only 3 times its book value per share.
The company's trailing twelve month profit margin is 7.59%, operating cash flow is $83.45 million, and free cash is $56.99 million. Total cash is $127 million and total debt is zero. The balance sheet looks solid with a current ratio of 3.77.
LeapFrog has 5 upward earnings revisions for 2012 and 4 for 2013. The company is expected to grow earnings annually at 20% for the next five years. This growth should be sufficient for the current stock price of $10 to rise to about $25 in five years for a total gain of 150%. The stock has the realistic potential to double the performance of the average S&P 500 company over the next five years.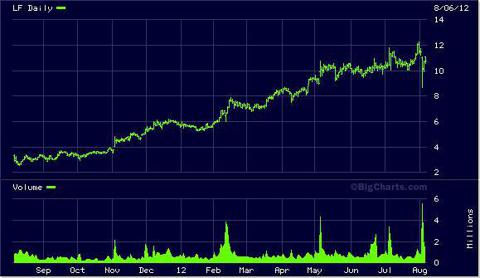 As Apple (AAPL) is a leading producer of portable computing devices for adults, LeapFrog is a leading producer of educational portable computing devices for pre-school aged children. LeapFrog has updated its LeapPad product with the new LeapPad2. The LeapPad2 features a faster processor, better graphics, front and back cameras, a video recorder, music player, and twice the memory of the previous model. Kids who use the LeapPad will probably be yearning for Apple's iPad or the iPod touch before reaching the 3rd grade - something that's scary for parents, but good for Apple.
Overall, LeapFrog is still undervalued and has strong expected earnings growth to propel the stock higher for at least the next five years. You can feel good about investing in the company as it helps pre-school age children to learn key skills, preparing them for elementary school.
Disclosure: I am long AAPL.