We entered into a position in Lee Enterprises (LEE) at the end of June. We first heard of Lee Enterprises when we heard that Warren Buffett and Berkshire Hathaway (BRK.B, BRK.A) had purchased 3.2% of the company's shares. We previously considered investing in Pulitzer in the late 1990s because the St. Louis Post-Dispatch was its flagship publication and because it was the only daily newspaper that served the entire St. Louis metro area, whereas other notable daily newspapers had to share the respective metro area markets with other papers (Boston has two daily papers, New York City has four, Northern NJ has at least two, as did Philadelphia and Detroit). Lee Enterprises acquired Pulitzer in 2005 for $1.46B in cash plus the assumption of Pulitzer's $306M in outstanding notes of indebtedness. Lee financed the transaction with new term loans and increases in its outstanding borrowings under its revolving credit line facility.
Mary Junck joined Lee Enterprises as its Chief Operating Officer in 1999 and was promoted to CEO in 2001 and Chairman in 2002. Junck joined Lee from Times Mirror where she served as executive vice president of Times Mirror and president of Times Mirror Eastern Newspapers. In her role, she was responsible for all newspaper operations in the region, including Newsday, The Baltimore Sun, Hartford Courant, The Morning Call, and Southern Connecticut Newspapers. She also had responsibility for Times Mirror magazines and StayWell, Times Mirror's consumer health company. She held that position from 1997 until she left the company in 1999. Despite the fact that she bears a strong resemblance in terms of appearance to the widowed, patrician publisher Margaret Pynchon on the old newspaper TV drama series Lou Grant, Junck established a long-term media industry career on her own, having worked on the news and business side of the industry since 1972.
We can see that she has adopted the elitist, patrician manner of Ms. Pynchon as she took a $500K bonus in the wake of Lee's bankruptcy. Under Junck's mismanagement of the company, Lee Enterprises shifted its strategy dramatically. Lee's previous corporate strategy involved owning small-town community newspapers and a number of network-affiliated and satellite television stations. Junck shifted the company's focus to acquiring papers that had a median daily circulation of 30K-125K. Junck oversaw the sale of the TV stations and used the cash to buy Howard Publications for $746M in 2002. We also previously mentioned the debt-funded $1.46B acquisition of Pulitzer, which relied on its St. Louis Post-Dispatch LLC subsidiary for 57% of its 2004 adjusted company revenues. Lee also picked up the Arizona Daily Star in Tucson, which accounted for another 20% of Pulitzer's 2004 adjusted revenues. Pulitzer had a company newspaper subsidiary, which published 12 daily community newspapers, but that only accounted for 23% of its adjusted revenue.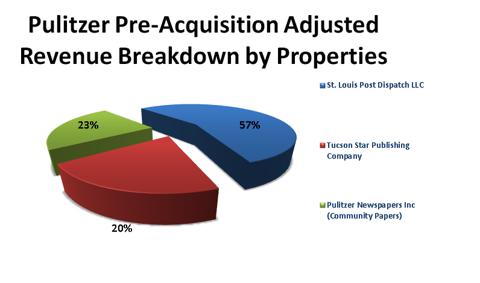 Click to enlarge
Source: Pulitzer Inc 2004 Annual Report
Needless to say, this strategy was unable to avoid the declines that the newsprint media was enduring. The good news is that the company has significantly devoted the bulk of its free cash flow to paying down the debt. The bad news is that the company's revenues are near the levels last seen in 2004, the year before it acquired Pulitzer. The revenue declines seen by Lee and other publishers have forced Lee to write down $1.85B of its intangible assets, face a liquidity crisis in 2009 which it survived, and another one in 2012 which forced it into bankruptcy. Lee's bankruptcy wasn't that bad in that the bondholders only diluted it by 13%. This compared favorably with the 67% dilution faced by General Growth Properties (GGP) during its bankruptcy. GGP's bankruptcy also took longer to go through and the company ended up spinning off Howard Hughes (HHC) and Rouse Properties (RSE). We don't expect Lee to be spinning off any assets and since Warren Buffett is a significant capital stakeholder of Lee, we expect him to press for the sale of assets in order to generate cash in order to pay down bond principal and reduce interest expenses.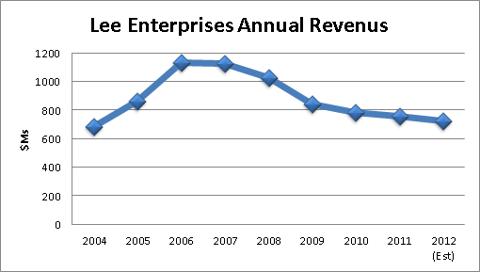 Click to enlarge
Source: Morningstar Direct (Lee acquired Pulitzer on June 3, 2005)
Lee had posted mixed results for the quarter. The company still generated free cash flows of $7M and paid down $8.5M of its debt. Specific debt payments included $6.5M on its 1st Lien Agreement and $3M on the Pulitzer Notes and this was partially offset by incurring a $1M amortization adjustment on its debt present valuation adjustment. The Pulitzer Notes bear a 10.55% interest rate and the final maturity is December 2015. The 1st Lien Agreement bears an 7.5% interest rate, the final maturity is December 2015; it requires that substantially all of Lee's future cash flows are required to be directed toward debt reduction or accumulation of cash collateral and that the cash flows of the Credit Parties are largely segregated from those of Pulitzer. The company decided against executing a reverse stock split in order to keep its stock listed on the NYSE. Lee's revenue declined by 4.3% in Q3 2012 versus Q3 2011 and this was attributed to declines in its advertising revenues due to the weak economy. Operating Income declined by 6.7% due to the revenue declines and this was partially offset by a 4.1% reduction in adjusted recurring operating expenses. Interest Expense increased by $11M year-over-year, due to increased cost of debt associated with the bankruptcy reorganization. This was partially offset by reduction in financing costs of $6 year over year.
In conclusion, we can see why Buffett invested in Lee Enterprises. Lee is most certainly not a blue-chip company and the glory days of the newspaper publishing business are most certainly over. However, we also believe that the worst for Lee is over. We like that Lee has reduced its outstanding debt from $1.8B in Q3 2005 when it closed the Pulitzer acquisition to $935M as of Q3 2012. The points underlying our thesis to enter a long position in Lee were as follows:
Not only did Buffett (Berkshire Hathaway) purchase 3.2% of Lee's common stock in addition to $85M of Lee's debt, he tried to keep it confidential. The fact that Buffett tried to keep Berkshire's purchase of the stock secret is what led us to go long too. Berkshire bought Lee's stock outright rather than obtaining a 20% position in the company through penny warrants like with Media General.
We believe that the company would be best served by replacing the management team and the board of directors and we are expecting Buffett to help effect this change.
The first executive Buffett should put out to grass is the Chairman, President and CEO, Mary Junck.
We believe that Buffett will seek to bring Lee back to its roots as a community newspaper publisher, rather than relying on large metro area newspapers like the St. Louis Post-Dispatch and the Tucson, AZ Arizona Daily Star.
Lee's Annualized Free Cash Flow to Equity in the last quarter was 45%. While this was lower than what it was in the prior periods, we expect the company can't go significantly lower than this and the company still paid over $8M towards reducing debt principal.
We believe that the rational thing to do for Lee Enterprises is to sell off a number of its newspapers in order to increase the speed at which debt is reduced.
The paper we believe that Lee should try to sell first is the St. Louis Post-Dispatch, since it will generate the most proceeds from a sale and can be used to significantly delever the company. Acquiring Pulitzer and the Post-Dispatch helped get Lee into deep yogurt and selling it will help the rest of the company survive.
Lee's bankruptcy did not wipe out stockholders, which was similar to what happened with General Growth Properties.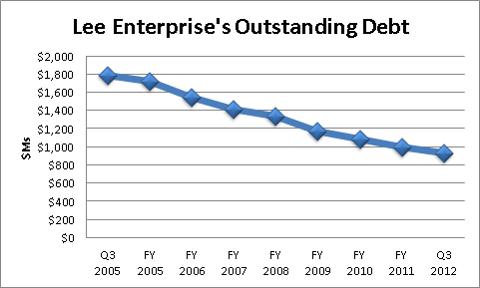 Click to enlarge
Source: Morningstar Direct
Disclosure: I am long HHC, BRK.B, LEE.
Additional disclosure: Saibus Research has not received compensation directly or indirectly for expressing the recommendation in this report. Under no circumstances must this report be considered an offer to buy, sell, subscribe for or trade securities or other instruments.