The Clash has a rather famous song you might recognize that begins a little something like this :
"Darling you gotta let me know
Should I stay or should I go?
If you say that you are mine
I'll be here 'til the end of time
So you got to let me know
Should I stay or should I go?"
It's a question that we all have to face in so many different situations in life.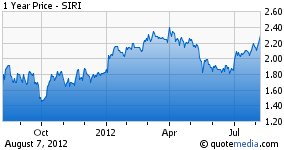 There has been a lot of talk surrounding whether or not Mel Karmazin will stay or go once Liberty Media (NASDAQ:LMCA) takes control of Sirius XM (NASDAQ:SIRI). For a long time now many have harped on the idea that Mel Karmazin would not play second fiddle to another controlling entity. Mel likes his control! And if Liberty Media were to go to full control of Sirius XM, it has been argued that Mel Karmazin would pack up and leave.
But something important was stated by Mel in the second quarter conference call on August 7th that begs attention . Barton Crokett of Lazard Capital Markets asked Mel Karmazin the following question :
"Mel, I know your contract comes up for renewal at the end of this year. You suggested a degree of I think reluctance to work for Liberty, and I'm just wondering if that gets tied up into discussions with them about what they do with their stake and if you've begun discussions with the Board about potentially renewing after 2012?"
To which Mel Karmazin replied :
"I think that I'm the biggest believer in free speech and I don't question anyone's ability to do the right things. But the fact that I was asked a question two years ago about working for somebody and I told them that my experience at Viacom was such that I didn't enjoy and I like working for a Board as compared to working for a controlling shareholder was something that I said. And then every time the discussion of Liberty comes up somebody is coupling my name into that.

I can assure you that our Board and I are interested in trying to accomplish whatever Liberty wants to do as long as it's in all of our shareholders' best interests and that there is no issue involving Mel that has anything to do with the current conversations with Liberty at all. Regarding my contract, it doesn't expire until the end of the year, and prior to the Q3 earnings call, prior to our next call I think the Board and I will deal with it."
I believe this to be an important statement. If you listen to the call and the tone of his voice, Mel almost sounded a bit agitated that he has been quoted out of context on a statement he made years ago in reference to his personal experiences at Viacom (NASDAQ:VIA). He also expressed frustration that such comments were coupled with assumptions about his future plans if Liberty Media were to take a controlling stake in Sirius XM.
Could it be that Mel may not mind remaining in place and working with Liberty as the controlling shareholder? I would think that given the right freedoms and controls, and the appropriate atmosphere, Mel would very likely stay on. Greg Maffei, president of Liberty Media, recently stated in an interview when asked about Mel Karmazin that they "like Mel" and his work and would be interested in having him stay in place. Given that Liberty would like to see Mel stay, and Mel is now attempting to dispel rumors that he would leave, this lends further support to the idea of handshakes and agreements, rather than an all out battle where Mel takes his ball and goes home.
For investors, if you are pleased with Mel's work and ability, this may be very good news to you. If you'd have preferred to see a bit more innovation from Sirius XM, and a bit more of an aggressive push, you may have preferred a new CEO.
But I ask this to those who would prefer to see Mel leave. Where do you think Sirius XM would be today if they had aggressively pursued IP delivery of radio and shied away from the "tried and true" satellite delivery method? Where do you think Sirius XM would be today if they had leveraged a bit more and chased an acquisition or two that may or may not have made sense?
In my opinion, Mel Karmazin has done a terrific job. Running Sirius XM under the veto constraints of Liberty Media has likely been a difficult job, and he has turned Sirius XM into a cash flow machine over the past few years. Are there things that could have been done better? Perhaps, but it's easy to sit on the sidelines and be critical when you're not in the game yourself.
So many have screamed that Mel is old, and behind the times, and that Pandora (NYSE:P) will destroy Sirius XM in short order because of Mel's reluctance to go headfirst into IP delivery. Maybe the old guy understands quite well what this author knows. IP delivery of radio is not a viable solution yet, and the player that can run the transition with multiple forms of delivery will win the day until mobile IP can catch up.
Sirius XM is doing well today, and beginning to reap the rewards of patience and good planning on the part of Mr. Karmazin. When Liberty does take over, here's one investor who hopes, and thinks, Mel Karmazin will stay on board.
Disclosure: I am long SIRI, LMCA. I own put options against P which I may trade in and out of at any time.