In the current low-yield environment, many traditionally defensive investors - like retirees - are turning to unconventional tactics to generate income. Stocks that provide high dividend, like the mREIT Annaly Capital Management (NYSE:NLY), have been attracting far more interest. As a very nonscientific measure of this level of interest, consider that here on Seeking Alpha, almost 14,000 users are signed up for Real-Time Alerts on Annaly - versus only 4,000 for beverage stalwart PepsiCo (NYSE:PEP).
Before following the yield crowd into mREITs like Annaly, it's important to know what you're getting into. I'm honored to partner with the very well-regarded Regarded Solutions, Seeking Alpha's most popular retirement author and resident Annaly expert, to bring you a two-part series on Annaly. Here, I'm highlighting some areas of concern that potential or current NLY investors would do well to pay attention to. In Regarded's article, he'll be responding to these points, as well as examining the bull case for Annaly further.
I've identified four primary aspects of Annaly that might be cautionary signs: price, share dilution, dividend stability, and the long-term history of the mREIT industry.
Price
Due to the different business model, you can't value mREITs with typical metrics. GAAP EPS is essentially useless - instead, a metric called FFO (Funds From Operations) is often used. Annaly is one of the more expensive mREITs based on the Price-to-FFO metric. As analyzed by Jake Mann at The Motley Fool in June, Annaly's Price/FFO is 4.3X, significantly higher than that of peer mREITs:
Share Dilution
One potential concern for investors in Annaly is the history of share dilution. Annaly has engaged in dilutive activities such as the conversion of preferred stock to common stock.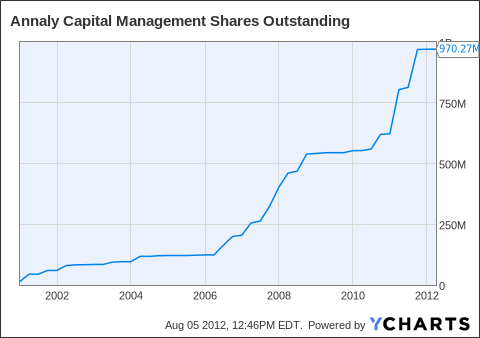 NLY Shares Outstanding data by YCharts
This trend looks to continue, as Annaly recently announced issuance of Series C Cumulative Redeemable Preferred Stock.
Dividend Yield: Not Guaranteed
The quoted dividend yield for an mREIT is somewhat of a ballpark figure. Unlike traditional dividends paid by companies like Procter & Gamble (NYSE:PG), mREIT dividends aren't constant. Rather, they depend on quarterly results.
Since peaking a few years ago, Annaly's dividend has been declining along with most of its peers. Why? Well, in the early years of a low interest-rate environment, mREITs can take advantage of higher-than-normal spreads. However, over time, the spread compresses, reducing the potential for juiced returns.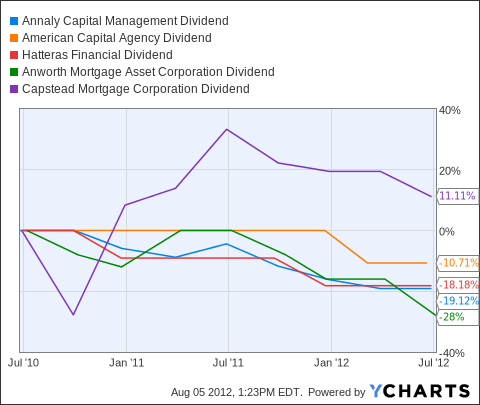 NLY Dividend data by YCharts
Worse, looking at the long term chart of the dividend vs the federal funds rate, there's a fairly strong inverse correlation. When the federal funds rate goes up, Annaly's dividend goes down. When the federal funds rate goes down, Annaly's dividend goes up. Since the federal funds rate is essentially as low as it'll ever go, when it finally increases in 2014/2015, Annaly's dividend will likely decline.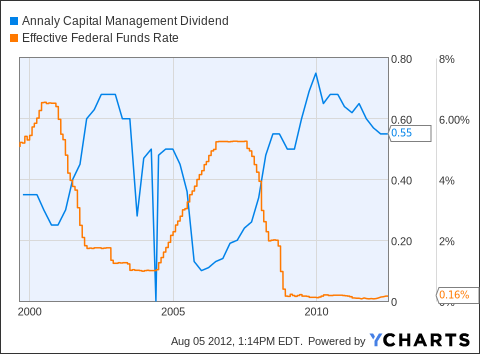 NLY Dividend data by YCharts
This is bad for Annaly investors for two reasons. First, that nice dividend check disappears. Second, as an mREIT, Annaly's worth is tied to its dividend, so investors are looking at capital losses as well.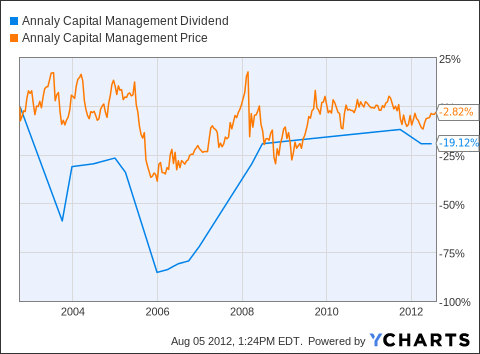 NLY Dividend data by YCharts
Trends Aren't Forever
Annaly's website sports a very impressive chart showing that since inception, Annaly has trounced equity REITs and the market alike.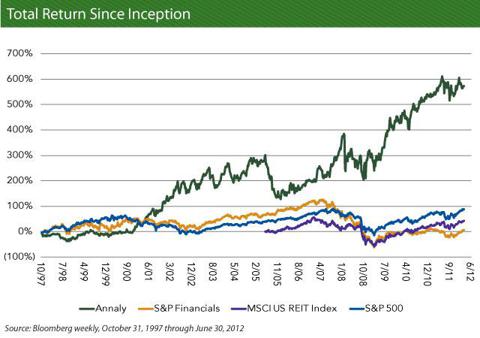 This trend, however, may not last forever. As I examined in my article Why Dividend Growth Is More Important Than Yield, mREITs have actually significantly underperformed during previous historical periods. According to a very thorough 2003 paper by several economics professors titled "Interest Rate Sensitivities of REIT Returns," mREITs had a bad time of it in the '70s, '80s, and '90s.
... both equity and mortgage REITs underperformed the stock and bond markets during the entire sample period of January 1972 through December 1998. The mean monthly return for mortgage REITs (MREIT) was 0.55%. For equity REITs (EREIT), the mean monthly return was 1.08%, still below the mean monthly stock market return (1.14%).
It is important, of course, to remember that equities were in a bit of a bubble in the late '90s. Nevertheless, the huge divergence between mREIT returns and equity REIT returns over a period of 27 years makes me wonder if a lower-yielding but relatively less risky equity REIT index fund like the Vanguard REIT ETF (NYSEARCA:VNQ) might be a better long-term bet for the average investor.
Conclusion
I'm personally not long Annaly (or any mREIT) due to the factors laid out above. Annaly just isn't for me. However, this doesn't mean Annaly can't be a part of your portfolio. Regarded has great analysis of why Annaly can juice returns, and he has his money where his mouth is, owning NLY shares himself.
In any case, invest with your eyes open.