OfficeMax (NYSE:OMX) is starting to show signs of life. The retailer has implemented a turnaround of its business by cutting costs and stemming revenue declines. It's working. OMX is in a sweet spot right now, with the technicals and fundamentals both flashing green. The company reintroduced a 1.5% dividend yield and may initiate a share buyback later this year. OMX is looking at ways to simplify its balance sheet, which is distorted by non-recourse debt, skewing the true book value. The culmination of positive fundamentals, improving technicals, a reinstated dividend, and the possibility of a share buyback could have OMX heading to $10 within the next year.
OfficeMax released earnings on August 2nd, 2012. The company reported a 5 cent beat on EPS with in-line revenue. OMX has started to see benefits from store closings and other cost-cutting initiatives. The company reinstated a 2 cent quarterly dividend (1.5% yield), its first dividend payment since 2008. This move came after shareholders began publicly criticizing the company for not returning capital to investors. On June 18th, 2012, Neuberger Berman sent a letter to the CEO of OfficeMax. Neuberger demanded that the company sell non-core assets and return capital to shareholders through dividends or stock buybacks. Management has responded with a first step by initiating a small but manageable dividend. The company says it is taking a "holistic" approach in its capital allocation. In short, I would expect a stock buyback in the next year when OMX generates cash from selling non-core assets.
Here are some key details from the 2Q Conference Call:
Management expects the Lehman portion of timber notes will likely be resolved by year end, and it will no longer be required to record the nonrecourse debt liability on the balance sheet.
OMX is looking to sell its Croxley business unit in New Zealand and has hired a transaction partner. The sales process will take place in the back half of 2012.
OMX saw a pickup in June sales after a sluggish April and May.
On a comparable basis, comps grew .3%.
Cash and cash equivalents of $445 million and total debt, excluding the nonrecourse timber securitization notes, of $237 million.
Market share declined .1%, which is positive, considering the OMX footprint (from store closings) declined .5-.6%
OMX finally expects to resolve the Lehman timber note on its balance sheet by year end. OfficeMax sold its timberland assets in 2004 to Boise Cascade. It created timber notes to defer $543M in taxes until 2020 when those notes expire. Lehman and Wachovia were each guarantors of half of the notes, which is non-recourse debt for OMX. On September 15th, 2008, Lehman filed for bankruptcy and caused OfficeMax to take a non-cash impairment charge of $735M. Due to GAAP accounting rules, the non-recourse debt from Lehman has to remain on the balance sheet until Lehman's bankruptcy is finalized, and the debt is legally extinguished. The Lehman bankruptcy was finalized on December 6th, 2011. There has been a delay in OMX being able to take the timber notes off the balance sheet, as Note holders continue to negotiate, looking to receive a larger payout. OfficeMax is not directly involved and the negotiations will have no effect on the company. The non-cash gain the company will generate will be $735M. It will offset the loss that was taken in 2008 and force OMX to pay half of the taxes that were deferred until 2020. It is likely that all federal taxes will be taken care of with NOL's, and state taxes will likely have to be paid in cash.
The timber note issues continue to complicate the balance sheet and likely scare off potential investors. Management on its most recent conference call said,
As we said in the past, in order to reflect OfficeMax's obligations accurately, we as well as third parties such as the 2 major credit rating agencies, exclude the $1.47 billion of timber notes from the calculations of various financial metrics and ratios used to assess the valuation of the company because they're nonrecourse to OfficeMax.
The complicated balance sheet looks to get a little less complicated within the next 2-3 quarters. The current investor digging into SEC filings and under the surface can see that OMX presents a cheap play with the stock trading well below its true book value. Currently, tangible book value is $5.91/share with $5.13/share in cash. When adjusting for the resolution of Lehman notes, a $735M gain will be taken, and taxes of roughly $270M (half the tax amount delayed till 2020) will result in a book value gain of $465M. This gain gives OMX a true tangible book value of $11.27/share (based on June 30th balance sheet).
Buried in the recent Transportation Bill passed by Congress was pension reform for public companies. The pension reform allows companies to discount their liabilities at a 25-year average of interest rates, rather than the 2-year average that was previously used. JPMorgan released a note before the bill passed,
…allow[ing] corporations to use a 25-year average rate as opposed to the current 2-year average, increasing the current discount rate from the 4 percent range to roughly 6 percent. Since liabilities are sensitive to discount rate assumptions, the plan's liability will change roughly 15 percent for every one percentage point change in the discount rate.
Assuming a 2% increase in the discount rate, OMX's pension liabilities could fall by 30%. Then OMX would magically see its $330M underfunded status disappear. This is merely a cosmetic change that will help every underfunded pension in the United States. Even if the change is cosmetic, OMX will look even cheaper when the status of its pension is updated at the end of 2012.
The office supply business has been a rough sector for investors the last several years. I see OMX shares rising to a proper value of roughly 1x tangible book, or as a very attractive asset that could be scooped up by private equity. I'm not a fan of Best Buy (NYSE:BBY), Office Depot (NYSE:ODP) and Staples (NASDAQ:SPLS). Best Buy trades at over 3.5x tangible book value, which isn't a steal. If the current proposed buyout by the former chairman doesn't take place shareholders will be in pain. Office Depot continues to operate at a loss and the debt issue is becoming more worrisome. SPLS trades with a 9x PE ratio and 3.5x tangible book value. The company is well-run, but its shares aren't cheap enough in a no-growth industry. Amazon (NASDAQ:AMZN) continues to be hyped as a retail killer that will eventually drive all 3 of these office supply companies bankrupt. I find that a stretch. OMX sells quite a few products through Amazon.com, and Amazon is slowly losing a key pricing advantage with states starting to charge sales tax.
Some of the best returns investors see are when they invest in compelling stories that have bullish technicals. OMX is on the verge of breaking a wedge formation that has been forming for over a year, which should send shares surging higher. For the last 3 months, I've held on to a large core position ($4.40 range) and have bought a trading position at the bottom of the wedge and sold at the top of the wedge. This wedge looks like it will be broken very soon, but time will tell. OMX, as I've laid out, looks very attractive. The company trades well below book value and at 7.3x 2012 expected earnings. Investors who take a plunge will very likely be rewarded in the future, even if Europe and the world markets melt down. The stars definitely seem to be aligning for a massive move in OfficeMax.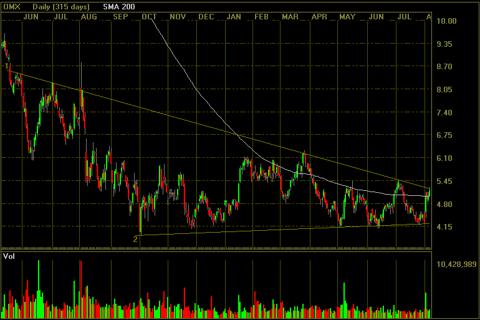 Disclosure: I am long OMX.