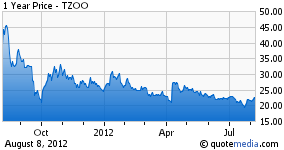 In light of the downward guidance projections announced last night by Priceline (PCLN), we think that Travelzoo (NASDAQ:TZOO) should rethink its growth strategy. We have reported on Seeking Alpha in previous articles on the control person discount at TZOO and how it has hampered the true opportunity in Travelzoo shares. We urge investors caution on any TZOO share purchases until there is a real commitment for non-organic growth initiatives to launch the company to the next level or other alternatives as we outlined in our last article. No company can maintain or grow their share price without a growth initiative that sophisticated investors can believe in and track.
To be sure, the smart and time efficient way to demonstrate tremendous user growth is by integrating into larger platforms such as AOL (AOL) or Facebook (FB) . This is a strategy that founder and controlling shareholder Ralph Bartel only seems willing to use in his 100% individually owned entities as demonstrated in the announced Travelzoo Lv You Zu China CYTS Tours Holding Co. Ltd. (CYTS, SSE: 600138.ss) transaction. Travelzoo Lv You Zu is owned and operated by Bartel's Travelzoo Asia Pacific which is a licensee of Travelzoo Inc, which has a "reciprocal revenue-sharing agreement" which is mentioned without financial detail in the company's financial reports.
Travelzoo announced an ambiguous stock buyback program for up to a million shares. They did the same thing in August 2011 for 500,000 shares and ultimately paid an average of $30 per share, over $8 per share over the current price., Ralph Bartel is no stranger to using smoke and mirrors in battling the shorts in Travelzoo dating back to the late 90's. Short interest has dropped again for the fifth consecutive reporting period and yet the stock continues its downward trend. We believe there are no real buyers of the stock except the company itself.
Disclosure: I am short FB. We are concerned about economic headwinds hurting all companies mentioned in this article. Their efficient deployment of capital is crucial given these challenging economic times.