On May 14, e-Future Information Technology (NASDAQ:EFUT) announced they had completed their acquisition of a 51% stake in www.99114.com and www.jindian.com.cn, which are both involved in the fledging B2B industry of Asia. What is significant about this announcement is the fact that it means that during  Q4 of 2007 and Q1 of 2008, they only had a 20% stake in the Wangku company and its respective websites.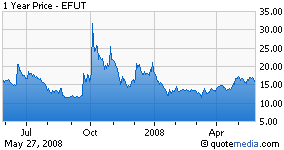 When e-Future reported its exponential
Q4
  I was under the impression that the revenue included a 51% stake in Wangku. I have emailed the company and have confirmed that the huge growth number reported in the fourth quarter and continued into the first quarter were only with a 20% stake in Wangku. 
We can anticipate a very strong first quarter due to the massive backlog e-Future had going into the quarter. This backlog was all generated in the fourth quarter and consisted of about 75% of the revenue generated in all of 2007. The first quarter of 2007 was a very slow quarter and in fact in the first 6 months of the year they only generated 2.5M in revenue. However, their growth in software as a service (SaaS) and monthly maintance fees have skyrocketed and they are coming into 2008 with significant growth.
e-Future seems to now be firing on all cylinders with their SaaS, maintance fees, and B2B business all hitting stride this year. Now is the time to get in because after the first quarter is announced people will realize just how BIG this little company is.
Disclosure: I currently have a long position and am still adding.