In Part 1 of this series, I described my current participation in my company's 401(k) program, and my plans to move the money that has accumulated so far this year from my initial "holding area" choice, the Yacktman Focused Fund (MUTF:YAFFX), to the following four ETFs:
| | | |
| --- | --- | --- |
| Ticker | Proposed ETF | % Alloc |
| (NYSEARCA:XLU) | Utilities Select Sector | 25% |
| (NYSEARCA:REM) | iShares FTSE NAREIT Mortgage Plus Capped Index Fund | 25% |
| (NYSEARCA:HDV) | iShares High Dividend Equity Fund | 25% |
| (NYSEARCA:AMLP) | Alerian MLP | 25% |
My intent is to take what I was able to sell from YAFFX on Monday, plus what I'll be able to sell in 60 days without having to pay outrageous "short term" penalties, plus what accumulates from payroll contributions in that timeframe, and divide that by four, and buy as many shares of each of the above as possible.
However, it has come to my attention from a thoughtful Commenter on Part 1 (thank you, sportscliche) that AMLP may not be the best choice, due its Expense Ratio reportedly climbing to 4.86%. I will have to investigate this further, and if it turns out to be true, I will have to find a replacement for AMLP, as I want to get as much yield out of each of these ETFs as I can, and don't want to overpay for their maintenance.
First Up - Utilities Select Sector
In this article, I'm going to take a closer look at the first ETF I intend to migrate my funds into: Utilities Select Sector, XLU.
| | | | | | | | | |
| --- | --- | --- | --- | --- | --- | --- | --- | --- |
| | | | | | | Marco Polo | | |
| | | | | Exp | 52 Wk | XTF Rating | 1 Year | 3 Year |
| Proposed ETF | Ticker | Yield | P/E | Ratio | Perf | (Out of 10) | Return | Return |
| Utilities Select Sector | XLU | 3.73% | 15.87 | 0.18% | 14.43% | 9.5 | 19.06% | 13.50% |
There has been a lot of chatter on Seeking Alpha recently about utility stocks being oversold and, as a result, a bit overpriced for most folks' tastes, at least in the articles I tend to frequent when yield is discussed. Personally, in terms of USA electric utilities, the only one I own as a stock is Exelon Corporation (NYSE:EXC). As far as my IRA's portfolio is concerned, EXC is not overpriced; in fact, my spreadsheet is showing the "Buy More?" indicator. However, it holds a 3.48% position in my IRA, which is fine, so despite being down 6.32% since I first picked it up over 205 days ago, I'm not inclined to buy more shares of the stock; I've got bigger fish to fry. And with a 5.5% yield, I'm not in any hurry to dump it, either. So for now, I'm going to let that sleeping dog lie.
Let's face it, the need for electricity in this country isn't going to go down, and alternative energy sources aren't living up to the high expectations that have been set for them for a long time. The USA population is still growing, which means more families, more homes requiring and using electricity, more offices to house those workers. Despite the move towards more energy efficient appliances and electronics, utilities are a pretty safe place to park your money, at least in my humble opinion. (And let's face it, that's what this article is, my opinion.)
The following is the Objective of XLU, as found on Fidelity.com:
The investment seeks to provide investment results that, before expenses, correspond generally to the price and yield performance of publicly traded equity securities of companies in The Utilities Select Sector Index. The fund generally invests substantially all, but at least 95% of its assets in the securities comprising the index. The index includes companies from the following industries: electric utilities; multi-utilities; independent power producers & energy traders; and gas utilities. It may invest in cash and cash equivalents or money market instruments, such as repurchase agreements and money market funds. The fund is non-diversified.
Without further ado, here are the Top 10 holdings of XLU, in order of their percentage allocation within that ETF according to Fidelity, including the yield of each of those positions:
| | | | |
| --- | --- | --- | --- |
| Ticker | ETF | | |
| XLU | Utilities Select Sector | | |
| | | | |
| Ticker | Company | % Alloc | Yield |
| (NYSE:DUK) | Duke Energy Corp | 9.21% | 4.5% |
| (NYSE:SO) | Southern Co. | 8.51% | 4.1% |
| EXC | Exelon Corp | 6.78% | 5.5% |
| (NYSE:D) | Dominion Resources, Inc. | 6.43% | 3.9% |
| (NYSE:NEE) | NextEra Energy, Inc. | 6.11% | 3.4% |
| (NYSE:FE) | Firstenergy Corp | 4.28% | 4.4% |
| (NYSE:AEP) | American Electric Power Co, Inc. | 4.26% | 4.4% |
| (NYSE:PCG) | PG&E Corp | 4.08% | 3.9% |
| (NYSE:ED) | Consolidated Edison, Inc. | 3.94% | 3.7% |
| (NYSE:SRE) | Sempra Energy | 3.50% | 3.4% |
| | Top 10 Total % > | 57.10% | |
| | Top 10 Avg Yield > | | 4.12% |
Let's take a look at the one-year charts for these stocks and compare them to the S&P 500. (All charts courtesy of Yahoo! Finance.):
Duke Energy Corporation (DUK)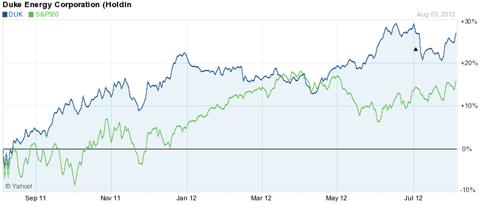 Note that DUK had a 1-for-3 reverse stock split on July 2nd, 2012, as a result of its merger with Progress Energy.
Southern Company (SO)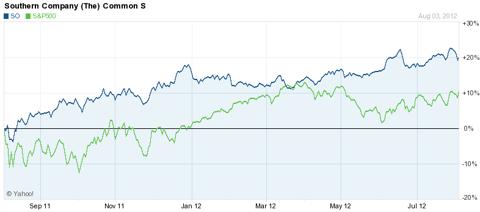 Along with DUK, Southern Company has been a solid performer all year.
Exelon Corporation (EXC)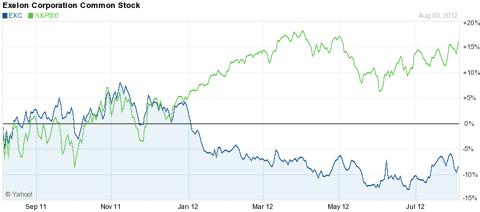 I picked up the first of two batches of EXC on January 11th of this year, just before it started making its downhill slide. I then bought more on May 3rd on what looked like a pullback. Boy, what did I miss?
Dominion Resources, Inc. (D)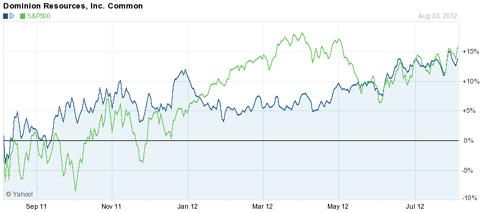 After slipping below the S&P 500 for the first half of the year, D has come back to be just about on par with that index.
NextEra Energy, Inc. (NEE)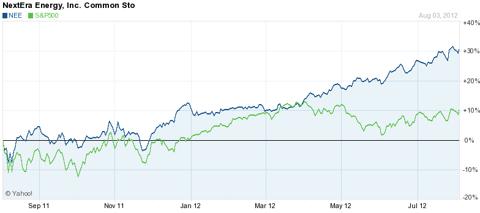 NextEra Energy has had success this year similar to, if not slightly better than DUK and SO.
FirstEnergy Corporation (FE)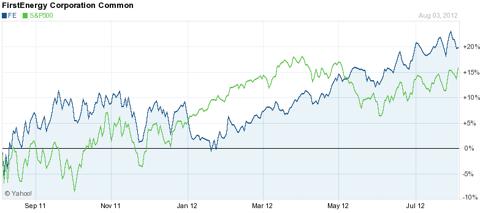 FirstEnergy shows a similar lag to the S&P 500 as Dominion Resources, but has outperformed the index since then, unlike D.
American Electric Power Company, Inc. (AEP)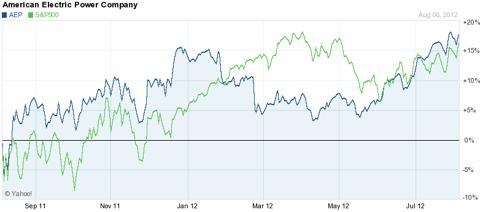 There appears to be a definite pattern forming here within the stocks in the middle of the XLU Top 10.
PG&E Corporation (PCG)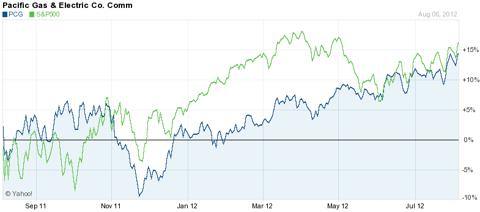 PG&E's graph also looks remarkably similar to Dominion's.
Consolidated Edison, Inc. (ED)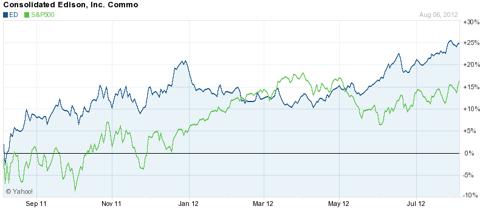 Con Ed, on the other hand, gets back to a pattern more similar to DUK and SO than the others ahead of it in the XLU allocation.
Sempra Energy (SRE)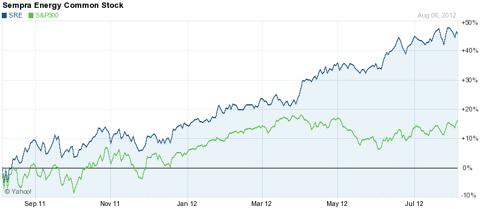 Of all of the members of XLU, Sempra Energy has clearly outperformed all of the others.
Am I Chasing Yield?
One of the questions I said I'd address in Part 1 of this series was whether or not I'm "chasing yield". In the case of this ETF, I don't think I qualify for that "distinction". The yield is good at 3.73%, but not outrageous, and certainly within the 2%-4% range of most blue chip stocks. Yes, I want solid yield, but I also want a fair amount of capital preservation, as my intent is to take the money that has accumulated in my 401(k) by the time I turn 59 and a half and distribute it to myself via an in-service withdrawal into my IRA. Once in my IRA, I can continue my new found hobby of Dividend Growth Investing and spread the money around whatever positions I've been able to build up there between now and then, the goal being to (as well as possible) guarantee myself a steady income stream in retirement that will grow at a rate faster than inflation.
Summary
I have wanted to expand my exposure to utilities, but the current prices of most, and my desire to take up positions in a variety of other dividend growth-oriented stocks, have stymied those efforts. With XLU, I can accomplish in my 401(k) what I can't do in my IRA, at least for the time being. Consequently, I placed a Good-'til-Cancelled limit order for XLU on Tuesday, August 7th, 2012 at the limit price of $37.25. The closing price on Monday, August 6th was $37.77, so this isn't a very daring limit price, but the point is to jump in, not wait for a pullback that may not happen, or may not happen for quite some time. I will be content if this order gets filled.
Be sure to see Part 3 of this series. In the meantime, I'd love to hear your thoughts on what ETFs you like, and why, in the Comments section below.
Disclosure: I am long EXC.
Additional disclosure: In addition, I may initiate a long position in (XLU) within the next 72 hours. Disclaimer: I am not a professional investment advisor or financial analyst; I'm just a guy who likes to crunch numbers and can make an Excel spreadsheet do pretty much whatever I want it to do, and I'm doing my best to manage my own portfolio. This article is in no way an endorsement of any of the stocks discussed in it, and as always, you need to do your own research and due diligence before you decide to trade any securities or other products.