Enbridge Energy Partners (NYSE:EEP), a major MLP, is expanding its presence across the US through growth projects in liquids pipelines, natural gas liquids pipelines, renewable energy and power transmission. EEP is the largest single supplier of crude oil to the US, moving 13% of daily imports.
(1) Lakehead System Expansion: EEP is expanding its Lakehead System (a $400 million investment) from its origin at the Canada/US border in North Dakota to Flanagan, Illinois. Projects include an expansion of the Alberta Clipper line from 450,000 barrels per day (bpd) to 570,000 bpd; and expansion of the Southern Access Line between Superior and Pontiac, Illinois from 400,000 bpd to 560,000 bpd. These projects require a $360 million investment and are expected to be in service in 2014.
(2) Spearhead North Pipeline: EEP is expanding the Spearhead North Pipeline between Flanagan, Illinois and Griffith, Indiana which will increase capacity from 135,000 bpd to 235,000 bpd. In addition, 210 miles of pipeline in Indiana and Michigan will be replaced. This project is responding to growing demand for pipeline transportation and repairs which will increase capacity from 240,000 bpd to 500,000 bpd.
(3) Bakken Expansion Program: EEP is proposing a number of pipeline expansions in North Dakota to add transport capacity for increases in crude oil production from the Bakken and Three Forks formations.
(4) Texas Express Pipeline: EEP is partnering with Enterprise Products Partners (NYSE:EPD) and Anadarko Petroleum (NYSE:APC) to construct a new natural gas liquids (NGL) 580 mile pipeline in Texas. The pipeline will have an initial capacity of 280,000 bpd which will be expandable to 400,000 bpd.
(5) Enbridge Mainline Liquids System: Enbridge Inc. (NYSE:ENB) and EEP recently completed the largest liquids system expansion in the company's history.
ENB is its general partner (receiving a portion of profits) and owns about a quarter of EEP. It's one of the largest Canadian energy companies with an outstanding record of growth (in Canadian dollars). ENB purchased a 50% share of the Seaway Crude Pipeline System, along with EPD. The first phase of the pipeline will provide 150,000 bpd capacity from Cushing to the Gulf Coast. Further expansion of the Seaway Pipeline will increase capacity to 850,000 bpd by mid-2014. Additionally, ENB owns 20% in the Neal Hot Springs Geothermal Project, under construction in eastern Oregon, scheduled to be completed by yearend. It will produce 35 megawatts (MW) of emissions-free power. Because EEP and ENB businesses are interwoven, ENB investments will benefit EEP with higher traffic in its pipleines.
The financial ownership of EEP is different than most MLPs. In addition to MLP units, which have a fair amount of tax hassle associated with distributions, it sold shares in Enbridge Energy Management (NYSE:EEQ), an alternative to direct investment in an MLP. The description of EEQ is copied below from the EEP website:
* Enbridge Management shareholders receive quarterly distributions in the form of additional shares, also known as Paid-In-Kind (PIK) distributions.

* Enbridge Management distributions are not taxable when received, thus shareholders are not issued an annual 1099 tax form.

* The sale of Enbridge Management shares is generally subject to capital gains treatment, providing a tax efficient form of investment.
EEP just reported Q2 earnings. Adjusted net income was $96.8 million; $10.9 million lower than last year primarily due to the recent decline in NGL prices which negatively impacted earnings of the natural gas business. It was partially offset by higher transportation revenues from all of the major liquids systems. Revenue fell 35% to $1.55 billion from $2.37 billion last year ago. EEP increased the quarterly distribution to 54.35¢ ($2.174 annualized) for Q3, a 2.1% increase, in line with its goal of raising annual distributions 2-5%. The distribution history is shown below, $0.5435 has to be added in Q3 of 2012.
Enbridge Energy distributions: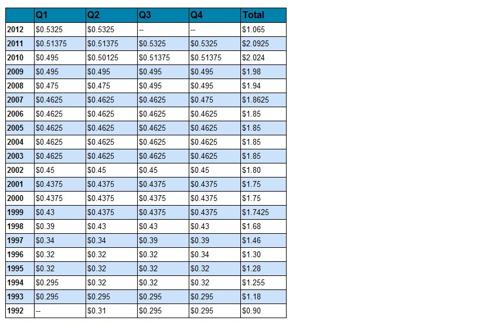 Click to enlarge
Crude oil supply fundamentals in western Canada and the Bakken formation are resulting in high levels of system utilization on EEP liquids pipeline systems and it is investing heavily in growth projects to bring higher distributable cash for increased distributions.
MLPs are primarily thought of as yield securities. At $28.89, EEP yields 7.5% (based on the increased distribution) and EEQ at $31.13 yields 7.0%. Traditional finance says that the price for EEQ should be lower than EEP because it pays dividends in stock, not cash. However EEQ has generally sold at a slight premium relative to EEP, giving a lower yield. High yields for EEP (with tax advantage) or stock dividend yields on EEQ are above what most MLPs offer. The Alerian MLP Index yields 6.2%. Increased revenue, bringing higher distributions, is a bonus.
Disclosure: I am long EEQ.