Although the fundamentals did not change, last week Sourcefire (NASDAQ:FIRE) experienced a whopping 14% decline in its stock even though both revenues and earnings beat Wall Street's expectations. The reason for the stock decline was two-fold: First, expectations had become overly optimistic as investors started believing the company would blow estimates out of the water the way it has in the previous three quarters. Past earnings beats propelled the stock to new highs, so investors were hoping to get in ahead of time with the hopes that history would repeat itself. Second, and more importantly, management guidance for Q3 came in at $0.19 - $0.21 EPS, below estimates of $0.22 EPS, which some believe suggests slowing growth. In order for the company to continue to be valued at over 50x forward earnings, it must sustain very rapid growth. An adjustment to the valuation amid concerns of slowing growth can cause a stock to lose significant value with almost no change in its fundamental business. This was the boogie monster that attacked Sourcefire last week.
The Company Is Best-of-Breed
(Click to Enlarge)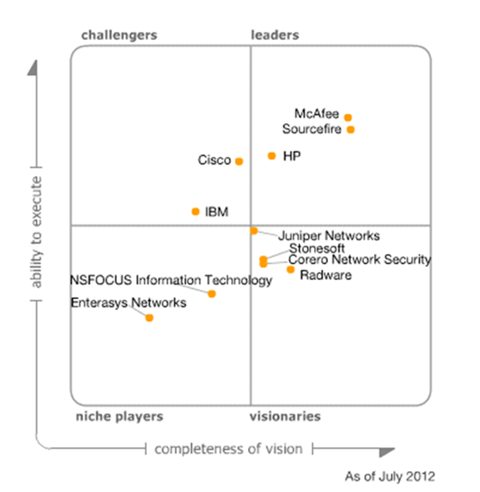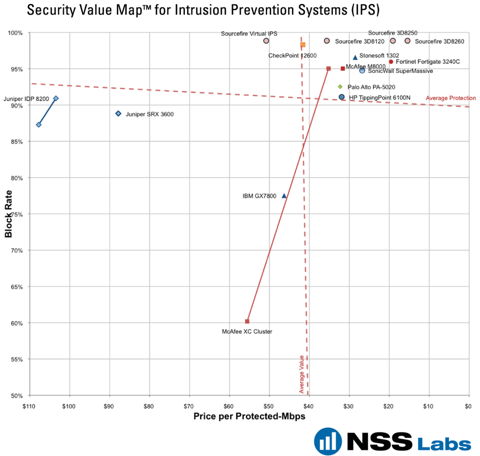 Sourcefire is a best-of-breed company in the Security Software and Services industry with very strong fundamentals. They've historically grown revenue at a 31% CAGR over the last 5 years, and was named one of America's 25 Fastest-Growing Tech Companies by Forbes Magazine in 2012. They rival established market leader McAfee (NASDAQ:INTC) in terms of both vision and ability to execute according to Gartner's most recent Magic Quadrant, and join HP (NYSE:HPQ) and McAfee as the 3 leaders of the industry. They are also the best value in the IPS market according to NSS Labs' Security Value Map, where they have a lower Price per Protected Mbps than most competitors while still beating all their competitors like Fortinet (NASDAQ:FTNT), Palo Alto (NYSE:PANW), and IBM (NYSE:IBM) in the effectiveness of their security (see charts above).
Even Looking Out to 2017, Valuation Is At A Premium
| | |
| --- | --- |
| 2017 Trailing P/E | 24x |
| 2017 EPS | $3.43 |
| 2017 Price Target | $82.83 |
| Discount Rate | 12% |
| Net Present Value | $46.74 |
So let's take a look at exactly what Sourcefire's current valuation is "pricing in" at $46.74. Our model assumes the company is able to achieve management's median long-term adjusted operating margin of 25.5% by 2017 (see page 21), and discounts the price at 12% to arrive at the Net Present Value. Under these assumptions, in order to justify today's valuation of $46.74, the company must grow revenue at a 29% CAGR and warrant a 24x Trailing P/E multiple at maturity. This results in 2017 EPS of $3.43 and a 5-year price target of $82. Discounting the 5-year price at a rate of 12% a year gets you back to the current stock price of $46.74.
Can Sourcefire Grow That Fast?
| | | |
| --- | --- | --- |
|   | Market Size in 2017 (Billions) | Market Share |
| IPS Market | $2.5 | 12% |
| NG Firewall Market | $4.5 | 5% |
| Endpoint Security Market | $4.5 | 5% |
| Total Market Size | $11.5 | $0.75B |
| Total Market Share | 100% | 6.52% |
The above graphic illustrates the size of Sourcefire's end markets and the company's estimated market share if they achieve the rapid revenue growth rate outlined above.
As aggressive as these numbers may seem, Sourcefire is capable of sustaining that kind of growth by expanding their total addressable market from $1.7B in 2011 to an estimated $11.5B in 2017 when they added the Next-Generation Firewall market and the Endpoint Security market to their current Intrusion Prevention System or IPS business. However, management needs to execute to near perfection. Launched in December 2011, those two new products need to gain significant traction, about 5% market share in each of the projected $4.5B markets by 2017.
Historically, Sourcefire has successfully increased its share of the IPS market from about 5% to 10% during the 2007 - 2011 time frame, so the company has proven it can execute well in new markets. But investors need to understand the expectations baked into the current valuation of the company because any signs of slowing growth or management slip-ups could send the stock crashing down. Just look at what happened to Chipotle (NYSE:CMG) when they reported a slowdown in Same Store Sales two weeks ago - a 25% stock collapse as investors got spooked about L-T growth.
In order to be long Sourcefire at these levels, you need to be comfortable with the assumption that the company can grow revenue at a 29% CAGR over the next five years and achieve management's adjusted operating margin targets. This is all doable, but we wanted to lay out "what you need to believe" as an investor.
Disclosure: I have no positions in any stocks mentioned, and no plans to initiate any positions within the next 72 hours.