Microsoft (NASDAQ:MSFT) has unveiled a new product that could greatly boost its revenues if it is successful. Office 2013 is the latest version of Microsoft's suite of basic business programs. It includes programs you probably use, such as Powerpoint, Excel, and Word.
Office 2013 may not be as sexy as a new iPhone, but Office is definitely a cash cow for the software maker. In 2011, Microsoft made around 35% of its revenue from its business division, which manages the Office product portfolio. The business division grew by 8.2% in 2011, largely on the success of Office 2010, the last version of that software package. The Wall Street Journal reported that the business division gets 90% of its sales from Office. That division generated about $11.6 billion in profit in the nine months that ended on March 31.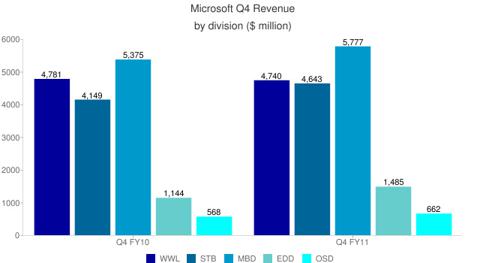 If Office 2013 is as successful as Office 2010, it should give Microsoft a nice boost. I expect the launch of the Windows 8 operating system, which is scheduled for this fall, will boost the demand for Office 2013. Office 2013 is scheduled for release sometime next year.
A successful launch of Office 2013 will definitely help Microsoft. Businesses ranging from home offices to giant corporations cannot operate without the software. Current estimates indicate that between 750 million and one billion businesses around the world are using Office at any given time. If just 10% of those people switch to Office 2013, that's 75 to 100 million sales for Microsoft.
Microsoft makes money from the suite in several ways. It charges a base price of $119.99 for the standard version of Office 2010. The company also charges hardware manufacturers that install Office in new machines. Many businesses and organizations have annual license deals for Office that generate a steady income stream for Microsoft.
Office 365 Could Increase Microsoft Earnings
Microsoft has also created Office 365, a subscription version of Office. This service gives users access to Microsoft Office through a cloud. There are three versions of Office 365: Home Premium for individuals, Small Business Premium, and ProPlus for big business and government. In Office 365, applications and documents are in the cloud.
The exciting thing about Office 365 from an investor's standpoint is that it gives Microsoft a regular stream of cash in the form of regular subscriptions. Instead of buying a license, users make a payment to Microsoft every month. If you want to keep using it, you have to pay Microsoft.
The potential profits from Office 365 could be vast. There are currently around 27 million small businesses operating in the U.S., according to the U.S. Census Bureau. If just 10% of them sign up to pay $6 a month for 365 Small Business Premium, Microsoft would generate around $16.2 million a month in additional revenue. Unfortunately, Microsoft has not yet released its revenue figures for Office 365.
Subscribers will be able to access Office 365 from any device, including a tablet. The idea is that you could start working on something on your PC at the office, and then when you leave work, you could keep working on it on the train via your tablet.
Microsoft has also developed a version of 365 for the Mac OS operating system. That means Microsoft will be able to make money by charging Apple (NASDAQ:AAPL) owners for subscriptions to Office 365.
More importantly, Office 365 will help Microsoft survive the much hyped "death of the PC" and even profit from it. Office 365 can be accessed through tablets and other wireless devices. That means companies will use it to put their businesses on the cloud. It will enable Microsoft to transition to the post-PC world and create additional sources of revenue in the process.
The launch of Office 2013 or Office 15 will also likely increase the number of subscriptions for Office 365 because it will be the easiest way to access 2013. Companies could use Office 365 to add Office 2013 to all of their devices and make it available to employees that bring their own device (tablet) to work.
It is easy to see why Google (NASDAQ:GOOG) wants a piece of Microsoft's Office business. It generates a vast amount of revenue. It's also easy to see that Microsoft has a lot riding on 2013; it has to be successful if it wants to beat off the challenge from the free Google Docs.
Office Moat
The exciting thing about the Office segment for value investors is that Microsoft seems to have a moat around this business. Microsoft Office is the business standard; almost everybody uses it, and many clients expect businesses to use it. The only way Google has been able to get a piece of the office-application market has been to give its Google Docs away. If a company as aggressive as Google can only get into the market by giving products away, it is clear that Microsoft has a serious edge. But how long will Microsoft be able to maintain that edge, and more importantly, keep all that revenue coming in?
The answer is also clear from Microsoft's ability to adapt its flagship office program to the times. Innovations such as Office 365 and the Surface Tablet not only keep Microsoft current, they can expand its money-making potential. Microsoft continues to show great ability in adapting to changing markets and figuring out how to make money from them. The introduction of Office 2013 will likely improve Microsoft's financials next year as it will create new sources of revenue.
I believe Microsoft has strong value at its current price of around $30 per share. The company has demonstrated an ability to generate large amounts of cash and it has a tremendous growth potential. Investors that pay attention to reports about Microsoft's innovations and ignore the news about the company's losses should see gains in stock value when Office 2013 comes out next year. Microsoft is a classic value stock. It is a solid company that generates a lot of cash and has some tremendous growth potential.
Disclosure: I have no positions in any stocks mentioned, and no plans to initiate any positions within the next 72 hours.