On June 22 we created a hypothetical options trade on Suncor Energy (NYSE:SU) and it is time to revisit the trade and see how it is going. See below for a review:
What to Do

To be clear we are not advocating making this trade. Instead we want to do a simulation trade to see what our fate would have been if we had made the trade and what we can learn along the way.

So supposing we think that Suncor is due for a nice jump. Let's say we think SU will reclaim about two-thirds of the 27.2% it has lost since February, and we think this will play out over the rest of 2012.

Let's also suppose that we like money, and we do not like losing money. Suncor itself has proven that cheap stocks can just get cheaper, so we want to risk as little money as possible to get exposure up to about a 20% rise in the price. What we want is a bull call spread (that would be a great name for a financial singles bar).

The Bull Call Spread

The bull call spread is for more than finding love though, it is for finding limited upside exposure to a stock at a discount. Let's have a look at the options chain for Suncor. (Source: ETrade)

SU trades at $26.91 right now. That $32 call is 18.9% above the current price so that looks like a good target price for us. So here's the idea. We will buy a call on Suncor to get exposure that is cheaper than common stock, and further we will sell a call with the same expiration but a higher strike. This will cut off our upside, but it will also help to finance the trade, making the call we bought cheaper. We will buy a call at right around where Suncor currently trades, $27. This will give us the upside exposure of 100 shares of Suncor at the asking price of $310. Compare that to the $2,691 we would spend on 100 common shares. We will also write (sell) a call. If we write that $32 call then we get the $118 bid price for it. This effectively cuts off our upside exposure at $32, but it also cuts our total risk from $310 to $192.

So let's see, if SU goes to $32 this year, then both 100 shares of the common stock and this bull call spread will profit about $500. OK. Now how about if Suncor goes to $0? The common stock loses $2,691. Ouch. The BCS though loses only the original $192. Rock on.

Conclusion

Cheap stocks can surge fast, but cheap stocks can also keep getting cheaper. Fast. Trying to time a bottom in a stock can result in catching a falling knife and the bull call spread is a great way to limit risk while still capturing the first part of an upside move. We will name this trade the "Bull Call Love" trade and we will monitor its progress to see what we can learn along the way.

With so many energy names being beaten down recently consider a bull call spread in lieu of owning common stock on these energy sector names: Arch Coal Inc (NYSE:ACI), Alpha Natural Resources, Inc. (NYSE:ANR), Apache Corporation (NYSE:APA), Baker Hughes Incorporated (NYSE:BHI), Peabody Energy Corporation (NYSE:BTU), Chesapeake Energy Corporation (NYSE:CHK), ConocoPhillips (NYSE:COP), Chevron Corporation (NYSE:CVX), Devon Energy Corporation (NYSE:DVN), Enbridge Energy Partners, L.P. (NYSE:EEP), EOG Resources, Inc. (NYSE:EOG), Halliburton Company (NYSE:HAL), Hess Corp. (NYSE:HES), Linn Energy, LLC (NASDAQ:LINE), Marathon Oil Corporation (NYSE:MRO), National-Oilwell Varco, Inc. (NYSE:NOV), Plains All American Pipeline, L.P. (NYSE:PAA), Petroleo Brasileiro SA (ADR) (NYSE:PBR), Penn West Petroleum Ltd (NYSE:USA) (NYSE:PWE), Royal Dutch Shell plc (ADR) (NYSE:RDS.A), Seadrill Ltd (NYSE:SDRL), Schlumberger Limited. (NYSE:SLB), Statoil ASA (ADR) (NYSE:STO), Suncor Energy Inc. (NYSE:), TOTAL S.A. (ADR) (NYSE:TOT), Valero Energy Corporation (NYSE:VLO), Exxon Mobil Corporation (NYSE:XOM)
A Bull Run
Suncor has soared with the price of oil and is up 20% since we placed the hypothetical trade.

Compare the options chain with the one from June 22 to see what a 20% move does when you use the leverage of options: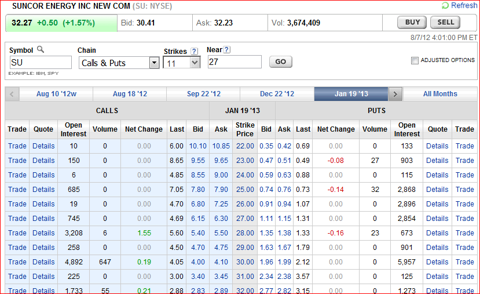 The $27 strike call that we bought for $310 now has a bid for $615, and the call we sold with the $32 strike for $118 could currently be had for the ask of $289. So we could close this trade now by selling the $27 strike call and buying the $32 strike call, leaving us with not-so-far-from-a-double of $326 off of our total original exposure of $192. Not bad.
Or we could say that if the calls expired today the $27 strike call would have an intrinsic value of $527 (100 X ($32.27 - $27)) and the $32 strike call would have an intrinsic value of $27 (100 X ($32.27 - $32)), leaving us with $500, more than a double from what we exposed.
Conclusion
Bull call spreads are one of the best ways to play the upside of a stock while limiting exposure to risk. The leverage of options will often magnify the move of a stock 4 or 5 times, and that has happened here as we got about a double (100% return) from a stock move of 20%.
This trade has worked out very well for us capturing the upside, but if SU had collapsed and say, got cut in half, then the maximum we could lose is our original $192, and we live to fight another day. This is exactly why a bull call spread can be such a valuable tool: we can get plenty of exposure to the upside while limiting the downside risk.
Consider this strategy especially in the energy names like Suncor, Exxon, Royal Dutch, PBR, Chevron, Total, and Statoil. The fluctuations inherent in the underlying energy prices mean potential for big gains but also quick losses, so the bull call spread is a great way to go long.
Disclosure: I am long ACI.