The Bank of New York Mellon (NYSE:BK) is often the forgotten bank when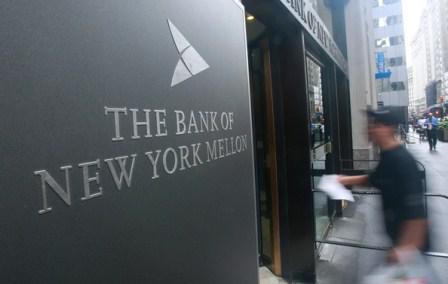 big financials are discussed. Even with assets under management over $1.3 trillion, the bank is ignored because of its custodial and clearing bank status which has investors less excited than names like JPMorgan (NYSE:JPM) or Wells Fargo (NYSE:WFC). But value investors should take a look at Bank of New York because it is historically inexpensive relative to both earnings and book value and has an extremely secure financial footing. Granted, market conditions for financials today are far different than they were in even the most recent past (which should account for some discounting) but the bank, with very high capital ratios and a "too big to fail" status backed by the Federal Reserve, is well-positioned to operate in the new environment.
Value
Earlier this year, Warren Buffett increased Berkshire Hathaway's 1.8 million share stake in the bank by 3.8 million shares bringing his total investment to around 5.6 million shares. While small relative to his holdings in other financials such as Wells Fargo or US Bancorp, the move represented his largest increase among his financial holdings that quarter. Buffett sees value here and historically, it is easy to see why.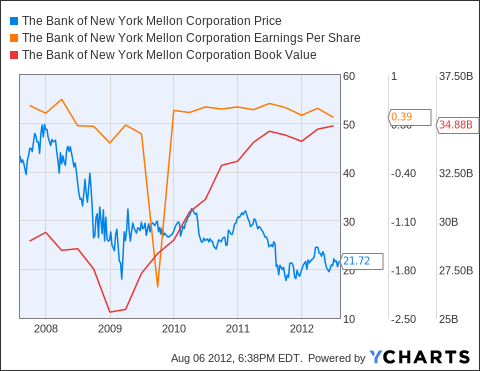 A lot of the gap between share price and earnings in relation to the time period predating the financial crisis can be attributed to "the new normal" in financials. However, the stock has traded above $30 multiple times since the crisis as well as since the Federal Reserve generated recovery in 2009. This supports the assumption that recent macroeconomic concerns are suppressing the share price despite the strongest financials in the industry and consistent earnings.
The stock currently has a book value of $29.25 per share while trading just below $22. However this is not all that uncommon among the big banks (i.e. JPMorgan has a book value of $48.28 per share and currently trades around $36) and thus should not be weighted as it would in some other sectors. In comparison to the company's "Capital Markets" peer group the bank has a low valuation.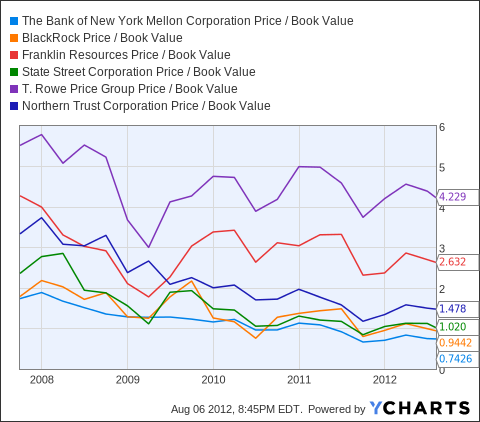 BK Price / Book Value data by YCharts
Bear in mind that the businesses of these "Capital Market" equities - BlackRock (BLK), Franklin Resources (BEN), State Street (STT), T. Rowe Price (TROW), and Northern Trust (NTRS) - vary considerably. It's an interesting guidepost, but should not be more than glanced at because book values in the financial industry tend to be less tangible than book values in others for obvious reasons. For example, Bank of New York's tangible price to book ratio is 2.2 compared to the 0.7426 so do not use it to value the stock. Rather it can be utilized as a jumping-off point for assessing valuation without being relied on.
The current price to earnings ratio is nothing to write home about at near 11 times earnings but in comparison to where the company has traded in the past (even the post financial crisis past) it is much cheaper than where the market potentially values it sans the current macroeconomic picture. Investors are willing to pay for security and Bank of New York has offered that in the past among the financials. Perhaps more important is a price to earnings to growth (PEG) ratio of 0.87 which indicates more growth may be in the works than the market is currently pricing.
Additionally, a share repurchase program was initiated in March of 2012 that approved the buying of over $1 billion worth of stock over the next year. So far in 2012, the company has bought back 30.7 million shares (18.5 million in Q1 and 12.2 million in Q2) valued at $684 million. This repurchase program is in addition to the $0.13 quarterly dividend and should continue at least throughout the year if not longer. The company has an interesting combination of dividend, share repurchase, and growth potential that should reward shareholders well in the long-term.
Business
Bank of New York not only has 1.3 trillion in assets under management, but $27.1 trillion in assets under custody/administration, a number that increased 2% from last year. The company attributed the growth to new business and stated that lower equity values partially offset the increase. For the 2Q 2012 the bank reported total revenue of $3.6 billion. Earnings came in at $0.39 a share which included a pre-announced litigation charge of $0.18, bringing earnings sans the charge to $0.57 a share compared to $0.52 for the same period last year.
The business is divided into three segments (percent of revenues):
Investment Services (72%)
Investment Management (24%)
Other (4%)
Bank of New York generates 78% of its revenue from fees which can be considered a positive or a negative depending on the point of view. Such a fee structure is great because it protects from downside risk in tough markets (the bank will still be servicing its assets in a recession for example) but such concentration in one area can also be a risk if anything threatens that fee structure (competition, regulation, decrease in the value of the underlying assets etc.).
Security
This is Bank of New York's selling point and the quality that makes it okay to own this financial as a part of a well-diversified portfolio. Basel III requires banks hold 6% tier one capital of risk weighted assets and Bank of New York currently holds 8.7%. The bank exceeds any recent pending or potential legislation as it applies to capital and stability requirements and was one of the few to easily pass every stress test since the financial crisis. It is very telling that the United States Treasury used The Bank of New York to help implement its TARP program during the 2008 financial crisis.
In the latest conference call the CFO, Thomas P. Gibbons, actually hinted that the new requirements help the company because it is well positioned in terms of capital requirements and will see it's capital ratio requirements reduced on sub-investment grade securities:
Yes. As we're nicely positioned under Basel III. As you can see here, we're well ahead of where even we had anticipated we would be. I think we think it's reasonable, because frankly, we didn't think that the sub-investment grade security should have attracted the amount of capital that they had. So basically, it's in line with what our thinking was.
What Gibbons is referring to is past capital requirements that mandated the bank leverage sub-investment grade securities at rates north of 100%. The company now has more flexibility in that space and has capital requirements well above current requirements with total capital of 17.5%, tier 1 capital of 15.6%, and total leverage of 5.6%. Thus the regulation fears that have depressed the sector do not currently apply to the Bank of New York. The primary regulation threat here involves potential transactional taxes or limitations which could cut into the company's fees but these have been de-prioritized for the time being as regulators focus on capital ratios and overall financial stability.
While not comforting in the face of a substantial financial crisis, Bank of New York's client base provides some protection in the face of normal economic fluctuations. The bank's clients consist mostly of large institutional investors, corporations, government pensions, and high-net-worth clients. These entities and individuals tend to have the staying power to weather a financial crisis and remain active throughout the duration of such. For what it's worth, the bank has also been around since 1784 meaning George Washington could have owned this stock.
Risk
Financials tend to carry a higher perception of risk than many other industries especially since the recent financial crisis. The largest unknown here is Europe. Whether or not an investor decides to establish a long position in Bank of New York may very well depend on her feelings in regards to the European debt crisis. In the words of Gerald L. Hassell, Chairman and Chief Executive Officer.
Europe is still an absolute mess. I can't describe it any other way. And so, given the kinds of deposits that we have in Europe, then, in euro dollars and euro currency, that's where we're probably most challenged, because simply putting money to work in euro land, given the environment, has been a real challenge for us. That's why we're looking at other parts of the world for -- whether it's trade finance or other types of secured fundings. Those are the categories that are still within our risk appetite that will allow us for some investment opportunities. And so things like trade finance, secured repos in other parts of the world, increasing some of our lines there to offset what I think is a very negative environment in Europe.
In addition to the macroeconomic headwinds currently facing most equities, Bank of New York has multiple pending litigation issues. Most importantly, foreign exchange (NYSE:FX) lawsuits filed by several state and public pension funds alleging the company overcharged them for foreign exchange trades. These litigation costs could be expensive, but more damaging may be the lost business from potential FX clients in the future. The company's legal team has done a great job so far in fighting the accusations but investors need to keep an eye on the litigation.
One of the largest drags on the company has been the low interest rate environment that looks to continue following Ben Bernanke's recent comments to Congress. Costs have been increasing as interest rates have dropped which has been gradually squeezing the bank's net interest margins from 1.89% in 2008 to 1.36% in 2011. However, the bank has recently employed cost cutting measures which seek to make it a leaner financial. The effectiveness of these measures will become more visible as the company reports over the next year.
Conclusion
Financials can be tough to own, but are a key part of a well-balanced portfolio. The sector often carries substantial risks (some unknown to shareholders until it's too late) and is less understood than others. Bank of New York's strong capital position and low risk management help protect shareholders from downside risk while enabling the bank to continue expanding into emerging markets and diversifying away from Europe. In PIMCO's latest investment outlook Bill Gross talks about the relative financial stability of such markets because of the tribulations they experienced in the last decade.
The specifics of the company's expansion plans are not entirely known, but management has made its intentions clear and they have the capital and flexibility to fuel significant growth in new markets. Investors should keep a close eye on the potential growth in Asia after multiple recent acquisitions in the region. This bank continues to grow slowly and steadily rewarding investors via the dividend and share repurchase program and offers substantial upside potential for a patient investor looking to add a financial to her portfolio.
Disclosure: I am long BK.