We attempt to construct a mREITs portfolio as part of a retirement portfolio. The mREITs portfolio should not form more than 10% of the entire retirement portfolio. We recommend investors to invest 3% in American Capital Agency (NASDAQ:AGNC) and Invesco Mortgage Capital (NYSE:IVR) each, followed by 2% in Annaly Capital (NYSE:NLY), and 1% in Capstead Mortgage (NYSE:CMO) and Two Harbors Investment (NYSE:TWO) each, in order to benefit from a dividend yield of 13.5% on a low beta of 0.5 for the mREITs portfolio. This, we recommend, should be a part of investors' diverse retirement portfolio.
Why mREITs?
The 10-year U.S. treasury rate has hit a record low of 1.45%, while U.S. jobs data came out below expectations and retail sales have shown a disappointing trend recently. GDP growth is expected to decline to 1.9% from 2.4% last year. All of the data points to a deteriorating U.S. economy, where dividend income investors are facing increasing difficulty in constructing and maintaining a dividend portfolio. In the wake of near zero interest rates and a sluggish U.S. economy, mortgage REITs are showing some respite. They are providing investors with elevated returns in the form of both price appreciation and dividend income. They do this by benefiting from record low borrowing costs used to fund their asset portfolios. The cheap borrowing costs have enhanced their net interest margins or spreads. We attempt to construct one such portfolio where investors could expect superior returns at lower risk.
Mortgage REITs Portfolio

Weights

Dividend Yield (%)

YTD Performance (%)

Beta

P/B (X)

NIM (%)

Leverage Ratio

AGNC

30%

14.3

26.0

0.42

1.22

2.31

8.4

NLY

20%

12.6

9.3

0.28

1.08

1.71

5.8

IVR

30%

13.9

40.8

0.79

1.07

2.02

6.0

TWO

10%

14.1

22.8

0.4

1.17

3.90

4.2

CMO

10%

11.6

11.3

0.46

1.05

1.37

8.1

Portfolio

100%

13.5

25.3

0.5

1.1
Note: These weights represent %age of mREITs portfolio, not overall retirement portfolio.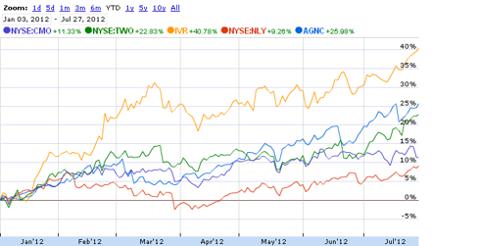 Click to enlarge
American Capital Agency
Among the mortgage REITs being considered for the portfolio, American Capital Agency offers the highest dividend of 14.3%. The company is implementing an aggressive strategy, which is why it is also considered one of the most leveraged mortgage REITs. Its leverage ratio is 8.4 times. Since the company is highly leveraged, a hint of rise in interest rates will hit its net interest margin of 2.31%, and ultimately its stock price. However, since interest rates are on a decline, the company is benefiting the most. The stock is currently enjoying 26% price appreciation due to the management's aggressive strategy. A further decline in interest rates and the resultant positive effect on its net interest margin and book value will be magnified by its high leveraged position, especially as regulators are talking about another round of quantitative easing (QE3).
Action: The stock's attractive dividend yield, along with increases in book value in case the rates decline, makes us bullish on the stock. We recommend investors to have 3% of their portfolio invested in AGNC.
Annaly Capital Management
Annaly Capital is providing its investors a dividend yield of 12.6% on a beta of 0.28. The company's management has a conservative strategy under implementation, which is why they have kept their leverage ratio at their historic low of 5.8 times. This they have done to capitalize in case the economy continues to normalize and interest rates begin an upward trend. In a previous report on this mortgage REIT, we saw that the company's target leverage ratio was 12 times. We expect the company to increase its leverage ratio amidst talks of another round of quantities easing. The stock is trading at an 8% premium with regards to its book value, and has enjoyed 9.3% price appreciation since the beginning of the year.
Investors should look into any increases in the leverage for Annaly Capital, when the company announces its performance for the second quarter on August 2, 2012. We recommend investors to increase their holdings of Annaly Capital from 10% to 20% of the mREIT portfolio, if its management decides to let go of its conservative strategy. If the management continues its conservative strategy and does not increase its leverage, a continued low interest rate environment will narrow down its spread, which will ultimately hit its dividend paying ability.
Action: We recommend investors to have 2% of their portfolio invested in the stock and increase the holdings if the management decides to increase its leverage.
Invesco Mortgage Capital Inc.
Among the mortgage REITs being considered, Invesco Mortgage Capital has enjoyed the most price appreciation of 40% on a YTD performance. Its stock is trading in proximity to its 52-week high of $20.58. Besides investing in government-sponsored agency securities, the company also invests in residential mortgages, which are not issued and whose principal or interest payments are not guaranteed by any government agency. This is why it earns a higher net interest margin of 2.02% compared to other REITs being considered. Since the company has a large proportion invested in fixed mortgage securities, its book value will benefit from declining interest rates. The company offers a handsome dividend yield of 13.9% backed by sustainability offered by an operating cash flow yield of 15.6%. The mREIT is highly leveraged with a leverage ratio of 6 times. This will magnify the returns from both price appreciations and dividends.
Action: The stock offers a handsome and sustainable dividend yield combined with potential of price appreciation in case interest rates decrease further. We recommend investors to keep 3% of their entire retirement portfolio invested in Invesco Mortgage Capital.
Two Harbors Investment Corp
Two Harbors Investment, among the mortgage REITs being considered for the portfolio, earns the highest net interest margin of 3.9% and is least leveraged with a leverage ratio of 4.2 times. The company earns such high net interest margin largely due to the fact that 20% of its residential mortgage asset portfolio is invested in non-agency mortgage loans yielding as high as 9.7%. The stock with a 23% YTD performance is trading at its 52-week high. With regards to its book value, the stock is trading at a premium of 17%. The company's free cash flow yield for the past five years has remained at 4.69%, while its dividend yield average for the same period remained 13.22%. Still, the company has been able to maintain its dividend distributions.
Action: The stock's high dividend yield and low cash flow yield are a matter of concern. Therefore, we recommend our investors to underweight Two Harbors and keep 1% of the retirement portfolio in this stock.
Capstead Mortgage Corp.
Capstead Mortgage has a leverage ratio of 8 times, meaning it is all set to benefit from the low interest rate environment and the talk of another round of easing to stimulate the economy. Most of CMO's borrowings have a duration less than 30 days, and a portfolio gap duration of 0.3 years, meaning its portfolio value would be less exposed than American Capital Agency (with a portfolio gap duration of 0.41 years) in case interest rates start rising. The fact that differentiates Capstead from the rest of the mortgage REITs being considered is that it seeks to invest exclusively in adjustable rate mortgage (ARM) loans. ARM loans and a shorter portfolio maturity gap, as we noted earlier, make Capstead the ideal candidate incase interest rates increase. In case the rates keep declining, Capstead will experience least acceleration in prepayments compared to REITs with large holdings in fixed rate agency securities.
Action: For now, we recommend our investors to keep 1% of their retirement portfolio invested in the stock. However, if interest rates increase, our opinion is that Capstead holdings should be increased.
Disclosure: I have no positions in any stocks mentioned, and no plans to initiate any positions within the next 72 hours.