The market continues to show signs of longer term moves to the downside as the Dow Jones Industrials has become the first major index to give a sell signal. The Russell 2000 followed the Dow, the NASDAQ, and the S&P 500 giving a hold signal at the end of last week. But now we have one of the major four indexes giving a sell signal. I would look for areas to be short and stocks to sell to create a cash position until the market improves.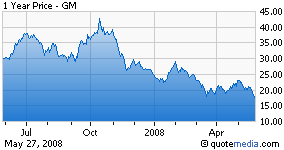 One stock that would be a good place to look for more downside movement is General Motors (NYSE:GM). With the high price of oil and the weak domestic economy, GM does not look to improve its earnings potential quickly. Hitting a new 52 week low today, the company fell 1% on a pretty decent day for equities and a day that saw a reversal in oil from the current trend.
Analysts have decreased their earning expectations for the company in the current quarter, the next quarter, this year and next year fairly aggressively over the past 90 days. Once thought to be breaking even in the current quarter, now analysts are expecting a 0.84 loss when the company reports next. Next quarter has moved from an expected 0.14 cent loss to a 0.67 cent loss over the same 90 day period.
The stock for GM has declined 42% in the last year and shorts have established a 17% position of the stock's float, anticipating further decline in price. Once a big producer of pickup trucks and sport utility vehicles the company is moving to reduce plant utilization at two Michigan plants that produce pickups due to a lack of demand. A decline in oil could lead to some stabilizing of the stock in the near term but the long-term picture looks worrisome for the auto-manufacturer.
Disclosure: None