Hibbett Sports, Inc. (NASDAQ:HIBB) reported first quarter of fiscal 2009 (ended 5/3/2008) earnings last week. In contrast to many retailers, the HIBB report was well received by the market, and the stock finished up 15% on the day.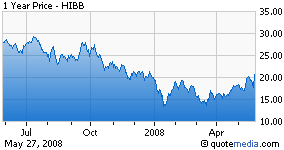 HIBB operates 699 stores in 23 states offering sporting goods and related items. HIBB follows a "small market strategy" focusing its retail efforts mainly on small markets in the Southeast and Southwest.

The conference call was notable for an extraordinary amount of questions for a small cap company. This may have been due to its successful quarter compared to many other retailers who are suffering during this economic downturn.

Financial Highlights

Earnings per Share - $0.32.
Sales - $145.8 million (8.95% year over year).
Cash - $6.8 million.
Capex - $2.9 million.

Same Store Sales (SSS) increased 0.1%, vs. minus 7.3% comp decrease in the calendar 2007 fourth quarter.
SSS February - positive 2.3%.
SSS March - Negative 8% (Lost one day because of the Easter shift, negative 6% without Easter).
SSS April - positive 10% (Up 6% excluding extra day).

Management Comments

"Now the first 19 days of May we have positive comps in the mid single digit range."

"Non-urban stores outperformed urban stores...strip centers outperformed enclosed mall stores."

"The price of a unit sold in Hibbett decreased 3%...that does indicate that the big ticket items are probably a little softer than we would like."

"As we said in our conference call on March 14, we believe we're conservative with our annual guidance of $0.88 to $1.00. Comps have improved in the last seven weeks but seven weeks does not make a year."

"On pace to open between 80 to 90 stores and close approximately 8-12 stores."

"Inventories increased 13.4% over the previous year but marginally on a store by store basis."

"Spent approximately $17 million to buy back 1 million shares in the quarter and program to date we've repurchased 7.8 million shares for approximately $167 million."

Question and Answer

Mid single digit same store sales increase thus far this quarter...is it isolated to just a few areas?

"It has really been across a lot of areas, we're up in footwear and apparel and equipment and is just slightly down."

With the store base expanding as rapidly as it is, when do you feel it will be necessary for you to bring a second facility online? (distribution center)

"Existing DC can support 1,100 stores. And it's going to take us six years to get to 1,200. We should be okay in the next three to four years and then we'll have to start looking at something. But there's a lot of other things we can do."

Percent of the store base is now considered urban stores? What is game plan?

"A little over 300...from a footwear standpoint we're just a little bit more focused on what we're putting in there and it seems like it's been working...more focused on some key brands and it's a lot less SKUs than it was a year ago."

How do you think rebates are playing into the sales? (government stimulus checks)

"It's hard to measure, I'm sure there have been some but it's really hard to measure. We're in a lot of areas where it's not real high income so we're probably getting some help from it, it's just hard to measure."

"One can't imagine that a stimulus package like that does not flow through at retail at some point but equally, on the other side you hear about a lot of people have not received it yet and when you look at the performance that we've been in having in comps through early May, late April, there's actually drivers to that that we feel are beyond the stimulus package."

Inflation in your costs of goods sold, how easy or difficult is that to pass through to your customer?

"On average a 3-5% increase coming from China especially in footwear...since there's new models and styles of footwear...it's fairly reasonable for us to pass that on and maintain our markups."

Research indicates that high gas prices has actually improved your traffic?

"That is one of the moving factors we've talked about...our retail strategy of convenience and availability makes it much more attractive given the high cost of commuting these days and the fact that we predominantly draw from a much smaller radius around our stores."