Quiet and boring is not always bad. While there is always a certain comfort level in owning the most popular and recommended stocks, the best companies often don't get the most attention.
Few technology companies get a fraction of the coverage that Apple (NASDAQ:AAPL) gets today. While companies such as Intel (NASDAQ:INTC), IBM (NYSE:IBM), and Microsoft (NASDAQ:MSFT), are in the news a fair amount, the vast majority of analyst and news coverage of tech stocks is frequently devoted to Apple.
The fact that Apple is nearly as big as all three of these companies combined is part of the reason for the presses obsession with the world's biggest company as well.
Still, while Apple has unquestionably been the best performing tech stock in the market over the last decade, the stock has also been very volatile, dropping from over $200 a share to below $80 a share in 2008. Apple is also limited in it ability to increase dividends, since the over two-thirds of the company's revenue and cash is overseas, and the company would have to pay a nearly 30% tax if management opted to repatriate the company's foreign cash.
Indeed, IBM is the only tech company that has consistently raised its dividend and grown the companies revenues by over 10% a year since 1997.
A well-known, nearly $230 billion dollar company, that specializes in IT services such as information technology, software, and global technology services, IBM trades at 14.5x trailing estimates and 12x forward earnings estimates. The company recently reported strong adjusted earnings of $3.51 a share, solidly beating analyst estimates of $3.42 as hare. IBM reported revenues of $25.7 billion, solidly below analyst estimates of $32.2 billion.
(www.thestreet.com)
What was so interesting to me about IBM's recent earnings report is that the company's earnings per share beat analysts estimates by nearly 3%, while the company's revenues missed analyst estimates by nearly 3%.
IBM is up over 50% in the last three years, and the company has doubled its dividend every five years since 1997. Still, while IBM has consistently grown its revenues at 8-9% a year, the company's recent quarter shows that management is continuing to significantly expand the company's margins as well. IBM recently reported that gross margins were up 140 basis points to 48%, pre-tax margins up 220 basis points to 21%, and net margins up 160 basis points to nearly 16%.
Intel's major acquisitions of McAfee, Microsoft's horrific acquisition of a Quantiative, and Oracle's major buyout of Sun Microsystems, made huge headlines. IBM has not made any major acquisitions in the last decade. Instead the company has quietly and consistently bought a number of fairly small companies over the last decade. Still, IBM recently reported that the company had grown its recently acquired Netezza application in the information technology division by nearly 36%, and the company has made a number of successful acquisitions of smaller companies by issuing short-term bonds at 1-2%. IBM also had a very strong record of buying commoditized dotcom companies at bargain prices after tech bubble burst in the late nineties. IBM's acquisitions have enabled the company to increase growth and expand margins with limited capital expenditures as well.
IBM's software and services businesses are now increasingly shifting to higher margin work, and this is likely why analysts are having a harder time estimating the company's earnings than in the past. The company's earnings growth continue to outpace revenue growth by a fairly wide margin.
This is also why I think IBM is still significantly undervalued. IBM's management has done a very good job of managing expectations, and management recently raised guidance for this year by just ten cents despite the strong recent quarter.
IBM is currently valued at 12x a fairly low estimate of next years likely earnings, and the company's longer-term contracts and ability to offer significant cost savings continue to drive growth in a weak economic environment. While IBM has been valued at 11-12x next years average earnings estimate over the last couple years, the company's strong cash flow and accelerating growth will likely justify a premium multiple if margins continue to expand.
IBM continues to aggressively raise the company's dividend, and IBM's most recent dividend raise this past April was over 13%. The company's payout ratio is also a very conservative 23%. The company has not cut its dividend since 1993, and the dividend has doubled every five years since 1997.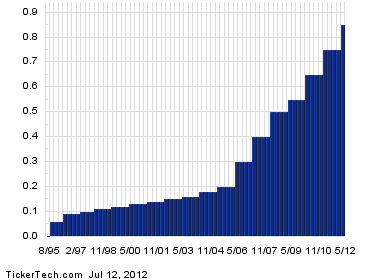 Management also continues to effectively buy back shares at prices that have consistently increased shareholder value as well, and management also authorized another $7 billion dollar buyback, with nearly $5.7 billion remaining from the previous buyback plan as well. The company has returned over $137 billion to shareholder through buybacks and dividends since 2000.
To conclude, while Microsoft, Intel, and Apple, all have strong cash flow, IBM is the only company with strong cash flow and growth that has consistently raised its dividend and also created significant shareholder value with buybacks. Microsoft's $50 billion dollar buyback plan created little to value for shareholders, and Intel continues to face significant challenges as the PC market increasingly becomes cannibalized by tablet demand. Apple has clearly been the best performing tech stock over the last decade, the company's strongest growth is abroad, but nearly two-thirds of Apple's cash is abroad. Still, while Apple has been the best performing tech stock for some time IBM's strong growth and impressive cash flow should enable the company to continue to offer solid returns and stable income for years to come.
Disclosure: I have no positions in any stocks mentioned, and no plans to initiate any positions within the next 72 hours.