Market Recap: The market slowed down its recent rallying after the market digested some mixed earnings from Priceline.com (NASDAQ:PCLN), Disney (NYSE:DIS), Sodastream (NASDAQ:SODA), and Orbitz (NYSE:OWW). Travel websites, PCLN and OWW, guided under expectations, which caused a major hit to both stocks. DIS and SODA, however, reported very solid earnings that helped offset the others. Data was limited, but crude inventories dropped significantly again as summer oil use remains high. The market is no longer getting its jobs and ECB rally chip, and it will now need some actual catalyst to get things moving again.
The market gets some data points tomorrow with Trade Balance, Jobless Claims, and Wholesale Inventories. None, however, is able to entirely move the market on its own. What the market is waiting for right now is ECB action to get things moving again. The longer it does not happen, the longer it will remain hard for the market to get going. We are at technical resistance in 1400-1420 on the S&P 500 (NYSEARCA:SPY), and we will need some actual action to breakout of these levels.
Two Trades
Two trades we like right now are Eli Lilly (NYSE:LLY) puts as well as Facebook (NASDAQ:FB) bear call spread. Both stocks have been weak during this market rally, and we do not see any catalysts moving forward. LLY is weakening on recent Alzheimer's buzz with Pfizer (NYSE:PFE) and Johnson & Johnson (NYSE:JNJ). The company also announced its FORTEO results recently, which were not taken very well. All in all, things are not looking good fundamentally right now, and we expect a move back to the 50-day MA from here. If it hits there and the market weakens, it could break the 50-day moving average. FB has not been strong since earnings and all moves up have been reversed very quickly. We suggest taking a bear call spread on FB on any move of significance to the upside.
Trade #1: LLY, Sep22, $41 Puts
Trade #2: FB, Sep22, 24/25 Bear Call Spread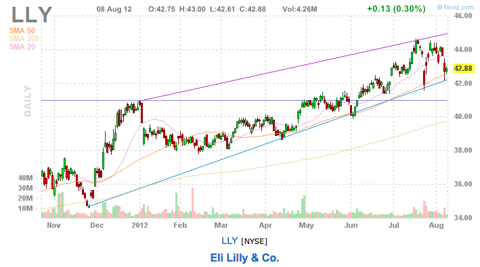 Tomorrow's Outlook
The market will be looking at moving on a small amount of data, movement in Europe, and earnings tomorrow. As we talked about above, the economic data points for tomorrow are not anything too significant to move the market greatly, but they will play a role in light headline week. Additionally, we have some interesting earnings to watch, which have actually been the market moving force this week. We have important earnings to watch from News Corp. (NASDAQ:NWSA), CenturyLink (NYSE:CTL), and Monster Beverage (NASDAQ:MNST) tonight. Tomorrow morning, we will be looking at interesting earnings from Windstream (NASDAQ:WIN) and Advance Auto Parts (NYSE:AAP).
Oxen Group Moves
We had a good day in the market as we were able to take a solid gain in our Disney bull put spread for a 73% gain that we entered in late June. We also were able to exit half of our Liberty Property (LRY) short for a 1.5% gain. We also took a solid 3% gain in Qualcomm (NASDAQ:QCOM) in our Goldman Portfolio, and we added a long in Cubist (CBST). We added the above puts in LLY, long in Target (NYSE:TGT), and attempted to enter a bull put spread in Discover Financial (NYSE:DFS).
We have the following positions:
In our Short-Term Equity Portfolio we are long Target , Carnival (NYSE:CCL), Dollar Tree (NASDAQ:DLTR). We are short Pall (NYSE:PLL), Omnicare (NYSE:OCR), and Liberty Property .
In our Options Portfolio, we are long Starbucks (NASDAQ:SBUX), Apple (NASDAQ:AAPL), United States Oil (NYSEARCA:USO), Monsanto (NYSE:MON), Dollar General (NYSE:DG), Home Depot (NYSE:HD). We are short Eli Lilly , Tiffany (NYSE:TIF) and Adobe (NASDAQ:ADBE).
In our Earnings Alpha Portfolio, we are long Apple and American Eagle Outfitters (NYSE:AEO). We are short Dell (NASDAQ:DELL). We have a reverse iron butterfly in F5 (NASDAQ:FFIV). We have reverse iron condors in Coinstar (NASDAQ:CSTR) and Facebook .
In our Goldman Sachs Up/Down Paper Portfolio, we are long Cubist and Atmel (NASDAQ:ATML).
Chart courtesy of finviz.com
Disclosure:
I have no positions in any stocks mentioned, and no plans to initiate any positions within the next 72 hours.