After a relatively weak Q2 report, Starbucks (NASDAQ:SBUX) has now fallen $17 per share (or 27%) from its 52 week high of $62.00. This coffee behemoth now boasts a much more attractive valuation and stronger dividend yield (1.5%) than at any other point in 2012.
I've been bullish on the company for the past several months, but have resisted the urge to jump in, because of what seemed like a stretched valuation. Now, at $45 per share, Starbucks presents a compelling risk/reward opportunity for long term investors.
Even with slowing GDP growth across the globe, Starbucks has managed to sustain its positive momentum in 2012.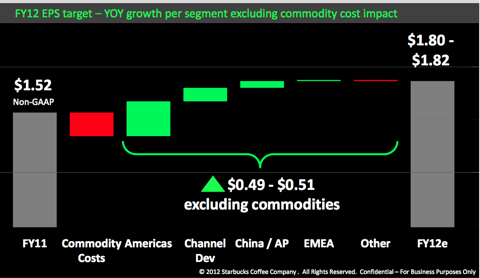 Click to enlarge
Despite industry specific headwinds of higher commodity costs (shown above), Starbucks is still showing improvement in almost all regions.
Higher coffee costs, which have had a large negative impact on earnings in 2011 and 2012, are poised to reverse in 2013 and 2014.
Below is another slide from Starbucks' most recent investor presentation, highlighting the anticipated future impact of commodity costs on earnings.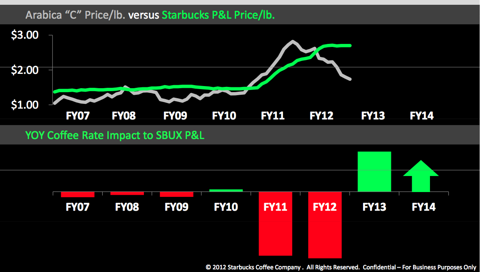 Click to enlarge
Starbucks is actually projecting commodity costs to boost earnings both FY 2013 and FY 2014. As shown above, there has been a divergence in Starbucks' Price/lb vs. Ariba Price/lb, which is bound to normalize in the near future.
Luckily, positive earnings tailwinds aren't just limited to commodity costs. International expansion should provide solid earnings/revenue growth for years to come as well. Starbucks' continually expanding presence in China has produced phenomenal results, and maintains its attractive growth potential.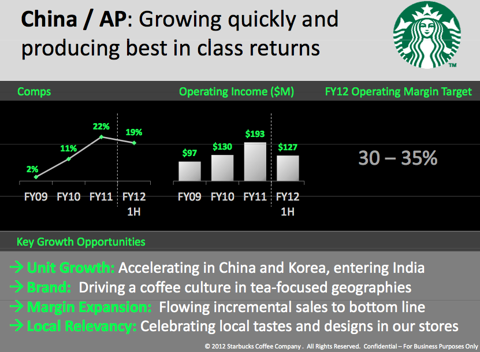 Click to enlarge
Year over year comparable same store sales have been phenomenal in China, and are showing no signs of slowing. It's clear the Starbucks brand is performing well on a global level, which will lead to continued success for its CPG (Consumer Packaged Goods) business.
Valuation
Starbucks is currently trading at 21x projected FY 2013 earnings estimates. This is by no means cheap, but Starbucks is still very much a growth stock. Because of a FY (fiscal year) that is one quarter ahead of the typical corporate schedule, FY 2014 estimates will be publicized after Starbucks' next earnings release.
FY 2014 earnings projections will most likely be in the range of $2.25-$2.60 per share (improving Starbucks' forward P/E to ~18x), representing sustained annual growth. At the moment, Starbucks pays an annual dividend of $0.68, a payout ratio (based on FY 2013 earnings) of just 32%. Starbucks could easily double its current dividend, even without increasing earnings (which is unlikely).
For this reason, Starbucks is the perfect fit for any dividend-growth portfolio.
Conclusion
After the recent drop in shares from above $60, to about $45, Starbucks offers a compelling entry point. Sustained dividend growth (70% in past two years), commodity cost tailwinds, and continued China expansion should drive future growth.
The market has given long term investors an excellent opportunity to pick up this high quality coffee giant on the cheap.
Disclosure: I have no positions in any stocks mentioned, but may initiate a long position in SBUX over the next 72 hours.