The steel companies had two big up days in the market. The rise in steel stock prices was attributed to AK Steel (NYSE:AKS) announcing that it will raise the price of all carbon flat-rolled steel products by $30 per ton. This would typically be a bullish sign as a result of higher demand or tighter supplies. However, AK Steel stated in its own Q2 2012 earnings report that the United States experienced a decline in selling prices late in the second quarter due to: "oversupply relative to demand; the actions of now bankrupt RG Steel and for-sale TK Alabama; and an increase of imported, flat-rolled steel products". This statement is contradictory to justify raising the price of steel.
Gordon Johnson of Axiom Capital Research stated that steel companies typically announce price hikes during times of oversupply/weakness in an attempt to lock in profits. His research also shows that when AK Steel raises prices 2 or more times in one month that the stock sells off 8% following the initial spike in the stock price immediately following the steel price increase announcement. AK Steel's price hike on Monday marked the company's second increase in 10 days and the third price hike within a month. This indicates that the stock may be setting up for a sizeable drop.
AK Steel also decided to suspend the dividend as a result of "difficult near-term market conditions that face the industry". That statement by the CEO, James Wainscott also doesn't indicate to me that it's the right time to raise prices.
I think that this situation has created a short-term trading opportunity. As the AKS stock price approaches an overbought level, I think that savvy traders can buy a put spread to profit from the inevitable drop that will follow this recent stock rally. Also, current AKS stockholders may want to consider selling a call option against their position to buffer the sell-off. For the covered call, I would look at selling the Sept. $5 or $5.50 call. For a put spread, I would look at buying the Sept. $5.50 put and sell the Sept. $4.50 put for a potential profit of $100 per contract.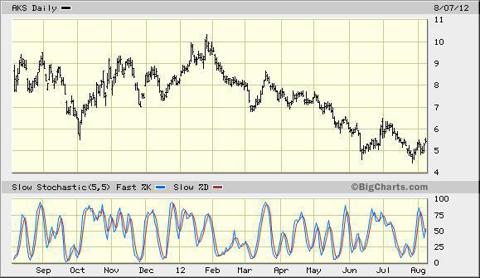 Click to enlarge
Disclosure: I have no positions in any stocks mentioned, and no plans to initiate any positions within the next 72 hours.