Maybe you can teach an old dog new tricks.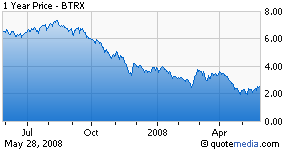 Barrier Therapeutics (OTC:BTRX) has broken Wall Street hearts for most of the millennium. It's now selling at $2.50, down from an all-time high of roughly $20.
This specialty pharmaceutical firm specializes in dermatology treatments for both mainstream and relatively niche ailments, with three products on the market and three in mid- or late-stage trials.
In the past few days, the company cut a deal with Proctor & Gamble (NYSE:PG) to bundle Head & Shoulders shampoo with a prescription treatment for dermatitis, Xolegel. BTRX will do the package assembly and selling of the product. This deal is emblematic of a turnaround in the company that has yet to show up in profits -- but has certainly jump-started revenue.
If BTRX can outlast their cash burn and/or raise some capital, they will be a nice, undervalued company. Revenue in Q1 2007 was $2.1 million; in Q1 of this year sales hit $9.7 million and the company's products are nowhere near market saturation. Forecast for 2008 is $40 million to $46 million in revenues -- and they better be that good as Barrier is burning a lot of cash on sales and marketing and overhead.
To get the company to profitability, it has suspended work on two of their products in development -- both in mid-stage trials -- until partners can be found to help with the trials and/or marketing.
Q1 numbers included near $3 million in severance payments for terminated employees and the company's burn rate should be in the $6 million to $7 million range, or less, in coming quarters.
Why am I writing about this now? There is an increasing bias on Wall Street among life sciences investors toward companies with approved products, and revenues, if not products.
There is a possibility that if the company can keep the momentum going, find some partners, hit their forecasts and project breakeven on a cashflow basis in 2009, some conservative money will decide to head toward the stock. I am not recommending it, I do not own it, but take a look.