When seeing Banco Bradesco (NYSE:BBD) fall again after retreating for several days, I thought that it was time to add to an already smaller but profitable positionto that I first accumulated several weeks ago. Here is a graph of how the stock has traded the past year, as of Tuesday's close, courtesy of Yahoo! Finance (NASDAQ:YHOO):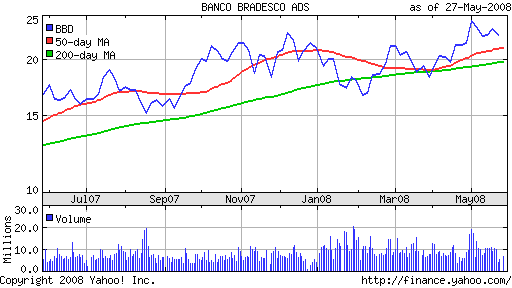 My purchase of BBD in the midst of the recent financial stock panic was timely as BBD lifted nearly 5% yesterday and is now nearly 6% from its all time high set earlier this month. This Brazilian bank which is growing annually in double digits is benefiting from strong domestic (Brazilian that is) economic growth and is not mired in the US financial crisis. 
At the time of this Blog entry Scott Rothbort, his family and or clients of LakeView Asset Management, LLC were long shares of BBD --- although positions can change at any time.