Odlum Brown analyst Stephen Boland became the latest bull on Tim Hortons Inc. (THI) this week, initiating coverage on the coffee and doughnut retailer with a "buy" rating and C$42 price target. 
In a note to clients the analyst wrote:
Tim Hortons is a high quality Canadian business. It boasts a stellar return on equity, has a solid balance sheet, and a long track record of growth. We believe there is opportunity for the company to generate double-digit earnings per share growth for several years, driven by unit expansion and same-store sales growth.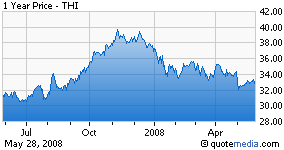 Importantly for investors, Mr. Boland said the stock is ripe for the picking after pulling back from a December high of C$40.41 in December.
The analyst said:
Weighing on the stock recently has been a generally shaky stock market and valuation compression for most quick service restaurants as investors fret about a slowdown in consumer spending.
He also added that  the shares were hit by poor first quarter results. 
However, Mr. Boland said none of these factors impact the long-term thesis for Tim Hortons, and he told clients the share price presents a good opportunity to establish positions.