On August 2, 2012, Enterprise Products Partners LP (NYSE:EPD) reported Q2 2012 earnings of $0.64. This handily beat the average analysts' estimate of $0.58 and it was approximately 25% more than the $0.51 in Q2 of 2011. Transportation of NGLs, crude, refined products, and petrochemical products increased approximately 3% year-over-year. Natural gas volumes increased about 14%. Total costs and expenses dropped approximately 14.5%. However, revenues fell about 13% to $9.79B year-over-year due to lower commodity prices and lower sales of petroleum products, although higher volumes ameliorated the fall. This was a big miss on the analysts' estimate of $11.95B.
The quarterly distribution increased 5.0% year-over-year to $0.635 per common unit (or $2.54 per unit annualized or a 4.79% annual dividend). The $876 million in distributable cash flow provided 1.6x coverage. The partnership retained $331 million in cash flow to help service its financing needs. To go along with this, EPD on August 6, 2012 announced its subsidiary, Enterprise Products Operating LLC, has priced a public offering of $1.75B of senior unsecured notes. Of this, $650 million will be due on August 13, 2015 and $1.1B will be due on February 15, 2043. The proceeds will be used to pay off the $500 million principal amount of Senior Notes P. Some will be used to reduce the company's borrowing under its revolving credit facility. The rest will be used for general company purposes. This will all help EPD continue its development projects.
In May 2012, EPD announced it would accelerate a portion of the NGL expansion which will bring its total NGL refrigeration export facility in the Houston Ship Channel to 7.5 million barrels per month. The in-service date for this project is now Q4 2012. EPD's Seaway pipeline reversal from Cushing, Oklahoma to the Texas Gulf Coast opened for business in May. EPD is 50% partner with Enbridge (NYSE:ENB) in this venture. EPD now plans to bring the first expansion of the Seaway pipeline online in Q1 2013. This extra 250,000 bpd in capacity will be completely booked, as Cushing is overflowing with oil at this time.
EPD recently announced the opening of its Phase I Eagle Ford oil pipeline. This is a 350,000 bpd pipeline that moves oil 147 miles from Wilson County to Sealy, Texas, where EPD has its huge ECHO crude oil terminal. This is only partially finished. When it is done, it will provide access to approximately 4 million bpd of refining capacity. On August 6, 2012, EPD announced that it has taken on a partner, Plains All American Pipeline (NYSE:PAA), in this venture. The joint venture will extend the line from Gardendale in LaSalle County to Three Rivers in Live Oak County and continuing on to Corpus Christi. It will also build a new 35-mile pipeline segment from Three Rivers to EPD's Lyssy station in Wilson County. The facility will include a marine terminal in Corpus Christi and 1.8 million barrels of operational storage capacity across the system. Parts of this system are scheduled for Q4 2012 with the rest scheduled for 1H 2013. The tariff rate will be $1.25 per barrel from Gardendale to all destinations. All these things stand to give EPD a nice earnings boost in the near term. They will help EPD diversify its pipeline infrastructure, which has become perhaps too dependent on NGL pipelines and services (approximately 56% of the business). These should help add to the dividend in the near term. The project completions could translate into a stock price increase.
EPD plans a further 450,000 bpd expansion of the Seaway pipeline beyond the 250,000 bpd expansion mentioned above. The target date for this is 2014. Additionally, EPD will construct a 149-mile crude gathering pipeline to serve the Lucius oil and gas field in the southern Keathley Canyon area of the deepwater central Gulf of Mexico. The SEKCO Oil Pipeline is expected to begin service by mid-2014.
Everyone knows that natural gas prices have fallen dramatically recently. Fewer people know that the consequent rush to concentrate more on NGL exploration and production by developers has led to or is leading to a glut in NGLs. For instance, the price of propane has dropped nearly 50% in the last year. Is there a danger of this market imploding? No, there doesn't seem to be. Many of the derivative products such as ethylene and propylene are currently being produced from crude oil (naphtha based) in most refineries worldwide. When the U.S. can make these from NGLs, which cost far less than oil in the U.S., the U.S. manufacturers have a decided advantage. In other words, there should be a huge export market for these products. Temporarily, the refinery infrastructure as well as the necessary pipelines are still often in the planning phase. In EPD's case, it announced in January 2012 that it had received sufficient transportation commitments to support the building of a 1,230 mile Appalachia to Texas pipeline (the "ATEX Express"). This pipeline will transport ethane (NGL) from the Marcellus and Utica shale plays to the US Gulf Coast. The ATEX Express is expected to begin operations in Q1 of 2014. It will be operated by EPD. It will be jointly owned by Enbridge -- 35%, Anadarko (NYSE:APC) -- 20%, and DCP Midstream Partners (NYSE:DPM) -- 10%.
EPD has consistently grown its gross operating margin from $1.8B in 2006 to $3.9B in 2011. During that time, it has grown its declared distributions (dividend) from $1.83 in 2006 to $2.54 as of Q2 2012. It currently has billions of dollars in growth projects under construction. Plus, it has a history of bringing these projects in under budget. It has a CAGR of 32.8% for total assets growth since 1998, which is truly outstanding. Your money in this company does not sit idle. The S&P500 does not even begin to compare to EPD's 1,618% total return since 1998. The S&P500's return since then is only 46%.
EPD trades at a quite reasonable PE of 19.30 (FPE of 20.38) for its growth rate. It has a five-year EPS growth rate per annum of 21.93%. Its FY2012 and FY2013 average analysts' EPS estimates have fallen by roughly 3% in the last three months. However, with the new projects due for completion soon, they may go back up.
Don't forget the 4.79% dividend. Even if this stock gets pushed down due to a market pullback or a world economic slowdown, it will pay you better than most bonds just to hold it. With a secular growth story in energy demand due to increasing emerging market demand, virtually everyone is sure that energy prices will continue to go up longer term. Further, much of EPD's business is in fee-based services, which are relatively immune to commodities' price fluctuations. The total return of 1,618% since December 31, 1998 attests to that. EPD will not only pay you great dividends over time, it will pay you with growth. EPD's assets will protect you against inflation much better than bonds will. Still it is nice to do as well or better than most bonds on the dividend payments alone. EPD is a large, stable company with a market cap of $46.72B and an enterprise value of $47.19B. When you add in EPD's growth, there is no comparison.
The two-year chart of EPD lends some technical direction to this trade.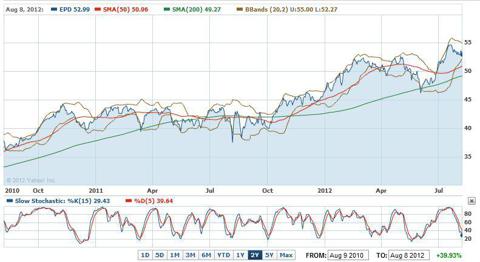 Click to enlarge
The slow stochastic sub chart shows that EPD is near oversold levels. The main chart shows that EPD is in a long-term uptrend. The 50-day SMA is solidly above the 200-day SMA, and EPD's price line is solidly above the 50-day SMA. The stock may or may not fall more in the short term. The low Q2 2012 prices on oil and petroleum products did hurt revenues, although EPD still beat on EPS nicely. The company is solidly profitable with its diverse businesses. You can't beat a 32.8% CAGR over 20+ years. Averaging in is a good strategy.
Note: Some of the fundamental fiscal data is from Yahoo Finance.
Good Luck Trading.
Disclosure: I have no positions in any stocks mentioned, but may initiate a long position in EPD over the next 72 hours.