As the fluctuating cost of oil has drastically altered the economic outlooks of this country and many of our trading partners, certain sectors and industries have been materially effected. For example, the airline industry has been adversely effected while clean tech appears to be in gold rush mode.
The mainstream media seems to have overlooked the world's dependence on another key commodity. A recent article by Don Miller in MoneyMorning suggests that investors should be "lining their pockets with timber" and that the commodity has the potential to be a potent investment play.
According to the article, Housing Starts totaled 692,000 in April 2008- this is the lowest it has been in seventeen years (and about 42% less than April 2007); new construction, in conjunction with consumer sentiment, is declining. Since byproducts of timber are an instrumental part of the construction industry, timber owners should feel the effect of decreased demand. There are many reasons why this thesis is not accurate. Housing and construction are in a recession in much of the west, but in Asia, housing and construction are on a steady rise.
Even in hard hit North America, there is no "expiration date" on trees-timberland owners have responded by tailoring their output to reduced demand. The land can be leased for recreation and what is under the land in the form of metals or perhaps coal may also be ripe for harvesting when the time is right to sell the trees.
Meanwhile, it's been boom-time for paper and pulp mills. The BRIC countries have a consistent-and rapidly growing-need for paper. Despite this demand, timber-land owners have kept supply limited to protect prices. In reality, even in boom times, most forest products go to making packaging rather than milled wood.
The article states:
The higher cost of pulp is being passed straight along to the paper mills. And they're frantically trying to pass those increases along to purchasers. Blake Hutchison, director of purchasing for the Menomonee Falls, WI-based printer Arandell Corp., says that most, if not all paper mills increased prices for 2008 by 5% to 7%.
Suppliers of paper and pulp based products are at the mercy of timber-land owners. Their business depends on access to timber-and thus, they are generally obligated to absorb cost increases.
The stability associated with the immense amount of control timber-land owners hold is a key factor of what drew me to the commodity as an investment. Even during a housing "recession", prices have held steady because land-owners choose to limit their supply. And when construction heats up again, land-owners will be more than ready to meet greater demand-and to collect the greater profits that accompany it. Investing in timber can also be a hedge, as the commodity has traditionally had a low correlation with the performance of the index.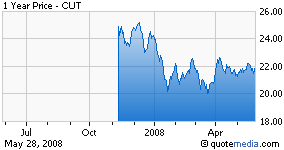 According to the article, about two-thirds of harvestable timberland is private. For decades, owning timber-land was reserved for the big guns of the investing world; however, REITs and more recently our very own Clear Global Timber Index which is licensed for the Claymore/Clear Global Timber Index ETF (NYSEARCA:CUT), which gives investors access to an array of global equities that own and manage timberland, have created a vehicle for small investors to reap the benefits of timberland.
Disclosure: Mr. Corn is the CEO of Clear Indexes LLC which publishes the Clear Global Timber Index which is tracked by the ETF (CUT). Mr. Corn owns shares in (CUT).