Declining consumer sentiment, higher commodities prices and increased labor costs are mussing up the hair of McDonald's (NYSE:MCD) well-known clown Ronald and requiring him to take all of the lemons being thrown at him and turn them into his new McCafe Frozen Strawberry Lemonade beverage. The company indicated in its Q2 2012 earnings call it is facing increasing labor costs on a global basis. In anticipation of an increase in the costs of commodities as a result of the U.S. drought, the company believes it minimized the negative consequences related to the drought by securing a lot of grains and other commodities prior to an increase in costs. And on another negative note, the company estimates the recent U.S. healthcare legislation will cost each restaurant between $10,000 and $30,000 per year starting in 2014.
McDonald's continued to grow market share in spite of a slowing global economy. U.S. comparable quarterly revenue grew 3.6%. Europe was up 3.8% with the U.K. and Russia showing strong results. France and Germany were positive, but feeling pressure related to Euro difficulties. The company gained market share in the U.K., France and Spain and treaded water in Germany and Italy. The Asia Pacific, Middle East and Africa grew at a paltry rate of 0.9%. Consumer confidence was fragile in Australia, the recovery in Japan was uneven and an economic slowdown was experienced in China. The company noted restaurants in Chinese Tier 1 markets were more negatively affected than restaurants in Tier 3 and Tier 4 markets. McDonald's remains on track to open 225 to 250 new restaurants in China this year and plans to build a total of 1300 new restaurants on a global basis this year with a significant portion being built in emerging markets such as Brazil, India and Russia.
The company is in the process of re-imaging its restaurants with 2400 expected to be re-imaged in 2012. The company has a total of 33,700 restaurants with half having a contemporary interior and 1/3 having a new exterior.
The company's stock price went ballistic earlier in the year, peaked around $100 in January of 2012 and has retreated to around the $90 range as shown below:
With all the negativity coming from McDonald's, the company's stock price is probably dead-in-the-water for a few months. McDonald's has a very nice annual dividend yield which is currently 3.2%. Since McDonald's stock appears to be treading water, an investor in the company might consider juicing up the dividend return and provide protection by using a protected covered call or collar. A protected covered call provides positioning for a potential return, even if the stock price is stagnant, and provides protection in case the stock price takes tumble. A protected covered call may be entered by selling a call option against a stock and using some of the proceeds to purchase a put option for protection or "insurance".
Using PowerOptions tools, a variety of protected covered call positions are available for McDonald's as shown below:

Click to enlarge
The potential returns for the positions shown in the table do not include expected dividend payments received during the holding time. For example, the top position shows a potential return of 1.7% (4.6% annualized), however, when considering dividend payments, the potential return increases to 3.4% (9.1% annualized) and the maximum potential loss decreases from 7.1% to 5.5%. So, even if the price of the stock drops to zero, the maximum potential loss is 5.5%. The specific call option to sell for the top position is the 2012 Dec 87.5 at $2.95 and the put option to purchase is the 2012 Dec 80 at $1.44.
Protected Covered Call/Collar Trade
MCD stock (existing or purchased)
Sell MCD 2012 Dec 87.5 Call at $2.95
Buy MCD 2012 Dec 80 Put at $1.44.
A profit/loss graph for one contract of the protected covered call position, including dividend payments, is shown below: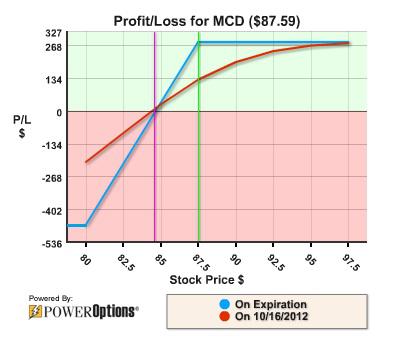 For a stock price below the $80 strike price of the put option, the protected covered call/collar remains unchanged. If the price of the stock increases to around $96, the position can most likely be rolled in order to realize additional potential return.
Disclosure: I have no positions in any stocks mentioned, and no plans to initiate any positions within the next 72 hours.