By G.C. Mays
The pollination period for corn (NYSEARCA:CORN) came and went in July with the crop receiving little moisture and there will most likely be very little yield in response. On Friday the USDA will release its first estimates of corn production based on real field estimates instead of econometric models. Market expectations of lower production have caused corn prices to surge since June. Fertilizer stocks have followed suit, with leading nitrogen fertilizer companies like CF Industries (NYSE:CF) and its subsidiary Terra Nitrogen (NYSE:TNH) surging along with CVR Partners (NYSE:UAN), Rentek Nitrogen Partners LP (NYSE:RNF), and Agrium (NYSE:AGU).

Source: Google Finance
Each stock in this group has gained at least 20 percent since June 5th as corn prices have soared more than 41 percent, rising from $5.68 to a recent close of $8.00 per bushel.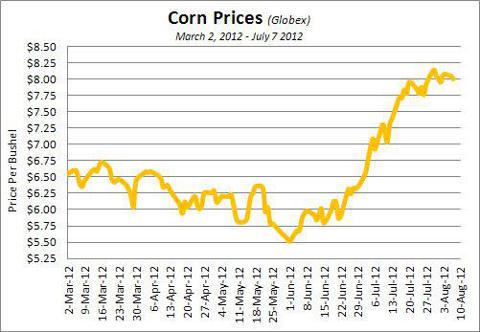 Source: The Mays Report
However, over the same period new export sales of corn slumped as prices soared. The question is, are persistently high prices killing demand for corn exports?
There have been a total of 849,700 metric tons sold for export in the current marketing year between June 7th and July 26th, which is 76 percent lower than the same period a year ago when the US sold for export 3.56 million tons of corn. The relationship between price and exports looks clear at a glance. However, when we look at specific price data over the above period the water gets a little murky.
Between June 7th and August 2nd the average price of corn was $6.93 in 2012 versus $6.87 per bushel over the same period in 2011, which is not a material difference. However, in 2011 corn prices peaked somewhere between June 11th and June 13th with an intraday high of $7.99 per bushel. By August 2, 2011 the price had declined to $7.11 per bushel. This year the price rose at a fairly steady pace until closing at $8.19 per bushel on July 20th, which was the same week there were more order cancellations than new corn export sales as the week recorded negative sales of -9,100 metric tons. Since then the price has been range bound.
When the USDA releases corn production estimates on Friday, corn prices are likely to pop. However, in my opinion there is an upper limit in the $8.00 - $8.30 per bushel range that buyers are willing to pay for US corn before it becomes cheaper to import. That limit will serve as a cap on any further price gains in corn as well as fertilizer stocks.
Disclosure: I have no positions in any stocks mentioned, and no plans to initiate any positions within the next 72 hours.