By Brendan Gilmartin
NVIDIA (NVDA) is expected to report 2Q 2013 earnings after the close of trading on Thursday, August 9 and host a conference call shortly thereafter at 5:00 p.m. EST. The actual results are typically released at close to 4:20 p.m. EST.

Outliers & Strategy
Key measures covered by Selerity:
Non-GAAP EPS: The Street estimate is for EPS of $0.14 (range is $0.10 to $0.17) (Source: Yahoo! Finance). Look for a figure at or above the high end (>$0.16) to push the shares higher.
Revenues: NVIDIA previously indicated back in May that revenue for 2Q 2013 is expected to be between $990 million and $1.05 billion. The consensus is at $1.01 billion.
Revenues Guidance (3Q 2013): Keep a close eye on revenue guidance for the upcoming period. The consensus is $1.1 bln.

NVIDIA shares have been climbing higher in recent weeks, reclaiming the 200-Day SMA for the first time since mid-April, due in part to enthusiasm over the Tegra 3 mobile processor to be used in next generation smartphones and tablets.
Recent News
08/07: Needham maintained a Buy rating and $20 price target on NVIDIA, according to StreetInsider.com. The firm indicated that NVIDIA could meet or exceed expectations for the 2Q 2013 period and guide in-line for the following quarter. The rosy outlook is being attributed to solid revenues from Tegra in mobile and ramp up in Apple (NASDAQ:AAPL) products using NVIDIA's graphics chips.
08/03: According to a report on DigiTimes, Nvidia received orders for over 3 million Tegra 3 chips for use in Google's (NASDAQ:GOOG) Nexus 7 tablet. Supply chain makers also report that they expect 3-4 million units of the tables to be shipped through 2012.
07/18: Nomura Securities maintained a Buy rating and an $18 price target on NVIDIA, according to a StreetInsider.com. The positive outlook follows a decision from ASUS to use NVIDIA's Tegra 3 processor in the Win RT tablet.
06/27: NVIDIA announced the Nexus 7 from Google, a tablet running on the newest version of Android 4.1 (Jelly Bean), features the NVIDIA(NYSE:R) Tegra 3 mobile processor.
06/25: Canaccord Genuity upgraded NVIDIA from Hold to Buy and raised the price target to $16, according to a post on Benzinga.com. The firm noted strength in the Tegra mobile processing chips should offset general PC weakness, while NVIDIA as a whole should hold up better than names dependent on the PC cycle.
Technical Review
NVIDIA shares are at a 3 ½ month high headed into the 2Q 2013 earnings release, eclipsing the 200-Day SMA (near $14.00) along the way. The shares are now in a resistance zone between $14.00 and $14.50. A breakout leaves room to run toward $15.50, followed by $16.00. Support is at $13.50, followed by $13.00 - just above the $50-Day SMA. Note that the Relative Strength Index (RSI) is also nearing the 70-level, representing an overbought scenario. (Chart courtesy of StockCharts.com)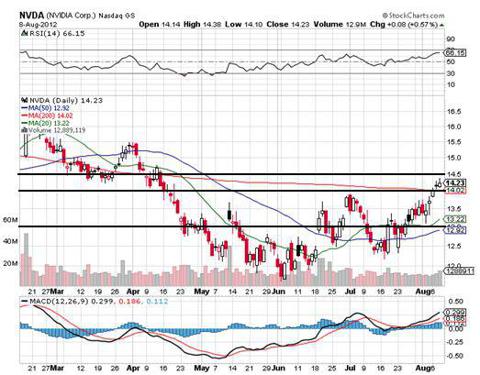 Click to enlarge
Summary
NVIDIA shares have recently climbed to a 3 ½ month high, benefiting from the rollout of the Tegra microprocessor and increased adoption of smartphones and tablets. Industry reports suggest NVIDIA is doing quite well in the mobile arena, thanks in part to the launch of Google's Nexus 7 and other tablet PCs, while the graphics business sees continued strength from Apple products. NVIDIA is also trading at just 2.0x sales and 12x cash flow, below the 5-year averages of 3.0x and 21.0x, respectively. The concern, however, is that good news may already be priced in, with the shares up more than 20% off the June lows while many of its peers have issued more tepid guidance in response to the softer macro backdrop. The forward outlook will therefore draw close scrutiny when the results are released on Thursday.
DISCLAIMER: By using this report, you acknowledge that Selerity, Inc. is in no way liable for losses or gains arising out of commentary, analysis, and or data in this report. Your investment decisions and recommendations are made entirely at your discretion. Selerity does not own securities in companies that they write about, is not an investment adviser, and the content contained herein is not an endorsement to buy or sell any securities. No content published as part of this report constitutes a recommendation that any particular investment, security, portfolio of securities, transaction or investment strategy is suitable for any specific person.
Disclosure: I have no positions in any stocks mentioned, and no plans to initiate any positions within the next 72 hours.