CKE Inc., the parent company of the popular fast food chains Carl's Jr. and Hardee's, is currently marketing their $200M IPO of 13.3M shares at $14 to $16/share. The deal is 50% primary, with proceeds used to repay some of the outstanding debt.
The stock will trade under the symbol CK on the NYSE and should be priced the week of August 6. They compete most directly with other fast-food chains like McDonalds (NYSE:MCD), Wendy's (NYSE:WEN), Jack in the Box (NASDAQ:JACK) and Burger King, which was taken private by 3G Capital in 2010.
There are quite a few banks on this deal. The bookrunners are Morgan Stanley, Citi, and Goldman with co-managers Barclays, Credit Suisse, RBC, Apollo, Cowen and KeyBanc.
This is a classic go-private, re-engineer and re-IPO story. They acquired the Hardee's chain in 1998 and have been consolidating the two brands into what is effectively one chain over the last several years to improve operating results.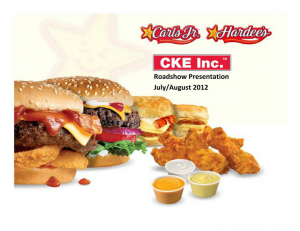 Their motto, "Targeting young hungry guys and those who aspire to be youthful," contrasts with the approach taken by other chains who focus more on women, kids and families.
CKE has built a national brand with a fairly global footprint. For example, in places like Dubai you might be surprised to find Hardee's as often as McDonalds.
The one place in the US where the restaurants are largely absent is the northeast, but this offers some easy expansion and the company is planning to enter these remaining US markets soon.
Their advertising approach has been a success with more adult themes and humor that works with their demographic. In other words, bombshells in bikinis eating fat juicy burgers hold male viewer attention.
A major shift to a franchising model is helping the balance sheet. Today, about 73% of the units are franchised versus 50% a few years ago. Just went through a major ~$250K/unit renovation program for most of the restaurants. Big upgrade.
The CKE growth plans are fairly simple - more stores both in the US and internationally. The plan is to open 75 new restaurants in the next year out of an available 300 commitments. Emerging markets like Russia, Brazil, and China are all growing fast and offer significant opportunity.
Oddly, the company is not in Western Europe which is a blessing right now given the near-term economic malaise but a puzzle longer term.
They have hired Jim Sullivan, a new executive with strong connections in the Boston area to run the US franchise development. His Boston base and network of regional contacts will help to bring the stores to the Northeast. Recent openings have gone well and franchise economics are strong relative to competition.
There are some menu item additions and innovations like made-from-scratch biscuits to generate sales, improve the profitable breakfast segment of the business and build brand identity. Adding a few Mexican items to the menu has also been effective.
Overall revenue is now just over $1.1B with $176M of adjusted EBITDA generated. About $100M of the revenue comes from high margin franchise royalties and fees. Reduced expenses from remodeling will improve cash flow. Capex should be $60-70M per year, which is down from $102M in FY 2012.
Company targets are 4% annual growth, 8-10% adjusted EBITDA growth and 25% annual net income growth due to reduced debt costs.
Some proceeds will be used to reduce current net debt of $654M to a projected $590M post IPO.
In conclusion, this company is "cleaned up" post their going-private transaction in 2010, and the company can post modest growth and further improvements in the capital structure. International growth and expansion into the Northeast US should work well for the next few years. Probably a little too much emphasis on made-from-scratch biscuits in the story, but it shouldn't hurt them too much.
Disclosure: I have no positions in any stocks mentioned, and no plans to initiate any positions within the next 72 hours.