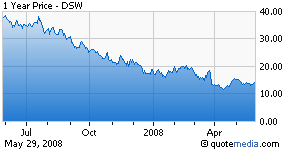 Earlier this morning, DSW (NYSE:DSW) reported 1Q08 results that were essentially in-line with expectations. The company generated $0.23 per share, missing the consensus estimate by a penny, and reiterated its full-year earnings guidance range of $0.75-$0.85.
At first glance, management's fiscal 2009 EPS guidance range (representing a 30%-38% decrease y/y) seems overly conservative. However, the company faces stiff headwinds from not only the deleveraging effect that negative single-digit comps will have on the occupancy expense line item, but also e-commerce channel development costs and IT improvements. Because of these incremental expenses, management expects operating expenses to increase by at least 200 basis points throughout the balance of the year (or more than 22.5% of sales), making it incredibly difficult to outperform earnings expectations. Disciplined inventory management should offset some of the impact, but we doubt it will be enough for the company to significantly exceed its outlook for the year.
In a somewhat curious move, the company also announced that President Peter Horvath left his position to become the Executive Vice President of Business Integration at Limited Brands (LTD). We believe the company is still in good hands - Vice Chairman and Chief Merchandising Officer Debbie Ferrée is one of the best in the business, and Chief Financial Officer Doug Probst has done an exceptional job directing the company's financials - and there should be no shortage of qualified suitors to fill the open position. However, Mr. Horvath was partially behind the recent e-commerce, IT, and supply chain initiatives, and we wonder whether or not there will be any execution delays as a result of this management transition.
Investment recommendation: Is DSW right for your portfolio? It depends on your investment horizon. Considering the current state of the consumer and the 200 bps of SG&A deleverage that the company will likely incur this year, we really don't see management raising its EPS forecast anytime soon, especially when you factor in 2Q08's difficult comparisons. Although discretionary retailers have rebounded from their April lows, we believe the market is skittish enough about gas prices and other economic headwinds to keep valuation multiples in check for the foreseeable future. We expect the stock to remain range bound (up or down a few percentage points) over the next several months with very few catalysts - positive or negative - to drive compelling trading opportunities.
That being said, there are a number of reasons to like this company, and we find the stock appropriate for long-term growth and value investors alike. The company offers a wide assortment of popular footwear brands at discounted prices and a new aesthetically-pleasing shopping environment. There is increasing awareness of the DSW brand (just ask any female shopper between the ages of 24 and 45) and the company has sufficient room to grow its store base as smaller competitors falter in the current environment.
Recent supply chain capabilities should keep inventory levels appropriately positioned, and the new e-commerce channel adds another way to satisfy customers. DSW's balance sheet is debt free and unit-level ROIC (return on invested capital) remains in the mid-to-high teen range. It may take some time - we don't see the stock returning to the $20 level until late this year or even early 2009 - but DSW presents an intriguing long-term investment case, especially if another footwear industry cycle emerges during the next 12-18 months.