Crown Castle International Corp. (NYSE:CCI), a wireless infrastructure company, reported its second quarter results on July 25. Since then, the stock has moved up 8% and is currently trading at $62. The company's infrastructure includes towers and antennas. CCI is generating the majority (90%) of its revenues from its site rental business. In the second quarter, the company generated total revenues of $586 million, up 17% from 2Q2011 revenues. This revenue growth comprehensively beat consensus estimates of $561 million. Furthermore, CCI posted earnings that were much higher than the same quarter of the previous year, largely due to a reversal of tax allowances. Excluding the tax effects, net income surged by 55% in 2Q2012 against 2Q2011, and the company posted EPS of $0.4. Analysts were expecting EPS to be $0.38.
The company has historically produced impressive revenue growth over the years, and this quarter was no exception. Since 2007, revenues have been on an upward trend on a yearly, as well as a quarterly basis. Gross margins have also expanded for the company over the years. In the financial year ended 2011, the company posted a gross margin of 71%, compared to 69% in 2010.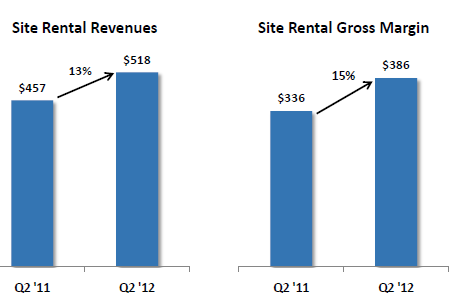 As mentioned previously, the company derives almost 90% of its revenues from site rentals. Its notable customers include, but are not limited to, AT&T (NYSE:T) and Verizon (NYSE:VZ). As these telecom carriers expand their spectrum to accommodate increased usage of mobile internet, as well as demand for high speeds and data from their customers, companies like Crown Castle and American Tower (NYSE:AMT) stand to gain. More upgrades by T and VZ, for example, to satisfy bandwidth-hungry phones will likely lead to tremendous growth for tower companies. Apart from organic growth, the company's second quarter results have also been helped by its recent acquisition of NextG Networks Inc. Going forward, this acquisition will expand the company's infrastructure. According to the recent quarterly results, Crown Castle has also extended the terms of its lease arrangements with T-Mobile USA to 10 years. This extension in terms will reflect positively for the company in the coming quarters. According to Reuters, CCI is also bidding for almost 40,000 T-Mobile towers, which the latter has decided to sell. This transaction, if completed, will further enhance the company's infrastructure.
Standard and Poor's has recently affirmed its ratings for the company, with the overall outlook changed from stable to positive. The decision was influenced by an increase in the number of tenants on the company's towers, as well as price increases on its contracts.
CCI has issued its guidance for the third quarter, as well as for the full fiscal year. It now expects earnings to be in the range of $206 million -$281 million, whereas analysts are expecting profits to be $235 million.
In a previous report on Crown Castle, we were bullish on the company based on its operational strength. We reiterate our previous stance, as the company has continued showing impressive revenue growth, and all key metrics for its business have improved, both on a yearly and a quarterly basis. We believe that going forward, this growth in revenues and increased demand from various telecom carriers will be reflected positively in its bottom line, which is expected to grow by almost 37% by next year. The stock has performed well on a YTD basis, gaining almost 40%. The stock is trading at forward P/E of 53x, compared to American Towers' 36x.
CCI's P/S and EV/EBITDA of 8.3x and 19.3x are low compared to AMT's P/S and EV/EBITDA of 10.7x and 21.3x, respectively.

Disclosure: I have no positions in any stocks mentioned, and no plans to initiate any positions within the next 72 hours.