Shares of Clearwire (CLWR) have soared 114% in just 14 trading days; however, the company has seen its shares slide more than 90% since its debut in 2007 at $25/share. CLWR has burned cash every single year it has been public and will continue to do so into the foreseeable future. Since late July, the stock's rally has caught many investors off guard and created a massive short squeeze, as rumors have circulated about a possible "strategic transaction."
The rally started shortly before Q2 earnings were released on July 26th, 2012. The company reported mixed results, reporting EPS of ($.28) vs. estimates of ($.32), while revenues were slightly weaker. The company also reported Q2 Adjusted EBITDA of ($34.4M) vs. estimates of ($69.9M), handily beating analyst expectations. Next, CLWR guided full-year revenue and Adjusted EBITDA above their prior range, signaling that they saw slightly stronger demand and their cost cutting initiatives helping operations. Overall the Q2 operating results were mixed, but guidance was stronger than expected, helping to push the stock higher.
In CLWR's Q2 Conference Call, Hope Cochran, CFO and Sr. VP said:
"We have now elected to cease further sales under this facility. Based upon our current liquidity and our outlook for the operations over the near term, we believe we have sufficient cash to fund the business for at least the next 12 months."
This comment was very bullish, as it gave shareholders confidence that management felt that the stock was undervalued, and that it had enough cash to operate for the next 12 months. Short sellers should have been paying attention to this statement, because the overhang of new shares being issued into the market place suddenly disappeared.
Next, CLWR's CFO talked about the possibility of strategic transactions on the horizon:
"As we consider our longer-term liquidity needs, we expect to receive future LTE payments from Sprint and continue to evaluate all potential sources, particularly strategic transactions and asset sales."
Then Walter Piecyk (an analyst from BTIG) asked a question regarding CLWR's possible strategic transaction, wondering if it would be a type of equity investment or loan from a partner. The CEO, Erik E. Prusch, responded saying:
"Yes, in terms of strategic transactions, we're looking at more complex transactions. Obviously, it would be something more than a straight commercial agreement, and we will consider those as straight wholesale deal. And so when we refer to strategic transactions, it's encompassing more than just a wholesale agreement."
Management is clearly telling investors to expect a potential strategic partnership in the near future. As speculation continued to grow in the day after the conference call, shares of CLWR continued to rise. Yesterday (Aug. 8th), shares of CLWR soared after Dish Network (NASDAQ:DISH) revealed in their 10-Q that they held nearly $400M strategic investment in debt of a "single issuer." Wells Fargo's analyst commented saying, "speculation that Dish's investment was in wireless service provider Clearwire Corp."
All of this speculation in a $1 stock has created a massive short squeeze, helped by the more than 60M shares sold short in CLWR as of July 13th. Also, shares of Sprint (NYSE:S) (CLWR partner) have recently surged after the company posted strong Q2 results, and investors feel the wireless company has turned the corner. Speculators have pushed CLWR shares higher than most short sellers could believe, causing a lot of pain. However, shares appear to be overbought in the short-term and should pullback very soon. When you look at a chart of CLWR (below), the stock is trading well above the Bollinger Bands. When a stock gaps up above a Bollinger Band, the stock is highly likely to reverse in the following day or two.
Bottom line: Even if a strategic deal is announced between DISH and CLWR, shares of CLWR are likely to pull back. It appears the stock is in a massive short squeeze as people are likely "buying the rumor and selling the news." New prospective investors should look for a better entry into the stock next week as it pulls back. For more nimble traders, a timely short position may be ready to be initiated.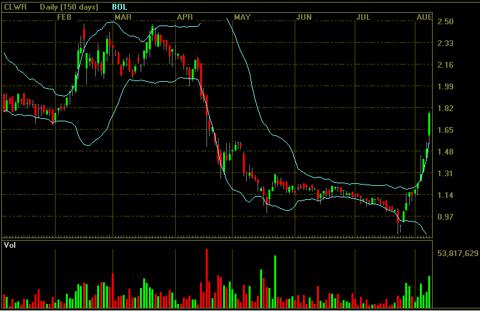 Click to enlarge
(Click to enlarge)
Disclosure: I have no positions in any stocks mentioned, but may initiate a short position in CLWR over the next 72 hours.
Disclaimer: This article is intended for informational and entertainment use only and should not be construed as professional investment advice, but rather my opinions as a writer only. Trading stocks are risky -- always be sure to know and understand your risk tolerance as in any given trade/investment you can incur substantial financial loss. By reading this article, you agree and understand that I am not giving recommendations on stocks to trade. Any trade you make -- wins, losses, or break even -- are entirely your decision and responsibility. You also agree and understand that I have no material insider information -- just opinions. Always do you own complete due diligence before buying and selling any stock, and/or consult with a licensed qualified broker dealer and/or certified financial adviser.