Sometimes in the course of investment screening or other forms of investment research, an unlikely combination presents itself to a discerning investor: a growth stock priced at value levels. More often than not, these situations occur because of a lack of investor interest or knowledge about the subject company.
Sure, Amazon (NASDAQ:AMZN) is a growth company in terms of revenue (although growth in profits remains to be seen), but no value investor would pay some 290 times prior twelve months earnings to own it. Conversely, Research in Motion (RIMM) looks like a bargain based on the share price relative to prior twelve months earnings, but the fundamentals are rapidly and decidedly declining from the gale of competitive destruction. Value investors instead seek growth at a bargain valuation, yielding an ample margin for error in valuation assumptions or unforeseen adverse business developments. Usually those securities offering growth at a reasonable price (GARP) are small capitalization companies unknown to the greater investment community.
Here's a name you likely haven't heard before but offers investors considerable GARP: Syneron Medical (NASDAQ:ELOS). But it warrants your attention because Syneron is rapidly growing revenue and possesses a bullet proof balance sheet to back up the share price. And it is developing an economic moat in the aesthetic device market for the growing and aging world population.
Business Overview
Syneron Medical Ltd., together with its subsidiaries, engages in the research, manufacture, development, marketing, and sale of aesthetic medical products worldwide. The company's products target a range of non-invasive aesthetic medical procedures, including hair removal, wrinkle reduction, rejuvenation of the skin's appearance through the treatment of superficial benign vascular and pigmented lesions, acne treatment, treatment of leg veins, treatment for the temporary reduction in the appearance of cellulite and thigh circumference, ablation and resurfacing of the skin and laser-assisted lipolysis, and skin cooling, as well as relieving aches, pains, and stiffness in muscles. Syneron Medical Ltd. was founded in 2000 and is headquartered in Yokneam Illit, Israel. (source Yahoo Finance).
Valuation
At roughly $10/share, Syneron's equity is valued at about $353 million. But the enterprise value is only $211 million thanks to the company's copious cash and marketable securities accounts ($142 million as of March 31, 2012) and debt free balance sheet. At the same time, the company is rapidly growing sales (from $189.5 million in 2010 to $228.3 million in 2011, a 20% increase year-over-year) and building out its distribution network around the world. Sales in Q1 2012 expanded at a robust pace as well - Syneron generated an all time high in quarterly revenue ($62.7 million), up 26% year-over-year.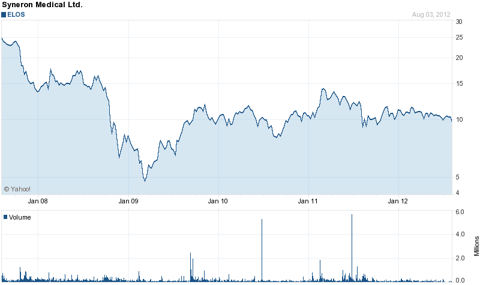 Catalysts
In addition to the robust sales growth, value investors also seek out securities that contain catalysts which serve to help more fully price in the value of the underlying security. Here are a few catalysts for Syneron:
Recent FDA approval and international launch for its new elos ePlusTM device, providing a multi-platform solution for non-invasive aesthetic procedures.
Recent acquisitions of niche competitors (TransPharma Medical and UltraShape Ltd.) to expand its product and patent portfolio and to gain market share.
Expansion into various emerging markets, including China.
Continued investment in research and development to create innovative solutions for dermal rejuvenation.
Evolving business model whereby management expects recurring services and consumables for its installed base of devices to make up a higher a percentage of total sales (31.7% in 2011). This is "sticky" and high margin revenue.
Settlement of a patent infringement dispute with Palomar Medical Technologies in September 2011 for $31 million. Not only will the one time settlement cost not impair Syneron's income statement going forward, but it also reduces uncertainty around the legal rights of the technology underlying its products and reduces costly legal expenses.
Conclusion
Syneron is scheduled to report its second quarter earnings on August 15, 2012. Based on recent performance and indications from management, device sales should continue to expand at a healthy clip, thereby allowing for the operating leverage embedded in the Syneron model to begin producing profits for equity shareholders at some point in the future. So go ahead, do your due diligence and take advantage of investor apathy. Syneron appears to be offering a greater value proposition (rapid sales growth and limited downside risk due to the balance sheet shored up by a veritable boat load of cash and marketable securities) than other more popular companies like Amazon.
Disclosure: I am long ELOS.