Pfizer, Inc. (NYSE:PFE) is a global developer and marketer of medicines and pharmaceuticals for various medical conditions in both humans and animals. The company's products include prescription pharmaceuticals, non-prescription self-medications, and animal health products such as anti-infective medicines and vaccines.
Pfizer posted second quarter earnings of 62 cents per share, well above the consensus estimate of 55 cents and 5% above the year-ago earnings. Despite the loss of exclusivity of certain products, mainly Lipitor, and the unfavorable impact of currency fluctuation, earnings were boosted by cost reduction, productivity initiatives and a lower share count.
Revenues fell 9% to $15.1 billion, slightly above the consensus estimate of $15.0 billion. Loss of exclusivity impacted second quarter 2012 revenues by $1.8 billion or 11% compared with the year-ago period.
(Source: Zacks)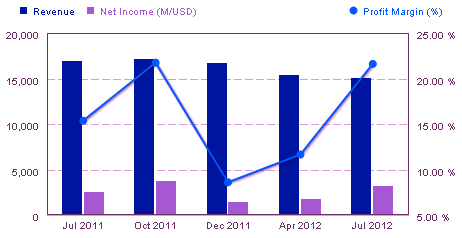 New Initiatives to Drive Long-Term Growth
With several of its products either facing or slated to face generic competition, Pfizer is looking towards cost-cutting initiatives to drive bottom-line growth. The company has been undertaking massive restructuring and cost-cutting for the past four years. The new CEO has undertaken several initiatives to drive long-term growth. Some of those are listed below:
The Wyeth acquisition should help Pfizer rebound after the Lipitor-related earnings cliff in 2012. Wyeth contributes a large revenue increment to Pfizer.
In February 2011, Pfizer reiterated its intention to commit more resources towards the development of treatments in the fields of oncology, neuroscience, immunology, inflammation and vaccines.
The company also said that it intends to stop funding treatments for high risk/low productivity therapeutic areas like allergy, respiratory diseases, urology, internal medicine and tissue repair.
The company spent 9.3 billion on research and development in 2010. Pfizer's decision to cut its R&D spend in 2012 indicates the company's intention to streamline its R&D efforts.
Pfizer is also dedicating more resources towards growing its biotech business. This is evident by the significant increase in the number of biologic products in mid-to-late stage development.
The company remains on track where the sale of its nutrition business and the separation of the animal health business are concerned. Pfizer expects to file a registration statement with the Securities and Exchange Commission by mid-August for an initial public offering of up to a 20% ownership stake in Zoetis, the stand-alone animal health company. Pfizer expects to complete the IPO in the first half of 2013.
Pfizer's Shift towards Strategic Acquisitions will Boost Top-line
The company is currently looking towards small acquisitions to help offset some of the impact of the increasing generic competition.
In October 2009, Pfizer acquired Wyeth for about 68 billion. Wyeth has some valuable assets, including therapeutic categories complementary to Pfizer, a biologics portfolio, and a vaccine business.
In February 2011, Pfizer acquired King Pharmaceuticals for $3.6 billion. With this acquisition, Pfizer is looking to strengthen its pain management franchise.
(Source: Forbes)
The Second Quarter Highlights
While foreign exchange cut second quarter revenues by $451 million or 3%, operational factors impacted revenues negatively by $977 million or 6%.
International revenues declined 5% to $9.3 billion, mainly due to the unfavorable foreign exchange impact. Meanwhile, US revenues declined 15% to $5.7 billion.
The deal with Watson Pharma (WPI) regarding the sale of an authorized generic version of Lipitor also had a favorable impact on revenues.
Pfizer saw Lipitor sales fall 78.9% to $296 million in the US. Generic competition increased as multiple players like Mylan (NASDAQ:MYL) and Dr. Reddy's Labs (NYSE:RDY) launched their generic versions of Lipitor.
The second quarter saw Emerging Markets record an 8% growth in revenues which came in at $2.6 billion. The timing of government purchases in Turkey and Brazil and strong performance in countries like China, and Russia drove revenues.
(Source: Zacks)
Pfizer Stock: Short-Term Outlook
In the short-term shares of the company are trading slightly in the overbought zone, as indicated by the RSI and MACD indicators. The bullish cross of the 20-Day SMA line over the 50-Day SMA line indicates the near term bullish outlook is maintained despite the stock being overbought. Any dip towards the 20-Day SMA at $23.49 should be considered as a good buying opportunity. In the near term the shares should trade in the $25.50 to $27.25 range. The stock has rock solid support at the $21 level, just below the 200-Day SMA.
Pfizer Stock: Long-Term Prospect
Pfizer maintained its earnings and revenue guidance for 2012. Pfizer expects earnings of $2.14 - $2.24 per share on revenues of $58 - $60 billion. The consensus analyst estimate currently stands at $2.20 per share on revenues of $59.7 billion.
Shares of the company are currently trading at an expected PE of 10.9 for 2012, which looks reasonably cheap. The company intends to buy back shares worth $5 billion in 2012. Pfizer has bought back shares worth $3 billion up to July 30. This will be certainly EPS accretive. Moreover, the company is still cash rich and pays a hefty 3.62% dividend.
Pfizer is well-positioned to pursue accretive business development activities as well as share repurchase activities. Cost savings and share buybacks will provide earnings accretion. Debt reduction should lower interest expense over time. In the longer run the shares of Pfizer will appreciate significantly from the current level.
Disclosure: I have no positions in any stocks mentioned, and no plans to initiate any positions within the next 72 hours.