What would you consider to be a high yield from a stock dividend ETF? Perhaps 5%? Maybe 6%? Well the Global-X SuperDividend™ ETF (NYSEARCA:SDIV) has an SEC yield of 7.65% right now (and a 12-month yield of 7.97%).
That seems pretty super to me, so I wondered where those yields come from.
If you spend some time screening for high dividend yielding stocks, you often end up seeing lists of companies that include some of the banks in Australia - such as Westpac Banking (NYSE:WBK) and Commonwealth Bank of Australia (OTCPK:CBAUF).
Then you'll see some of the telecom companies, such as Telefonica SA (NYSE:TEF) and Telekom Austria (OTCPK:TKAGY) in Europe, plus Frontier (NYSE:FTR) and Windstream (NASDAQ:WIN) here in the US. (Frontier and Windstream both yield more than 9% right now.)
And there's the REITs, of course. These include trusts such as Annaly Capital (NYSE:NLY) and Anworth Mortgage (NYSE:ANH), plus many other REITs worldwide.
These companies are all included the Global-X SuperDividend fund, which tracks an index of 100 "super" high yielding companies worldwide, equally weighted across 100 stocks.
Here's a list of the top 20 holdings as of August 7: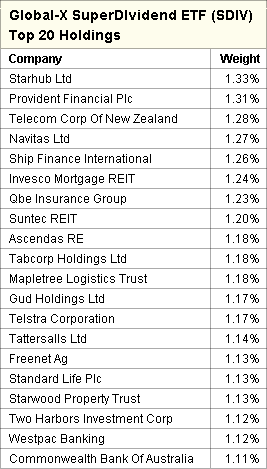 While the index methodology is to some extent proprietary, Global-X says that the index provider (Structured Solutions) has designed it to eliminate companies that are likely to reduce their dividend in the near future. The fund is rebalanced quarterly and pays monthly distributions.
Lots of high yielders from down under
One thing you'll notice about the fund's holdings is that most of the ETF is weighted to stocks outside the U.S - with a hefty allocation toward Australian equities right now, as this chart shows: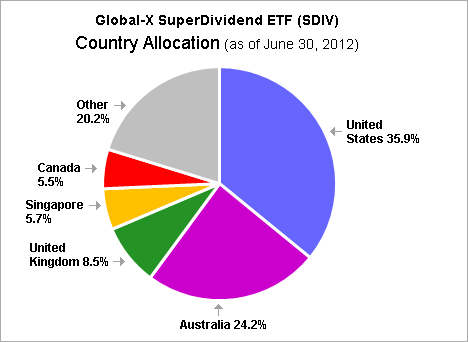 Heavy allocation to financial, REITs, and telecom
Don't expect a traditional sector weighting when you go for a supersized dividend yield. With SDIV, you're going to find plenty of financials, banks, insurance companies, REITs, and telecom companies. In fact, those industry groups alone represent 65% of the fund as this chart shows.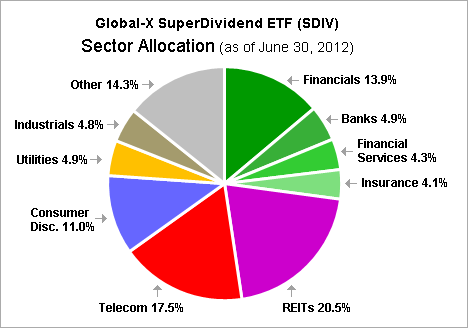 Monthly distributions
One thing about the Global-X SuperDividend fund is that it pays super frequently.
Okay, that may be hyperbole, but the fund does pay monthly distributions And that's a refreshing change from the quarterly and even annual payments some ETFs make.
Just don't expect all those payments to be regular and consistent. While payments are made monthly, the companies in the fund may not pay monthly. In fact some companies, especially those outside the U.S, customarily pay semi-annually or make large annual payments with smaller quarterly payments sprinkled in.
Here's a chart that shows the monthly distributions since the fund was launched, both by individual month and on a cumulative basis.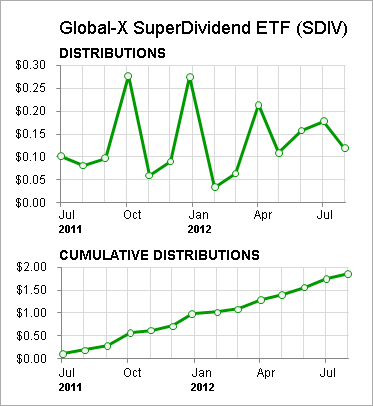 There's a 1.14% expense ratio, but roughly half of that goes to paying management fees to some of the business development companies SDIV invests in. Those are the same fees you'd pay if you'd invested in those companies privately. And remember, the 7.97% yield over the past 12 months is after fees and expenses.
All in all, this fund seems like a pretty good deal - a diversified portfolio of 100 of some of the highest yielding companies worldwide rebalanced quarterly with monthly payments.
But the fund has run up quite a bit in the past couple of months: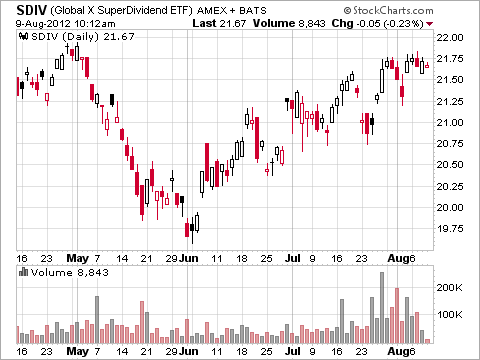 So if you want a really super deal on yield, it may pay to average your way into the fund. And use limit orders so you're the one getting the super deal, not the market maker.
Disclosure: I have no positions in any stocks mentioned, and no plans to initiate any positions within the next 72 hours.