In Part 1 of this series, I described my current participation in my company's 401(k) program, and my plans to move the money that has accumulated so far this year from my initial "holding area" choice, the Yacktman Focused Fund (MUTF:YAFFX), to the following four ETFs:
| | | |
| --- | --- | --- |
| Ticker | Proposed ETF | % Alloc |
| (NYSEARCA:XLU) | Utilities Select Sector SPDR | 25% |
| (NYSEARCA:REM) | iShares FTSE NAREIT Mortgage Plus Capped Index Fund | 25% |
| (NYSEARCA:HDV) | iShares High Dividend Equity Fund | 25% |
| (NYSEARCA:AMLP) | Alerian MLP | 25% |
My intent was to take what I was able to sell from YAFFX on Monday, plus what I'll be able to sell in 60 days without having to pay outrageous "short term" penalties, plus what accumulates from payroll contributions in that timeframe, and divide all that by four and buy as many shares of each of the above as possible.
However, it has come to my attention that AMLP may not be the best choice, due its Expense Ratio reportedly climbing to a whopping 4.86%. In addition, fellow Seeking Alpha Contributor Skyler Greene opined that he was very bullish YAFFX, and encouraged me to not abandon it completely, since it has performed so well for him (and, obviously, others).
To that end, I am considering leaving the remaining shares of YAFFX as they are when the 60 days are up, just investing in the first three of the ETFs above, and changing my 401(k) contribution allocation from 100% going into my cash fund to instead have 75% go into the cash fund and 25% continue to fund YAFFX. More on this in the next article in this series.
In Part 2 of this series, I discussed why I was interested in, and would likely take up a position in, the Utilities Selector Sector SPDR, XLU. I placed a limit order to purchase shares of that ETF on Monday, and it got filled on Wednesday. So, Step One complete.
I forgot to include a chart for XLU in the Part 2 article, so for the sake of completeness, here it is: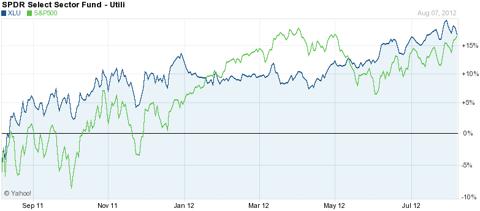 As has been said by some, utility stocks aren't very exciting, but it's good to see XLU tracking to the S&P 500 pretty closely.
Next Up - iShares FTSE NAREIT Mortgage Plus Capped Index Fund
In this article, I'm going to take a closer look at the second ETF that I intend to migrate my 401(k) funds into: iShares FTSE NAREIT Mortgage Plus Capped Index Fund, or REM.
| | | | | | | | | |
| --- | --- | --- | --- | --- | --- | --- | --- | --- |
| | | | | | | Marco Polo | | |
| | | | | Exp | 52 Wk | XTF Rating | 1 Year | 3 Year |
| Proposed ETF | Ticker | Yield | P/E | Ratio | Perf | (Out of 10) | Return | Return |
| iShares FTSE NAREIT Mortgage Plus Capped Index Fund | REM | 11.93% | 7.72 | 0.48% | 3.39% | 10 | 19.14% | 12.30% |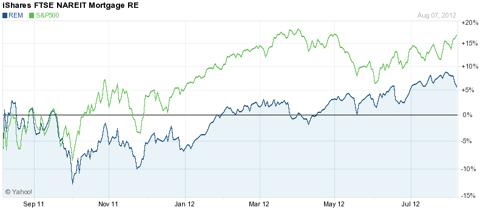 Mortgage Real Estate Investment Trusts, or mREITs, can be a controversial topic of discussion among investors. At this time of incredibly low interest rates, courtesy of the Federal Reserve, mREITs have been enjoying a considerable amount of success in terms of their yields due to the difference between the products that they buy, such as Government Sponsored Entity (think Fannie Mae or Freddie Mac) Mortgage Backed Securities, and the debt that they incur to finance those purchases.
In my IRA portfolio, I already own two mREITs: Annaly Capital Management, Inc. (NYSE:NLY) and American Capital Agency Corporation (NASDAQ:AGNC). I've owned shares of NLY since last November, and added another small amount of shares to it this past May, 2012, enough to round out my position in NLY to a number divisible by 100 in case I chose to write covered call options against them. NLY now enjoys a 4.47% allocation in my IRA, which is below my self-imposed threshold of 5% for any one position to have.
I first added AGNC to my IRA on July 5th of this year, and just added almost twice as many shares this past Tuesday, bringing the allocation of this position to 3.4%, and my total exposure to mREITs in my IRA's portfolio to 7.87%. That's enough for the IRA, but here I'm talking about my 401(k), and how to maximize my return in it.
mREITs are considered a risky investment by some because of their sensitivity to the spread between short and long term interest rates, which is what primarily dictates their yield. REITs of all kinds enjoy special tax exempt status as long as they distribute 90% of their profits to their unit holders, which causes their yields to be so attractive to so many investors. However, it is necessary to keep a close eye on the interest rates set by the Fed which, when they start to rise, will have a negative impact on the yield of REITs, which in turn will have a negative impact on the price of REITs as investors flee the falling yield.
One way to keep one's "finger on the pulse" of what may be coming with respect to future interest rates is to keep an eye on unemployment in the USA. Fed Chairman Ben Bernanke has stated that interest rates will stay at their current low rates (or lower) until at least 2014, but it's a good idea to stay abreast of news coming from the Fed in case something happens to change his mind between now and then.
In the meantime, most investors, in my opinion, do not buy and hold mREITs for their capital appreciation, but for their astounding yields, which is a good thing as their prices can fluctuate quite a bit. Also, mREITs usually issue more units frequently and regularly to raise new capital, which will usually cause the price to drop when that occurs. The yields of mREITs also tend to ebb and flow over time as their interest rate spread contracts and expands, making them ill-suited to be considered Dividend Champions, Contenders or Challengers. But that is not their goal in life, to end up on David Fish's CCC list, but to generate as much yield as possible for their unit holders.
The following is the Objective of REM, as found on Fidelity.com:
"The investment seeks investment results that correspond generally to the price and yield performance, before fees and expenses, of the FTSE NAREIT All Mortgage Capped Index. The fund invests at least 90% of its assets in securities of the index and in depositary receipts representing securities of the index. The index measures the performance of the residential and commercial mortgage real estate, mortgage finance and savings associations sectors of the U.S. equity market. It is non-diversified."
Here are the Top 10 holdings of REM, in order of their percentage allocation within that ETF according to Fidelity, including the yield of each of those positions:
Ticker

ETF

REM

iShares FTSE NAREIT Mortgage Plus Capped Index Fund

Ticker

Company

% Alloc

Yield

NLY

Annaly Capital Management, Inc.

21.09%

12.80%

AGNC

American Capital Agency Corp

18.91%

14.40%

(NYSE:TWO)

Two Harbors Investment Corp

5.60%

14.30%

(NYSE:CYS)

CYS Investments, Inc.

4.88%

14.10%

(NYSE:STWD)

Starwood Property Trust, Inc.

4.51%

7.80%

(NYSE:IVR)

Invesco Mortgage Capital, Inc.

4.46%

13.40%

(NYSE:MFA)

MFA Financial, Inc.

4.32%

11.30%

(NYSE:HTS)

Hatteras Financial Corp

4.09%

12.40%

(NYSE:ARR)

ARMOUR Residential REIT

3.76%

16.10%

(NYSE:CIM)

Chimera Investment Corp

3.58%

16.70%

Top 10 Total % >

75.20%

Top 10 Average Yield >

>>>>>>

13.33%
Let's take a look at the one-year charts for these stocks and compare them to the S&P 500. (All charts courtesy of Yahoo! Finance.):
Annaly Capital Management, Inc.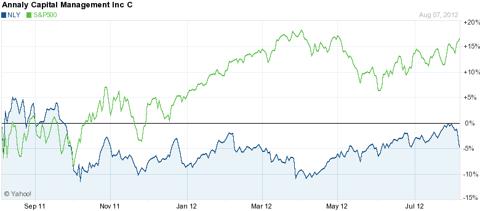 After crossing below the S&P 500's performance around October of 2011, NLY's performance has kept within the same relative range, moving up somewhat since April. As mentioned, price appreciation is not the primary purpose of investing in an mREIT, but one also doesn't want to realize too much loss of capital. In my own case, NLY is only down -0.37% in my portfolio, which has been more than made up for by the dividends I have received so far.
American Capital Agency Corporation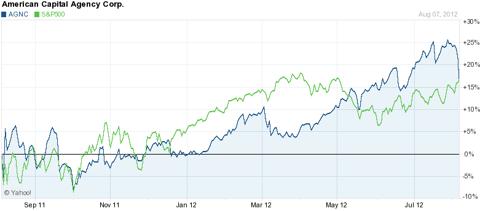 AGNC has performed considerably better than NLY in the last twelve months, beating the S&P 500 since mid-May, only to see a dramatic drop recently, brining it in line with that index.
Two Harbors Investment Corporation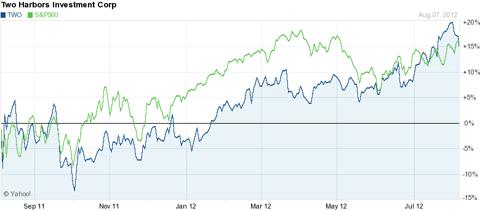 TWO has tracked fairly closely to the S&P 500 over the last twelve months, albeit somewhat below the index until very recently.
CYS Investments, Inc.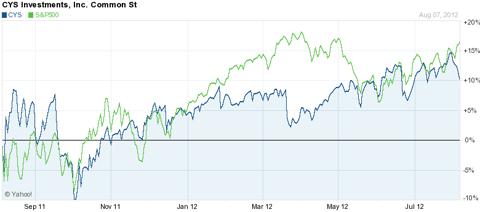 CYS shows a similar pattern to that exhibited by TWO.
Starwood Property Trust, Inc.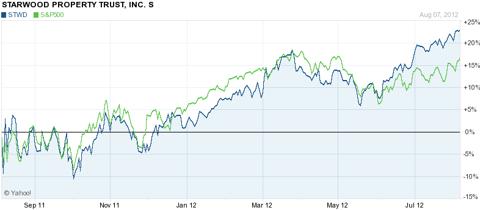 Starwood has also kept pace with the S&P 500, until the June timeframe, after which it has clearly outperformed the index.
Invesco Mortgage Capital, Inc.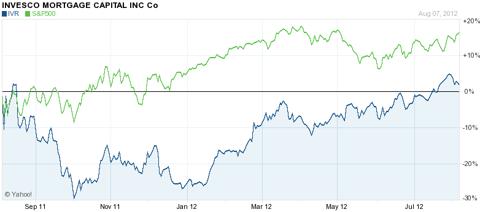 Invesco's graph resembles that of Annaly's, but with a somewhat better recovery recently.
MFA Financial, Inc.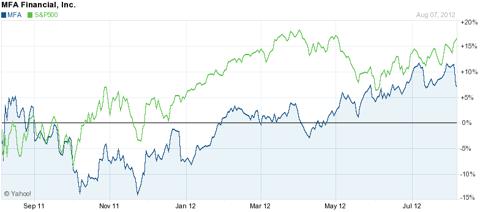 MFA shows a similar pattern to that of NLY and IVR, but with significantly better results, albeit still coming in below the S&P 500's performance.
Hatteras Financial Corporation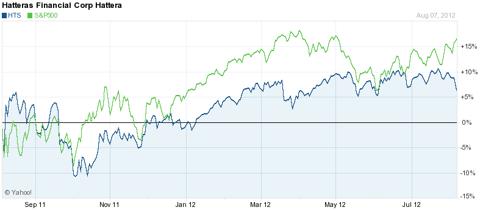 Hatteras' performance is nearly identical to that of MFA's.
ARMOUR Residential REIT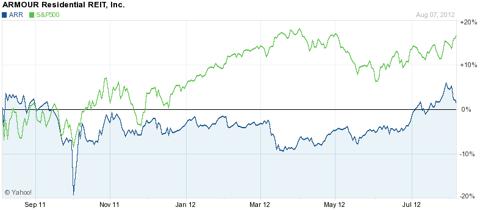 Once again we see the S&P 500 beating this mREIT's performance by a considerable margin, although, like most of its brethren ARR has been trending up in recent weeks.
Chimera Investment Corporation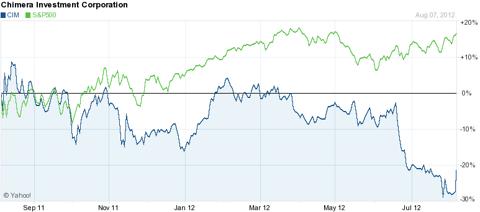 Chimera Investments, which is management by the same team as NLY, shows the same relative tracking to the S&P 500 until late June, when it falls off considerably.
Am I Chasing Yield?
Once again I ask myself, on your behalf, whether or not I'm "chasing yield" by choosing to invest a quarter of my 401(k) money in the REM ETF. In answer to that, let me state that, for a variety of reasons, all of which are my responsibility, I find myself at age 50 to be considerably behind in saving for my retirement, and so, yes, I have been looking for ways to generate as much yield as possible in the near term in order to catch up to where I would like to be by the time I retire. With interest rates at historic lows, mREITs provide just about the best yield to be found in the market today.
My strategy in growing my investments is twofold: First, I am trying to acquire as many solid, stable dividend paying and dividend growing companies that I can and build positions in them in a methodical fashion. However, the second part of this plan requires that I take on more risk than some might want to try to stomach by finding instruments that will provide me the best yield money can buy so that I can fund my efforts to build my stable of Dividend Champions, Contenders and Challengers. To meet that end, mREITs, among other things, are a necessary short-term means, and the best means that I've been able to find so far.
Summary
An ETF made up of high-yielding mREITs is one way that I am attempting to grow my late-to-the-party 401(k) balance as rapidly as I can, and REM is the best such ETF that I have found. However, the high risk that comes with the high yield of REM is balanced by some of the other ETFs that I intend to stock my 401(k) with, notably XLU, which I discussed in Part 2 of this series, and HDV, which I will discuss in the next Part of this series.
Like the mREITs that I hold in my IRA, I may not end up holding this ETF for the long haul, but only as long as it serves my purpose of accelerating the value of my 401(k) without jeopardizing my capital. REM should be able to accomplish this for at least the next sixteen months, until the end of 2014, and possibly beyond depending on the state of the economy, unemployment and the actions of the Federal Reserve. This is the Dividend Monster of my 401(k), and like all of my Dividend Monsters, I'll need to keep a sharp eye on it, and keep it on a short leash. In the meantime, I placed a limit order to buy shares of REM this past Monday, which got filled the next day. Step Two completed.
Thank you for taking the time to read this article. Part 4 is here. Feel free to leave your comments below, and let me and everyone else know your thoughts on this or any other ETF.
Disclosure: I am long AGNC, NLY, REM, XLU.
Additional disclosure: I am not a professional investment advisor or financial analyst; I'm just a guy who likes to crunch numbers and can make an Excel spreadsheet do pretty much whatever I want it to do, and I'm doing my best to manage my own portfolio. This article is in no way an endorsement of any of the stocks discussed in it, and as always, you need to do your own research and due diligence before you decide to trade any securities or other products.