In our portfolio we enjoy very defensive stocks with a business model that is easily understood or even boring. Within the oil and gas sector, pipelines offer some of the most stable returns, with insulation towards variations in the price of these commodities, and regulatory rates all but guaranteeing profitability.
Enbridge (NYSE:ENB) is one such pipeline company, paying a 2.83 % annual dividend, compared to competitors Transcanada Corp (NYSE:TRP) at 3.85 % and Enterprise Product Partners (NYSE:EPD) at 4.80 %. Below their 10 year returns are compared.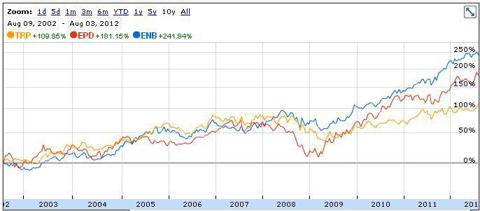 (Google Finance)
Beyond the simpler higher return of ENB relative to competitors, the response of all three to the financial crisis in 2008 is telling: ENB only showed an approximate 20% share price decline. This is less than half of the almost 50 % decline over the similar time period for the S&P/TSX Composite index, pointing to the defensive nature of the industry. With the future economic uncertainty, this is exactly the type of company we want our money invested in.
In the last five years, ENB has increased dividends from 15 cents / share in 2007 to 28 cents / share today. This is a total increase of 86 % with yearly increases since 2007 of 7 %, 13 %, 17%, 19%, and 12 % respectively. The most recent year showing a lower percentage increase is acceptable due to a large increase in the number of capital projects taken on during this time period. The total dividend increases of TRP and EPD in the last five years are 30 % and 31 % respectively, lower growth rates than for ENB.
Enbridge, however, has lots of room for growth, intending to spend 20 billion in projects through 2015. Such projects include both ambitious growth strategies such as the proposed 525000 barrels per day Northern Gateway pipeline from Edmonton, Alberta to the Pacific coast of Kitimat, BC for the export of crude to Asia. This is competing with Kinder Morgan's (NYSE:KMP) Trans Mountain Pipeline from Edmonton to Vancouver, Seattle, and area. However, ENB is not limiting themselves to politically difficult projects; along with Enbridge Energy Partners (NYSE:EEP) ENB has stated they will spend 3.2 billion on incremental pipeline expansions to the Eastern Access initiatives, Mainline, and Lakehead systems. This is in addition to the more than doubling of the capacity by 2014 to the Seaway system, with five to ten year shipper commitments for the volumes.
Of course, there are downsides for this investment. ENB has had multiple spills recently, making the Northern Gateway Pipeline a hotly debated topic in Canadian news recently due to the pristine wilderness it will transverse. Additionally, the proposed port lies in a Tanker Exclusion Zone that has existed since 1972, and a Royal Society of Canada study in 2004 concluded that said tanker exclusion zone should be "maintained for the time being".
Despite these downsides to one of Enbridge's most ambitious projects, with strong growth planned on many other fronts, we rate it a buy. Failure of Northern Gateway Pipeline proposals would provide a sufficient entry point, but we would consider purchasing even at current prices.
Disclosure: I have no positions in any stocks mentioned, but may initiate a long position in ENB over the next 72 hours.