Two major announcements today confirm pursuit of an IP licensing-based business model by new management at Vringo (VRNG). First, the company announced a registered, direct offering of almost 10 million shares, priced at $3.25 per share in an effort to raise an additional $30 M in capital. Simultaneously, Vringo announced a Patent Purchase Agreement with Nokia (NYSE:NOK) to acquire 124 patent "families" (totaling more than 500 worldwide patents, including 109 issued US patents) for a purchase price of $22 M. Specifically, Vringo explained that an unspecified number of "Subscription Agreements with several investors" would provide the capital needed to acquire Nokia's portfolio and pay off more than $3 M in debt to Hudson Bay Master Fund. The $5 M+ balance raised by the direct offering is to be used "for general corporate purposes."
Most investors already know that Vringo previously merged with Innovate/Protect, the parent company of I/P Engine--a patent owner scheduled to take internet giant Google (NASDAQ:GOOG) to trial this fall over patents related to search engine advertising technology. The merger provided Vringo with a new line of business--patent monetization. Earlier coverage explains the formation Innovate/Protect.
Innovate/Protect was formed on June 8, 2011, about three weeks before formally acquiring the patents from Lycos. Originally, the company was named Labrador Search Corporation, and it created Smart Search Labs, Inc. on June 14 (about a week prior to the closing the Lycos acquisition). Labrador became Innovate/Protect on September 6th, and Smart Search became I/P Engine on September 9th, about a week prior to the lawsuit. Lycos reportedly sold the patents for $3.2 M, paid for by Innovate/Protect with a promissory note from Hudson Bay Master Fund, part of a billion dollar hedge fund.
Today's announcement generally confirms that the primary emphasis of the new publicly traded entity will be on patent monetization and licensing. Both Nokia and Vringo recognize significant licensing and monetization potential from the patent portfolio, demonstrated in no small part by a $22 M price tag. In addition, Nokia receives 35% of gross revenue generated from the portfolio above $22 M, along with a right to re-acquire the portfolio from Vringo "for a nominal amount" in the event Vringo sues Nokia for patent infringement in the next 7 years.
Vringo's investor presentation indicates that the company sees "significant potential for monetization" among the acquired Nokia patents. In particular, a separate graphic from the presentation, indicated below, illustrates the numerous patents already declared essential to various wireless standards, ranging from 2G-4G.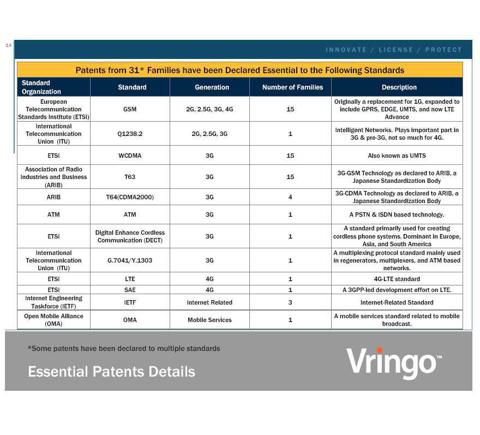 Looking beyond patents declared essential to various standards, independent analytics of the acquired portfolio look promising. Of the 109 issued, US patents acquired by Vringo, approximately 30% are cited 10 times or more by later patents. This "forward citation" provides an early indication of strength, and, while imperfect, counting forward citation is a metric that many patent analysts use to quickly gauge the relative strength of a patent portfolio.
A free patent analytics tool, Patent Buddy, provides some insights into the relative citation frequency broken down by patent subject matter. Of the top ten most frequently cited patents--ranging from 32 up to 85 forward citations--all ten are cited more frequently than 75% of all other patents dealing with related subject matter. The small number of patents cited more frequently than Nokia's patents suggests, on average, that Nokia's innovations tend to lead rather than follow respective technological trends.
In particular, five of the top ten patents are cited more frequently than over 90% of patents in their respective class, including 7085257 (as shown in the graphic below, cited more frequently than over 98% of related patents), 6288641 (cited more frequently than 95% of related patents), 6366961 and 6029065 (each cited more frequently than 92% of related patents), and 6741555 (cited more frequently than 91% of related patents).
(Patent Buddy(NYSE:R) Patent Citation Ranking for US Patent
7085257
,
click to enlarge)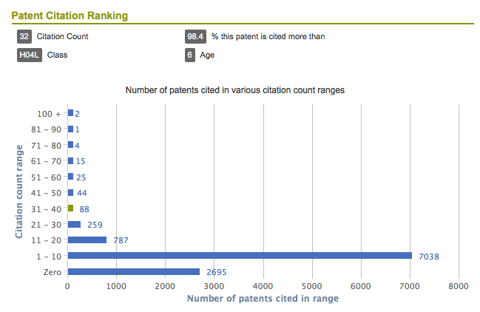 Of course, an important caveat with forward citation analysis is that they tend do demonstrate trends, but cannot predict with 100% accuracy the future performance of any given patent or portfolio (just as the best hitters in baseball fail to reach base 6-7 times out of every 10 chances). That said, the Vringo team no doubt performed far more than just a forward citation analysis on its way to agreeing with a $22 M price tag. Further, the favorable early indications suggest that investor confidence in Vringo's team with respect to the I/P patents ought to carry over with respect to these new Nokia patents.
What's more, Nokia's insistence of a 7-year "stand still" on patent assertions brought by Vringo suggests that the smartphone maker believes future Vringo patent purchases are inevitable.
Disclosure: I have no positions in any stocks mentioned, and no plans to initiate any positions within the next 72 hours.