One of the earliest influences for our firm's focus on valued based business perspective investing was Warren Buffett and Berkshire Hathaway (BRK.B, BRK.A). Our firm has even held a long position in Berkshire's Class B shares since 2011. We have not always agreed on some of Berkshire's recent investments in the automotive sector and the media sector and we believe that Berkshire could stand to pay out a part of its $70B in cash and fixed maturity securities, but we have immense respect for the living legend himself. Even though Berkshire split its Class B shares 50-1 in order to acquire the Burlington Northern Santa Fe Railroad, we are surprised that only two analysts cover the company. Fortunately, we are here to provide a fair and balanced evaluation of Berkshire Hathaway.
Berkshire Manufacturing, Service and Retailing
The first item that caught our attention was the growth in revenues from Berkshire's Manufacturing, Service and Retailing businesses. Revenue grew by $2.5B in Q2 2012 versus Q1 2011 and reached a total of $20.8B. This was driven by price increases at the McLane Company wholesale distribution business and the inclusion of Lubrizol revenues in this quarter versus last year. The Lubrizol acquisition was announced on March 14th, 2011 and completed on September 16th, 2011. Unfortunately we couldn't say "See You in September" to David Sokol, the man who suggested it to Warren. We can understand why Sokol was keen on Lubrizol. Lubrizol's numbers were choppy and mediocre from 1996-2005, but seemed to turn a corner in 2006 and generated explosive EPS growth in 2009 and 2010. We are not displeased that Berkshire spent $8.7B on Lubrizol even if it has volatile financial results instead of keeping it in the cash stash, though we certainly would have preferred that given the choice between buying Lubrizol and giving us a special dividend of $3.50 a share, we would have most definitely taken the $3.50 a share and reinvested it ourselves.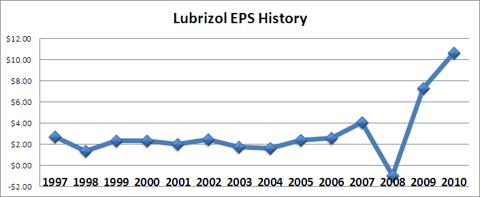 Click to enlargeSource: Lubrizol Annual Reports 1997-2010
Burlington Northern Santa Fe
BNSF saw solid performance during the quarter and year to date. BNSF Q2 2012 revenues increased by 6% versus the prior year period and 7% year-to-date versus H1 2012 levels. This was due to increased volume for consumer products (6% volume growth) and industrial products (12% growth) offset by declines in coal volume (10% volume decline) and agricultural products (7% volume decline). BNSF enjoyed positive operating leverage which kept costs from rising by less than 2% in the quarter and 5% for the first half of 2012. This positive operating leverage enabled the division to generate 16% profit growth in the quarter versus the comparable quarter last year.
MidAmerican Energy Holdings Company
Berkshire owns an 89.8% ownership interest in MidAmerican Energy Holdings Company. MidAmerican's revenues and operating income saw a slight growth in the quarter and in the year-to-date periods versus last year's levels. Real estate brokerage revenues are also included in this segment and saw strong growth due to a 17% increase in sales transactions closed as well as inclusion of newly acquired businesses. Revenue growth at the PacifiCorp regulated utility operations was offset by revenue declines from MidAmerican Energy Holding's non-regulated businesses due to the declines in natural gas prices.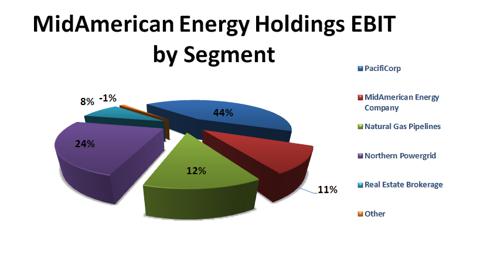 Click to enlargeSource: Berkshire Q2 2012 10-Q
Berkshire Finance and Financial Products
This division had come down with Dr. Jekyll and Mr. Hyde syndrome. The Dr. Jekyll side (good news) for this division saw steady revenue growth and positive operating leverage translating into solid operating income growth from recurring operations. Revenue reached $1B for the Quarter (up 2%) and $1.98B for the half (up 4%). The Mr. Hyde side (bad news) was the absence of $1.2B in realized gains harvested in Q2 2011 and the $884M increase in derivative losses. The derivative losses primarily represented the changes in fair value of its credit default and equity index put option contracts. We are aware that the periodic changes in the fair values of these contracts can be significant, reflecting the volatility of underlying equity and credit markets.
Berkshire's Insurance Operations
Berkshire's insurance operations saw stable revenue performance and operating income performance for its GEICO, General Re, Berkshire Hathaway Primary Group and the investment income generated by its investment portfolio float in Q2 2012 versus the prior year period. Berkshire Hathaway Reinsurance Group saw a $934M decline in its Q2 2012 revenues versus the prior year period. This was due to the absence of a $1.68B retroactive reinsurance contract with Eaglestone Reinsurance Company, a subsidiary of American International Group, Inc. (NYSE:AIG), which closed in June of last year. This was partially offset by sharp increases in revenues from its Catastrophe and Individual Risk, Life and Annuity and Other Multi-Line Property/Casualty operations. Despite the absence of that retroactive reinsurance contract with AIG, Berkshire Hathaway Reinsurance Group's retroactive reinsurance underwriting loss actually narrowed by $60M in Q2 2012 versus the prior year level. The sharply improved performance from BHRG's other operations enabled this business to reverse its underwriting loss of $354M last year and to generate a $613M underwriting profit in Q2 2012. BHRG's $967M jump in operating income represented 101.3% of the $955M increase in operating income growth from Berkshire's Insurance Subsidiaries.
In conclusion we are satisfied with the performance from Berkshire Hathaway. We see our investment in the company as not only a diversification away from traditional stocks and bonds, but also being able to utilize a high-quality asset manager to gain access to private equity businesses that are not leveraged to the hill in order to pay dividends to some self-styled "Master of the Universe". We were impressed that Berkshire has been able to increase its book value by $12.5B in the first six months of 2012 and we believe that as it continues to do so, we will see the value in Berkshire realized by the investment community on behalf of Berkshire's investors. We believe that even though Buffett has slowed down a step relative to his younger and that Berkshire will not be able to enjoy the 19.8% compounded annual growth it enjoyed from 1964-2011, we expect that it will be able to exceed that of the S&P due to its strong portfolio of diversified businesses.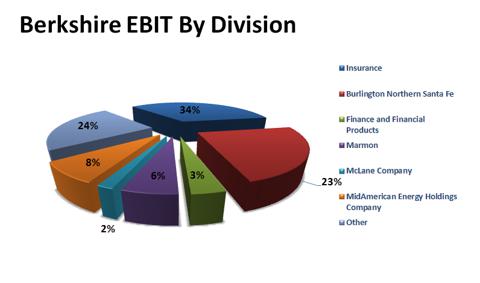 Click to enlargeSource: Berkshire Q2 2012 10-Q

Disclosure: I am long BRK.B, AIG.
Additional disclosure: Saibus Research has not received compensation directly or indirectly for expressing the recommendation in this report. Under no circumstances must this report be considered an offer to buy, sell, subscribe for or trade securities or other instruments.