A recent article on Seeking Alpha theorized that Safety Insurance Group (NASDAQ:SAFT) would benefit from higher gas prices and global warming. I'm unsure whether that thesis will be proved correct, but I am certain the author is clearly a very lateral thinker. I too like to have a thesis when investing, but require hard numbers to validate it. I thought I'd see if there is any safety in Safety's numbers.
The first important maxim I learnt about investing in insurance companies was, buy at one sell at two. Buy insurance companies at a price to book value (P/B) of one and sell at P/B of two. It sounds too simplistic to be of use, but often the best ideas are incredibly simple.
SAFT recently traded below a P/B of one and currently trades at 1.05. I'll come back to P/B and the other key metrics I follow for insurance companies in a moment. First let's get the usual key metrics behind us. TTM P/E of 7.55, PEG of 0.57, EV/EBITDA of 4.7 all with a ROE approaching 15% should be enough to make you want to dig deeper.
Rather than make you scour the SEC filings for results, I've done the job for you. The following table highlights some of the key metrics I follow for SAFT.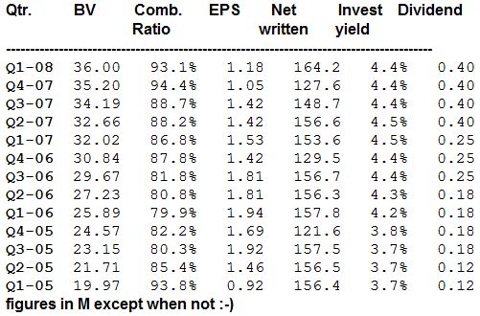 Click to enlarge
First let's talk about the elephant standing in the room. Safety's earnings have been falling for a couple years and analysts predict they will fall again this year and next. The same analysts also predict a 15% five year growth rate. The Massachusetts insurance regulator, CAR, has been making life hard for Safety. Over the last two years CAR has mandated lower premiums and has opened up the previously closed Massachusetts automobile insurance market.
Despite those obstacles, Safety has continued to earn good returns, increasing book value 14% in 2007. This isn't surprising as Safety know their market extremely well, having increased their share of the auto insurance market form 10.4% in 2002 to 11.4% last year. Management clearly know their industry and how to safely invest their float. They have no subprime mortgage debt securities. All of their mortgage-backed securities were either U.S. Government or Agency guaranteed or are rated Aaa/AAA as of December 31, 2007.
At some point their business will stabilize and investors will re-rate the stock and pay more than the current P/B of 1. I don't even need to use my calculator to see that in a year SAFT is likely to have a book value of around $40. If investors get excited a P/B of 1.5 could be achieved valuing SAFT at $60. If the re-rating takes longer then the 4.2% dividend should be enough to keep you smiling while you wait. Catalysts are on the horizon as explained in this article, with Massachusetts easing regulations later in 2008.
I can sense a few of you are skeptical of SAFT being awarded a P/B of 1.5? While past results are no guarantee, it is worth noting that back in Q1 2007 SAFT traded hands for P/B of 1.6 and back in Q3 2006 a P/B of 1.9.
I am long SAFT and, despite the recent run-up in price, believe SAFT will outperform the S&P over the next year or three.
Disclosure: Author holds a long position in SAFT