"We move sometimes. We send messages to each other. We talk on the phone. Tell me, what can we do?" - Walid Jumblatt
The bond market continues to show meaningful signs of cracking as inflation expectations return to investor psyche, which I noted on Bloomberg (here) was crucial in terms of figuring out what happens next to risk-taking. I am not entirely convinced that the breakdown in bond prices will be a straight line down given stickiness by money in the asset class which has been burned so many times before betting on rising interest rates. Having said that, the message of reflation appears to be getting louder, as cyclical areas of the investable landscape begin to more meaningfully outperform.
The move is an important one. I run a screen every now and then on my list of over 1,000 ETFs/ETNs I track to identify those which are the furthest away from their respective 20 trading day moving averages. The idea here is to see if there is a consistent theme underlying the most recent one trading month of market movement. The list I find to be quite telling.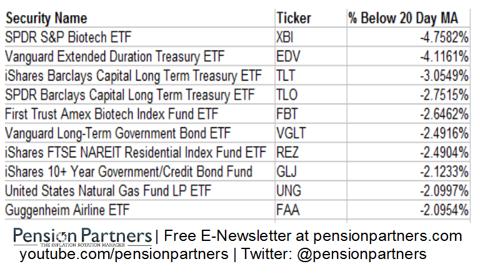 Other than biotech (NYSEARCA:XBI), natural gas (NYSEARCA:UNG) and airlines (NYSEARCA:FAA), the worst performing areas of the investable ETF landscape have uniformly been bond and income plays as longer dated Treasury yields rise on central bank paranoia over a 2008 repeat. The pendulum appears to be swinging away from income and back toward capital appreciation then as money favors areas more sensitive to rising inflation expectations. As to airlines, I suspect weakness is a direct result of the sudden recovery in oil prices (NYSEARCA:USO) which negatively impact earnings.
Either way, the uniformity here might make bonds (NYSEARCA:TLT) (NYSEARCA:TBT) actually a potentially interesting short opportunity with what appears to be a very early downtrend in the making.
Disclosure: I have no positions in any stocks mentioned, and no plans to initiate any positions within the next 72 hours.
Disclosure: Pension Partners, LLC, and/or its clients may hold positions in securities mentioned in this article at the time of writing.