Enbridge Inc.'s (NYSE:ENB) decision to sell its 25% stake in Compania Logistica de Hidrocarburos SA for C$1.36-billion in cash is expected to close in mid-June and the price tag is in line with analyst estimates.
The Canadian pipeline company said it would review strategic alternatives for its ownership in the Spanish pipeline company in February, so the sale to a group of buyers that includes subsidiaries of Deutsche Bank AG, the Public Sector Pension Investment Board, Stichting Pensioenfonds Zorg en Welzijn and AMP Capital Investors comes as little surprise.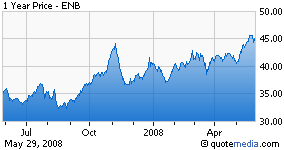 From a trading perspective, the announcement represents a mild positive since it removes any equity overhang related to a potential equity issue in 2008 or the first half of 2009, said Desjardins Securities analyst Daniel Shteyn. This would have been needed to finance Enbridge's equity requirements as part of its "First Wave" of growth projects, he told clients.
Mr. Shteyn rates Enbridge a "buy" with a C$46 price target, which represents upside of 3.6% to Wednesday's closing price.