Open Text Corp.'s (NASDAQ:OTEX) seven-year maintenance contract for the Federal Government's 2.0 strategy may only be valued at C$16.8-million, or approximately C$2.4-million per year, but it highlights the possibilities for Canada's largest software company to cross-sell its expanding enterprise solutions to existing customers.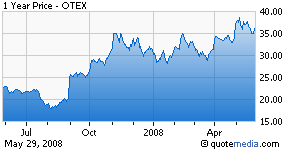 While it represents the expansion of an existing contract, Blackmont Capital analyst Lawrence Rhee said the deal is based on an existing installed user base estimated at 50,000. However, the contract allows for a maximum of 250,000 users, so Open Text will likely benefit from more future maintenance revenues, he told clients.
Mr. Rhee rates Open Text a "buy" with a $40 price target, which represents upside of more than 10%, even after Wednesday's 3.4% gain for the shares.