Duke Energy's recently completed merger with progress energy, Inc, is expected to be a good fit and be accretive to earnings. The combined assets of the two companies make it the largest U.S. utility, providing services to more than 7.1 million customers. The merger should enable the company to maintain its long-term goal of 4.5%-6% earnings growth.
Reasons to be bullish on Duke Energy (NYSE:DUK):
The merger should also increase its ability to build new power plants that are designed to meet future green house emission requirements.
It has a strong balance in comparison with most of its peers. It has a low long-term debt to capitalization ratio of 44% at the end of first quarter of 2012. At the end of the 1st quarter it had $1.1 billion in cash and cash equivalents in comparison to 2.1 billion at the end of 2011.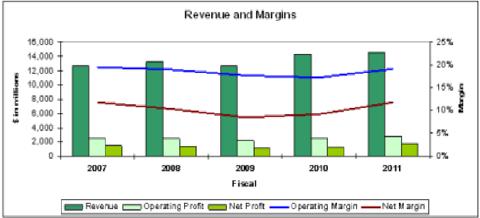 Click to enlarge
The dividend was increased from 0.25 to 0.255 per share. With the reverse split this works out to $3.06 per year. Management reaffirmed that it intends to maintain 65%-70% payout ratio.
It is in a joint venture program with American Electric power (NYSE:AEP) to develop a 240 mile, 765-KV transmission line in Indiana which is expected to be completed and be fully operational in 2014.
A decent yield of 4.5%
A strong relative strength score of 82 out of a possible 100
A 5 year dividend average of 5.3%
Net income increased from $1.07 billion in 2009 to $1.7 billion in 2011.
Profit margins of 10%
A low beta of 0.16 indicates that it's not a volatile stock.
Cash flow increased from $2.68 in 2009 to $2.98 in 2011.
Annual EPS before NRI increased from $1.25 in 2007 to $1.46 in 2011.
A decent interest coverage ratio of 3.5
A projected 3-5 year EPS growth rate of 4.3%
A good free cash flow yield of 4.89%
$100K invested for 10 years would have grown to $163K. If the dividends were reinvested the rate of return would have been much higher.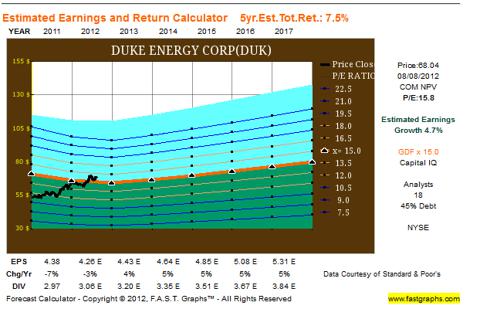 Click to enlarge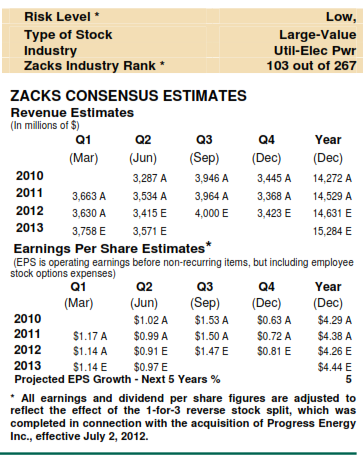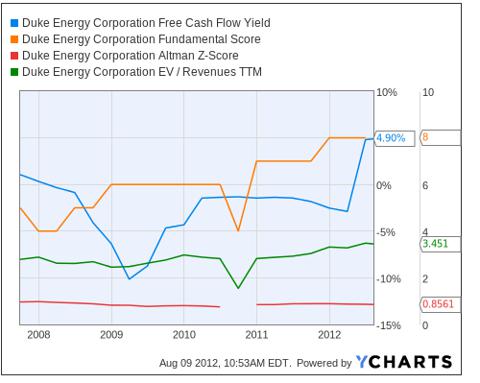 Click to enlarge
Company: Duke Energy Corp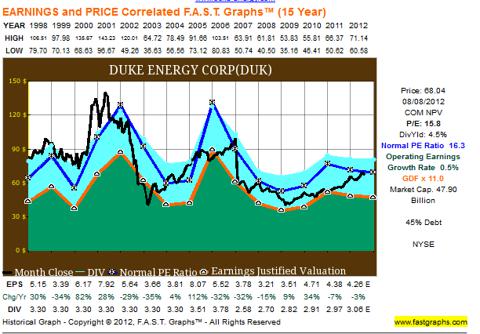 Click to enlarge
Basic overview
Beta = 0.16
Long term debt to equity = 0.84
Relative Strength 52 weeks = 84
Short percentage of float = 5.9%
52 week change = 26%
Cash Flow 5-year Average = 2.85
5 year sales growth rate = 2.5%
EPS vs quarter 1 year ago = 1.6%
Gross margins = 44%
Growth
Net Income ($mil) 12/2011 = 1706
Net Income ($mil) 12/2010 = 1320
Net Income ($mil) 12/2009 = 1075
Net Income Reported Quarterly ($mil) = 295
EBITDA ($mil) 12/2011 = 5350
EBITDA ($mil) 12/2010 = 5044
EBITDA ($mil) 12/2009 = 4428
Cash Flow ($/share) 12/2011 = 2.98
Cash Flow ($/share) 12/2010 = 2.93
Cash Flow ($/share) 12/2009 = 2.63
Sales ($mil) 12/2011 = 14529
Sales ($mil) 12/2010 = 14272
Sales ($mil) 12/2009 = 12731
Annual EPS before NRI 12/2007 = 1.25
Annual EPS before NRI 12/2008 = 1.21
Annual EPS before NRI 12/2009 = 1.22
Annual EPS before NRI 12/2010 = 1.43
Annual EPS before NRI 12/2011 = 1.46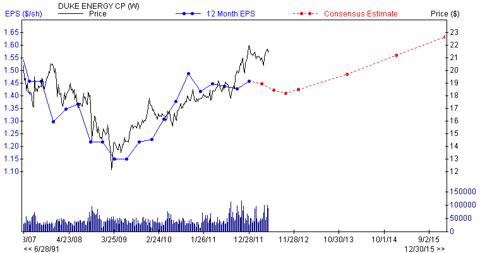 Click to enlarge
Dividend history
Dividend Yield = 4.30%
Dividend Yield 5 Year Average = 5.37
Dividend 5 year Growth = - 0.23
Dividend sustainability
Payout Ratio = 0.89
Payout Ratio 5 Year Average = 0.7
Change in Payout Ratio = -0.01
Performance
Next 3-5 Year Estimate EPS Growth rate = 4.67
5 Year History EPS Growth = 2.08
ROE 5 Year Average = 8.53
Current Ratio = 1.38
Current Ratio 5 Year Average = 1.26
Quick Ratio = 0.96
Cash Ratio = 0.61
Interest Coverage = 3.5
Conclusion
The stock is rather overbought and it recently it almost hit Zack's target price of 72. It appears to have put in a short term top around the 1st week of July. If you are patient consider waiting for a test of the $62-$64 ranges before jumping in. Another option would be to sell puts at strikes you would not mind owning the stock. You could also sell puts at strikes such that after the premium is factored in, you net cost per share would fall in the $62-$64 ranges.
A major portion of the historical/research data used in this article was obtained from zacks.com. Revenue and margins data for DUKE energy sourced from zacks.com
Disclaimer
It is imperative that you do your due diligence and then determine if the above play/plays meet with your risk tolerance levels. The Latin maxim caveat emptor applies-let the buyer beware
Disclosure: I have no positions in any stocks mentioned, and no plans to initiate any positions within the next 72 hours.