Wellington West analyst Kim Page initiated coverage on three junior explorers with exposure to the Utica Shale natural gas play this week, giving Gastem Inc. (OTC:GTMIF)  Questerre Energy Corp. (OTCPK:QTEYF) and Junex Inc. (OTC:JNEXF) the thumbs up to reflect the massive resource potential waiting to be unlocked in the St. Lawrence Lowlands of Quebec.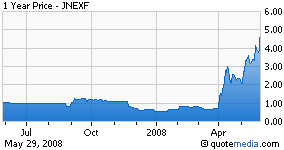 In the case of Junex, Mr. Page becomes the first Canadian analyst to pick up coverage on the company.
In a strategy report to clients, the analyst said:
We believe the Utica, if proven commercially viable, has the potential to be one of the largest resource plays in Canada.
He said investors should be encouraged by other notable shale trends in Western Canada, including the Bakken in Saskatchewan and the Doig/Halfway/Montney in Northeast B.C., which have proven highly economic thanks to the evolution of drilling and completion technology. 
In total, Mr. Page said the most prospective area of the Utica shale play encompasses over 500 square kilometers, with recent estimates suggesting the potential for approximately 25 trillion cubic feet of recoverable resource.
With 1.2 million net acres, Junex is by far the largest landholder in the St. Lawrence Lowlands, the analyst told clients, noting the company has three key properties in the heart of the play and boasts several joint-venture arrangements including one very important partnership with Denver-based Forest Oil Corp. 
He wrote:
Junex has a 15% working interest in 143 million acres at Becanceour and a 40% working interest in 55 million acres at Contreceour, both to be operated by Forest Oil. 
Based on his "even tempered" estimates, he believes the company could be sitting on up to 1.25 trillion cubic feet of natural gas valued at more than C$19 per share. 
For now, he rates Junex as a "speculative buy" with a C$9.50 price target. His valuation does not include the company's approximately five million acres in the Gaspe Peninsula.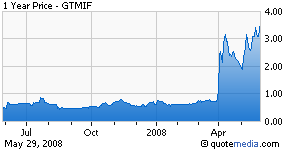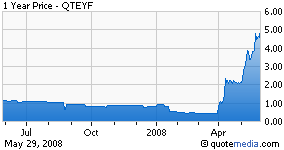 As for Questerre and Gastem, Mr. Page tagged both  with "speculative buy" ratings and price targets of C$8.75 and C$4.25, respectively.  The analyst said Questerre is well positioned in both core blocks in the heart of the play with both majors, Forest Oil (NYSE:FST) and Talisman Energy Inc. (NYSE:TLM). Meanwhile, Gastem's diversified portfolio base of  assets in Quebec and Upper New York State "provide more avenues for success in the Utica play.