Picking up good solid companies that have seen their share prices fall is a time tested strategy that works more often than not. Today's candidate offers you the chance to get into a worldwide brand at a discounted price. I am talking about Starbucks (NASDAQ:SBUX).
Starbucks reported a not so great quarter back on July 26th and since then the stock has dropped to its current trading range in the mid-$40s. While the stock is not considered a bargain by valuation ratios, it is certainly a nice price to get in for long-term investors.
A few years ago, Starbucks was still in its rapid expansion stage but as time went by the better option was to close stores and focus on same-store sales, and it has been doing just that. Same-stores sales continue to be positive over the last several quarters. However, this is only the beginning of why Starbucks makes a great long-term investment.
The company has revealed its plans to begin a rapid expansion in various markets around the world. CEO Howard Schultz and Co. say they plan on tripling the Starbucks store count in China by 2015. Similarly, they plan to begin their expansion into India. While Starbucks's domestic store expansion looks to be very minimal, its growth in emerging markets is huge.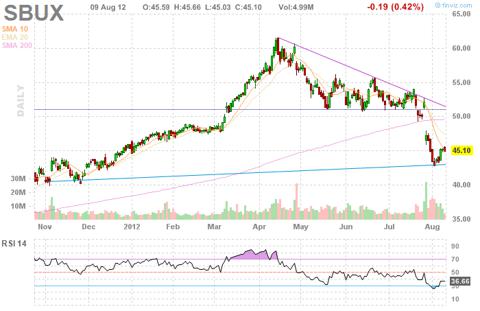 Here in the U.S., Starbucks has a few tricks up its sleeves that will surely continue to help sales growth. I am talking about the recent arrival of the Refresher "energy drinks" that feature green coffee extract as the main source of energy. These are a great way to get a boost of energy in a healthier way than other energy drinks on the market. This relates to the coffee company's next plan of launching juice bars after it bought out Evolution Fresh. This will allow Starbucks to enter the $50 billion health market, which is likely to be a hit.
The next addition to the Starbucks growth plan is its planned coffee maker, Verismo. Like Green Mountain's Kurig single cup brewer, Starbucks' machine will feature single cup portions that can be brewed directly from your home or office. The Verismo is expected to debut this holiday season. Analysts believe that Starbucks' strong and loyal customer base will help propel sales and take share away from Green Mountain's (NASDAQ:GMCR) maker.
Furthermore, Starbucks is led by a solid leader, Howard Schultz, who retook the CEO position in 2008 as the coffee retailer was struggling. Schultz has successfully stopped the rapid expansion, focused on same stores and created an experience that other coffee houses just can't match. Starbucks wanted to create a café environment that would attract people to come and work, read, etc and if you walk into any Starbucks, you know the vision is a reality.
The bottom line here is that Starbucks may have had a not-so-great quarter recently but the future holds a lot of growth, particularly in emerging markets. Meanwhile, the company has plans to keep up growth and sales here in the U.S., as described above. While I do see the markets correcting here in the coming weeks, Starbucks is a great long-term investment and will continue to be as management continues to point the coffee retailer to growth.
Disclosure: I have no positions in any stocks mentioned, and no plans to initiate any positions within the next 72 hours.