A CEO is supposed to be a company's steward and, over time, create shareholder value by driving the stock price higher. After all, shareholders invest to see higher share prices -- and in some cases, higher dividends, or a combination of the two. But when a CEO's track record is marked by immense destruction of shareholder wealth, it may be time for that CEO to be replaced. That is certainly the case with Leap Wireless (LEAP).
We wrote about Leap Wireless on Aug. 7, arguing that a sale of the company may be on the way, based on comments the company made during its Q2 earnings conference call and industry trends. But the majority of those comments were delivered by Jerry Elliott, who has been with the company for just over four months, having started as Leap Wireless' CFO on May 1. In contrast, CEO Douglas Hutcheson has been CEO for over seven years, having been appointed in late February 2005. His tenure has been marked by one of the most pervasive destructions of shareholder value in the history of corporate America. If Leap Wireless is to ever turn itself around, the board must oust Hutcheson as CEO.
Click to enlarge image.

Since the first trading day after being appointed CEO, Leap Wireless has lost over 93% of its value, compared to a loss of almost 70% for MetroPCS (PCS), the company's primary competitor (we will discuss this in more detail later). There are a number of reasons for Leap's weak performance over Hutcheson's tenure: competition, wireless market saturation, and the allure of the iPhone (which Leap Wireless only recently began selling). In our view, Hutcheson's tenure has been marred not by these factors, but by a single action he likely chose not to lobby for: a 2007 merger with MetroPCS.
Passing on the Merger: The Definition of a Missed Opportunity
In September 2007, MetroPCS made an all-stock offer for Leap Wireless, in which the company offered 2.75 MetroPCS shares for each share of Leap Wireless. Based on MetroPCS' stock price that day, the deal valued Leap Wireless at $69.03 per share, far higher than the less than $5 the shares currently trade at. While the final decision may have rested with Leap Wireless' board, it is likely that they followed the advice of their CEO. With matters like this, it is rare for boards to vote against the wishes of their CEO; Sprint's (NYSE:S) rejection of a takeover of MetroPCS this year against the wishes of CEO Dan Hesse is a notable exception.
In rejecting the deal with MetroPCS, Leap Wireless noted that its board had rejected the proposal unanimously. In our view, it is unlikely that the decision would have been unanimous had Hutcheson not persuaded the board that the deal was a bad idea. In its press release rejecting the deal, Leap Wireless argued that the merger's terms give too little ownership of the combined company to Leap investors, thus "your proposal unfairly delivers a disproportionate share of those synergies to MetroPCS shareholders, denying our shareholders an appropriate share of both past accomplishments and potential future benefits." In hindsight, that statement makes no sense. Leap shares now trade below $5, and shareholders have realized none of those "future benefits" that Leap spoke of in 2007. Leap Wireless, likely at the urging of Hutcheson, passed on an opportunity that could have saved its investors billions in losses.
To be fair, MetroPCS has not fared that well. On the day of its offer for Leap, MetroPCS closed at almost $25 and shares currently trade below $9. And Leap Wireless' press release does point out that the terms of MetroPCS' offer valued Leap Wireless at below its 60-day average trading price. But MetroPCS has slid to under $9 as a standalone company and, unlike Leap Wireless, is still profitable. Had the two companies combined and realized the synergies that would have been created from their merger, it is likely that the stock price of the combined company would be a good deal higher than where MetroPCS trades at today. Leap left billions of dollars on the table, and its shareholders have had to pay that price.
The Chairman's Silence Is Deafening
The situation at Leap Wireless is made all the more unique by the fact that through MHR Fund Management, Chairman Mark Rachesky holds over 30% of the company's stock. It is extremely puzzling that he has not pushed for a change in Leap Wireless' management, given that he has lost an enormous sum of money as the stock price has collapsed. In our view, Rachesky's best hopes for preserving what's left of Leap Wireless' equity value lies in pushing for a sale of the company. But he must first start by pushing for new leadership, preferably Elliott. During Leap Wireless' Q2 conference call, we were far more impressed with what the new CFO had to say than what Hutcheson had to offer. CFO Elliott spoke candidly about the need Leap Wireless has to improve earnings and cash flow. And should that fail to happen, he left the door wide open to a sale of the company, as we explained in our previous article on Leap Wireless. The company will report its Q3 results in November and, at that point in time, we expect that Leap Wireless (as well as its stock) will arrive at a turning point. And options provide an ideal way to trade that point in time.
A Straddle: Profit From Either Direction
In November, Leap Wireless will be at a turning point. Either the company will show progress on its turnaround, or talk of a strategic resolution will begin to swirl. In our view, should there be no confirmation that Leap Wireless is pursuing a sale or some other major transaction, the stock will plunge. But should the company put itself up for sale, we think that someone will jump in. Even with Leap Wireless' debt load, there is still value to be unlocked from both its spectrum and its subscriber base. While an offer for Leap Wireless today will certainly come in the single digits, it is still offers the company a way to preserve at least some shareholder value. And the best way to trade this is through an options straddle.
A straddle is an options strategy in which an investor simultaneously buys both calls and puts on the same stock. With a straddle, the only goal is to see the stock move substantially in one direction. Whether it or goes up or down does not really matter. And that is why we believe that when it comes to Leap Wireless, this is a good way to trade the company.
Specifically, investors need to look at either January 2013 or January 2014 options, so that the company's Q3 2012 earnings may be captured (or in the case of the 2014 options, its Q4 2012 earnings as well). The company's earnings are likely to cause a binary move in the stock. Either it will soar as the company shows signs of a turnaround or puts itself up for sale, or it will plunge as operational results worsen or there is no sale announcement.
A straddle allows investors to profit from either result, and its profit and loss graph looks like this: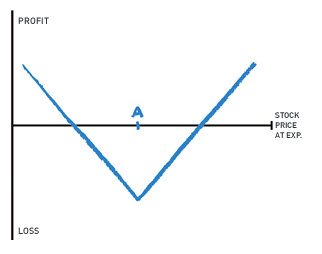 In our view, this is the best way to trade Leap Wireless. Instead of speculating on which way the stock will move, investors can simply profit from a move in either direction. Investors who believe as we do that the stock will make a move should gain exposure via a straddle. However, this strategy is not for all investors. Those who have more conviction in what will happen to Leap Wireless' future are better off making outright bullish or bearish bets on the stock. But for investors who believe that Leap Wireless will see a large move in its stock and are unsure as to what direction it will go, a long straddle offers a great way to profit from that belief.
Disclosure: I am long LEAP, and also have exposure to LEAP via the strategy described above.